South Africa Big Cat Research Short Term Internship
Gain practical experience in the field of conservation by working with big cats and contributing to the collection of valuable wildlife research in South Africa.
South Africa Big Cat Research Short Term Internship
Gain practical experience in the field of conservation by working with big cats and contributing to the collection of valuable wildlife research in South Africa.
Program Code: ZAKG0851N
Our Impact
Location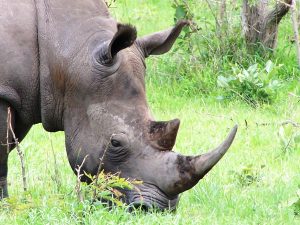 Volunteer in Limpopo
Our hub here is host to some of the most remarkable wildlife, landscapes and conservation opportunities South Africa has to offer, making volunteering abroad here a spectacular event
.
The province of Limpopo offers every imaginable setting, from the towering Drakensberg mountains and the famous Kruger National Park in the 
lowveld
 to the oldest Big 5 game reserve in South Africa. Volunteering here is a truly unforgettable experience.
Program Information
Program Snapshot
Make yourself at home in the South African savannah, while getting on the ground experience learning skills in big cat conservation, wildlife research, animal tracking and telemetry. 
Get out of the library or the lab. Visit a remote research base to get the data needed to complete your thesis or research paper.
Want to land a job working for a purpose-driven organisation or kickstart your career in an impact-focused field?
Travel with ambition and purpose. Make a positive environmental or social impact and gain experience in an impact-focused role or sector.
Get out of the library or the lab. Visit a remote research base to get the data needed to complete your thesis or research paper.
This program is designed for undergrad, graduate students or post doctoral researchers looking to complete research in a number of fields related to conservation and international sustainable development. You'll conduct your own data collection and analysis with support and guidance from a research supervisor.
Designed for students and researchers
Complete your research paper or thesis
Conduct data collection and analysis
Receive support from a research supervisor
Want to land a job working for a purpose-driven organisation or kickstart your career in an impact-focused field?
Join our career internship program. It's designed for those looking to get their first job or advance their careers in international sustainable development. You'll complete a purposeful project for a real organisation working in conservation or international development, located in a number of locations around the world. A supervisor specialising in international professional work will guide you throughout the experience.
Designed for new graduates and working professionals 

Complete a real project for an organisation abroad

Get experience within a sustainable development organisation

Receive direction from a career supervisor
Travel with ambition and purpose. Make a positive environmental or social impact and gain hands-on, impact-focused experience in the field.
Gain practical experience in the field while receiving support from a supervisor throughout. As a core intern, you'll take part in project work with local partners while also taking on extra responsibilities on base, giving you opportunities for leadership experience. This means you could lead workshops and surveys or organise fundraising events and beach cleanups, for example.
Designed for students, new graduates and working professionals 

Get field experience in real-world conservation and community development work

Gain insight into careers within the sustainable development sector

Receive direction from an internship  supervisor
Overview
Based just one hour from the Kruger National Park, you will find our base in the Karongwe Private Game Reserve. Here you will join our international team to gain experience in big cat research, while working with leading local and international conservation organisations, like Elephants Alive, the Endangered Wildlife Trust and the Karongwe Reserve Management Team.
You learn how to identify mammals and reptiles on the reserve, while conducting biological surveys and tracking the local wildlife, specifically the big cats. In the process, you will gain many skills relating to wildlife conservation. This will allow you to expand your conservation knowledge, gain new skills, and kickstart your career in wildlife conservation, while making a substantial contribution to the United Nations Sustainable Development Goal #15, Life on Land.
Please note you can spend up to 12 hours a day collecting data which can be tiring, in the heat of the African sun.
HIGHLIGHTS



Taking your first steps towards your career in conservation and making a lasting contribution to the preservation of African big cats, seeing them in their natural habitat.




Learn to identify megaherbivores like elephants and rhinos as well as predators, like lions, cheetahs, and leopards.




Master radio telemetry techniques and learning how to track and record animal movements.  




Go on a wildlife safari adventure in a private South African nature reserve.




In your free time, visit the famous Kruger National Park, only an hour away from where we are based or visit the nearby Drakensberg Mountains where awe-inspiring vistas are afforded over the Blyde River Canyon.




Sleep under the star-filled Southern night sky, its beauty enhanced by the lack of light pollution, and wake to a golden African dawn.



Program Details
Flexibility
Change your location and dates free of charge.
Payment Plans
Flexible payment plans available.
Cancellation Waiver
Cancel anytime and receive a full refund minus your deposit.
Life On Base
Live in the heart of the South African savannah sharing a renovated farmhouse with Field Guides Association of Southern Africa qualified guides, other GVI staff, and participants hailing from all four corners of the globe. Rise each morning to the sounds of an authentically African birdsong at dawn, and head out in open-topped safari vehicles to conduct research vital for the conservation of key predators species, like cheetahs and lions. Head back to camp, when the sun is at its height, input data, study, assist with cooking or tidying, or relax with other participants in our shared outdoor social space. When the African sun starts to set over the Drakensberg mountains at dusk, head out again to conduct further research. Return when the stars in the Southern night sky are at their brightest and share a meal and the day's stories with fellow participants. In your free time, explore Kruger National Park, a 45-minute drive from your accommodation, or the Panorama Route, including the magnificent Blyde River Canyon.

Base Tour
Highlights
24-hour in-country support
ACCOMMODATION
Lodgings are large dorm-style rooms with shared bathrooms. The base is solar-powered to ensure less impact on the natural environment.
TRANSPORTATION
Transport to conduct field research is provided by our vehicles and drivers.
COMMUNICATION
Our base has a good connection to local cell towers, and participants with unlocked mobile devices can purchase local SIM cards during a weekly town trip. There is wifi available but bandwidth is limited. For wifi use on personal devices, participants can purchase wifi vouchers from GVI staff on base.
MEALS
Most breakfasts feature cereal, oats, and fresh fruit, and for lunch, it's usually sandwiches and salads. Dinner might be anything from a traditional South African 'potjie' stew to pastas and stir frys.
CLIMATE
Limpopo is well-known for its warm climate. Sunny days and low rainfall are the norm on most days throughout the year. Summer, starting in October and ending in March, coincides with the rainy season. Temperatures during this season can reach a sweltering 35°C . During this time the heat is often interrupted by a short thunderstorm which is usually a welcome respite. The start of the rainy season, in October, is also the perfect season to spot many baby animals as many animals give birth during spring. During the dry season, in the cooler winter months, it is worth bringing some warm layers for travelling in the open safari vehicles. This is often done first thing in the morning and night when the wind chill is a factor.
COVID-19 Safety
Enhanced cleaning and social-distancing measures in place. Learn more.
Covid-19 Response
Health and Hygiene
For over 20 years, GVI has prioritised the health and safety of our staff, participants, partners and local community members. In response to the global COVID-19 pandemic, GVI has created the GVI health and hygiene team to put in place new standards of cleanliness, norms and behaviours that meet or exceed international recommendations to ensure the ongoing safety of GVI's participants, staff and communities around the world. Internationally recommended practices, such as advice from the World Health Organization (WHO), the Centers for Disease Control and Prevention, and the governments Australia, UK and US, continue to be monitored and the standards are likely to change if and when international advice changes.
The work GVI is contributing to across the globe remains important and the following measures allow our participants to continue to join GVI's programs and continue impacting positively on their world and the communities we work with. The following changes to our existing protocols have been made by the GVI health and hygiene team to strengthen our health and hygiene protocols and ensure that international standard safeguards are in place to protect our participants, staff and host communities.
Download our Travel Smart Checklist
Essential information you need to travel safely during the COVID-19
pandemic – including destination ratings, flight bookings, and tests.
What's It like?

If you'd like to find out what the experience of joining a GVI project is really like, simply contact us and we'll put you in touch with one of our many Alumni.
We'll try to match you to an Alum based on your location, nationality, age, stage of academic career, gender, and program interests. This allows you to gain insights into the experience that is most relevant to you.
Depending on your location you might be able to speak to an Alum over the phone or online, or meet up with them face-to-face at a coffee shop nearby. We also run a series of small events around the world where you can speak to GVI Alumni, Ambassadors and staff members.
Live Updates
Follow GVI Limpopo's Facebook page for live updates straight from the field. Get an idea of the types of projects you might be involved in, meet our staff and participants, experience life on this GVI base, hear about free time activities, and learn about the local culture and environment.
Arrivals
When it comes to support, we ensure that each participant is provided with unparalleled, 360 degree support, from your initial contact with the GVI Family, all the way through your program, and even after, as you become part of the GVI Alumni Team.
As part of this promise, we will ensure, whenever possible, that one of our dedicated staff will be available to meet you at the airport. In most locations, we also set up a Whatsapp group to help with managing airport arrivals. We will arrange with you prior to your departure that, should you arrive in the agreed upon pick up window, a member of our staff will be there to welcome you, easily identifiable in a GVI t-shirt or holding a GVI sign and wearing a friendly smile. This means there will be someone there to greet you as you land, and from there you will be transported to your GVI base to start your adventure and meet the rest of your team.
COVID-19 Safety
Please note that the above images were taken pre COVID-19. All airport pick-ups and program operations now run with enhanced cleaning and social-distancing measures in place. Learn more.
Flights
Please note that if you use this service delivered by Student Universe and / or if you buy your ticket through this portal you are agreeing to the Student Universe Privacy Policy and Terms and Conditions. Your agreement regarding flights will be between you and Student Universe or as per their terms and conditions.
As GVI is providing this portal as a service we are not responsible for the accuracy of this site.
We are also not responsible for any loss, damage (including loss of profits or consequential damages), injury, illness, harm or death in relation to your flight and travel arrangements.
Download our Travel Smart Checklist
Essential information you need to travel safely during the COVID-19
pandemic – including destination ratings, flight bookings, and tests.
Meet the team -
Senior Field Management
Zoe Biggs
Program Manager
Pleased to introduce you to Zoe, who is the Program Manager at our base in Limpopo. Her journey started out with a six month internship with GVI back in 2016. Prior to this Zoe studied zoology in Australia for three years before coming over to Limpopo, South Africa.
Meet the team -
In-Country Staff
Sophie
Assistant Program Manager
This is Sophie, she is our Assistant Program Manager at GVI Limpopo here in South Africa. Originally from Northern Ireland, Sophie's journey with GVI started after attending a 6-month internship in Karongwe. She loves meeting the volunteers, living in the bushveld and seeing the wildlife on the reserve.
Your Supervisor
We're of the belief that internships are learning experiences and that a great supervisor is absolutely essential to the success of any internship program. Our supervisors will assist you in familiarising yourself with your environment and provide the guidance you need to meet your goals and solve problems. They're remote, so that location and travel restrictions don't affect us in choosing the supervisor that best suits your needs.
If you choose our research internship package, you'll be assigned an research supervisor. Your research supervisor will provide guidance for you in achieving your data collection and analysis goals. They'll also help you to navigate the complex challenges of collecting and analysing data within the context of international field research.
When you choose our core internship package, you'll be assigned an internship supervisor. They'll help you to navigate day-to-day challenges involved in completing learning and tasks related to your internship program. They'll provide guidance throughout your internship so that you can get your work done successfully and maximise the benefits of your experience.
If you choose our career internship package, you'll be assigned a career supervisor. Your career supervisor will help you to navigate the professional relationship with the international organisation for which you'll be completing a project. They'll also help you to master skills necessary for successfully making the transition from full-time student to full-time employee.
Your Impact
All of our programs have short, mid and long-term objectives that fit with the United Nations Sustainable Development Goals or UN SDGs. This enables us to report on our collaborative impact across the world in a streamlined manner, measuring which UN SDGs we are making a substantial contribution to. Furthermore, this will help our local partners and communities measure and visualise their contribution to the UN SDGs.
Prior to your arrival on base, you will be educated about the history of the UN SDGs. Then, once on base you'll learn about the specific goals of your location, the long-, mid- and short-term objectives, and also clarification of how your personal, shorter-term involvement contributes to these goals on a global level.
Our aim is to educate you on local and global issues, so that you continue to act as active global citizens after your program, helping to fulfil our mission of building a global network of people united by their passion to make a difference.
Many of Africa's wildlife species are under threat. Private reserves, like Karongwe, where we run our conservation project, are a haven for species at risk. Karongwe is located within the UNESCO protected Kruger to Canyons Biosphere Reserve. This biosphere represents only 1.4% of South Africa's land, but contains 55% of the total natural life found here.
Karongwe Nature and Wildlife Reserve

Karongwe Nature and Wildlife Reserve was once made up of individual farms. In 1998 the landowners banded together to create a 8,000 hectare wildlife reserve. GVI was brought onto Karongwe in 2001 to monitor the large predators and herbivores on the reserve. This helps reserve management to understand the impact of predators on prey and maintain a healthy ecosystem by ensuring a balance of natural resources. Predators are often tracked using telemetry, or monitored using camera trapping, to learn how they use the space within the park, what their feeding behaviour is like, how they interact with one another and other predators. Herbivores might be counted, their numbers, age, and sex listed, and their impact on vegetation noted. This data is presented to Karongwe management and landowners on a weekly, half-yearly and yearly basis.  We also assist with anti-poaching efforts by compiling ID kits of any rhinos we come across and maintaining the park's fences and roads. We also assist with removing old farm infrastructure and invasive alien plant species as well as working on soil rehabilitation to help with habitat recovery.
Cheetah Research and Conservation

Our cheetah research is conducted in conjunction with the Endangered Wildlife Trust, a conservation organisation who currently manage SA's cheetah metapopulation. Cheetahs are a species listed as vulnerable on the IUCN Red List Of Threatened Species. They are a rather fragile species as they naturally have a low genetic diversity and are not able to compete well with other larger, stronger predators like lions and hyenas. Our study mainly focuses on how cheetahs make use of their kill by setting up camera traps near their fresh kill to see how much time the cheetahs spend on their kill and what potentially encourages them to leave. This helps to know how they are dealing with competition with other predators. We also collect data on breeding success.
Elephant Vegetation Impact Mitigation

In partnerships with Elephants Alive, who have been actively involved in elephant conservation for the past 20 years, we also conduct surveys of the impact elephants have on the local vegetation. Due to their habit of pulling up trees to eat the top leaves and roots, a large population of elephants can have a negative impact on a small environment, especially for species like the marula tree. This might involve monitoring sensitive areas of the reserve and the movements of elephant groups, developing elephant identification kits, and analysing the effectiveness of elephant vegetation destruction methods.
Bird Research and Conservation

We also contribute to the South African Bird Atlas Project (SABAP2), the most important bird monitoring project in Southern Africa, and its largest citizen science database. Birds are appropriate indicators of ecosystem health because they are popular and well studied. The availability of significant, long-term datasets in South Africa makes birds a good choice for early-warning system for climate change impacts and other systematic, ecosystem-wide threats to broader biodiversity. The number of critically endangered birds in South Africa has increased from 5 in 2000 to 13 in 2017. One group in particular features particularly dramatic statistics, 22 of the 79 raptors occurring in the North-Eastern region of the country are now considered threatened. Of concern are the low numbers of scavenging raptors. Most of South Africa's vulture species, as well as the Tawny Eagle and the Bateleur, two obligate scavengers, are listed as endangered or critically endangered. In December 2016, SABAP2 featured nine million records across 17339 pentads, five minutes of latitude by five minutes of longitude, squares with sides of roughly 9 km, in South Africa, Lesotho, and Eswatini. The selection of sites and habitats critical to bird conservation rely on this data. All other conservation initiatives depend on the results of the bird atlas, to a greater or lesser extent. On cannot determine the conservation status of a species unless you know its range and how this is changing.
Environmental Education

We also conduct environmental education programs at several schools in the area.
As the requirements of our partners change over time, so do the details of our projects. We make ourselves available for conservation-focused mini-projects. This might include documenting bird of prey nesting sites or the creation of lists for micro fauna species in the reserve. In the past we have partnered with a range of conservation organisations like Panthera and academic institutions like the University of Cape Town, Pretoria University, and Bournemouth University. Exact project details are also always subject to change due to weather conditions, time of year and animal movements.
As such, the specific United Nations Sustainable Development Goal we work on in Limpopo is #15, Life On Land.
Our Partners In Limpopo
Project Objectives
GVI Karongwe's Long-term Objectives:
1. To provide long-term and consistent data for Karongwe Reserve Management to assist with Reserve Management decisions based on scientific data.
2. Increase local awareness of GVI's purpose and impact on Karongwe PGR.
3. Increase scientific output.
4. Contribute to three large scale reserve management projects alongside the Warden in accordance with the Reserve's Management Plan.
5. Increase our in-country capacity by providing environmental and conservation education and training and through community upliftment projects.
Publications
The best decisions in international development and conservation cannot be made without accurate and up-to-date data or informed research. Our many field teams around the world collaborate with local and international partners to analyse data and draw conclusions. In addition, many of our participants have used research they have collected on their various GVI projects to complete their Masters, Doctorate, or postdoctoral studies. We also run a fellowship program which connects postdoctoral researchers at globally-respected universities with our many sustainable development programs around the world to support their research and ensure continuous improvement of our best practices on base.
Annual Report
GVI South Africa Limpopo Annual Report 2018
2018
Scientific Publication
'The effects of land use and other anthropogenic effects on the population dynamics and behaviour of small mammal communities in the Limpopo Province.'
2017
Master of  Science (title TBC) – thesis
Jawi Ramahlo
Scientific Publication
'Wildlife road traffic accidents: a standardized protocol forv counting flattened fauna.'
2014
Ecology and Evolution published by John Wiley & Sons Ltd (Open access)
1: The Endangered Wildlife Trust, Johannesburg, South Africa 2: Wildlife and Reserve Management Research Group, Department of Zoology and Entomology, Rhodes University, Grahamstown, South Africa 3: Department of Nature Conservation, Tshwane University of Technology, Pretoria, South Africa
Conference Poster
'Occurrence, Diet and Management of the Invasive Lionfish Pterios spp. in the Sian Ka'an Biosphere Reserve, Quintana Roo, Mexico'
2013
Poster abstract for RCUK conference
Fulton, S. And Ponce-Taylor, D.
Scientific Publication
'An investigation into the distribution of ground dwelling mammals on Mariepskop Mountain, Drakensberg, South Africa.'
2012
Dissertation – BSc Ecology
Dawson, Emily
Scientific Publication
'Quantifying resource partitioning on a South African forest-grassland small mammal community using stable isotopes.'
2011
Symes CT, Wilson JW, Woodborne SM, Shaikh Z & Scantlebury M
Scientific Publication
'The response of small mammals to natural - and human-altered edges associated with Afromontane forests of South Africa.'
2010
Forest Ecology & Management
Wilson JW, Stirnemann RL, Shaikh Z & Scantlebury
Scientific Publications
'Reproductive biology of a pride of lions on Karongwe Game Reserve.'
2008
Monika B. Lehmann, Paul J Funston, Cailey R. Owen and Rob Slotow
Scientific Publication
'The behavioural ecology of a solitary lion pride in Karongwe Game Reserve'
2007
Mtech Nature Conservation
Monika B. Lehmann
Scientific Publication
'Anthropogenic effects on wildlife: Do anthropogenic features affect African elephant (Loxodonta africana) space use in a small, protected area?'
Master of Arts in Conservation Biology, thesis
Katherine (Kaggie) Orrick
Our Ethics
Below is a list of core ethics and best practices we believe are essential to the operation of high quality, ethical volunteer and sustainable development programs. We believe that all responsible volunteer and sustainable development operations should focus upon these principles. If you are considering volunteering, these are some of the key considerations you should question, to ensure that your time and money contributes towards positive change.
We want to constantly develop our own understanding of ethical best practice. In so doing, we aim to provide an exemplary industry standard for other education institutions, international development organisations, and social enterprises. Our Badge of Ethics stands for the drive to always do good, better. Find out more, click on the Badge below.
Our 10 Ethical Commitments
Locally Driven, Collaborative Projects
We aim to design all our projects in collaboration with local organizations and communities and ensure that they are locally driven.
Clear Objectives & Sustainable Outcomes
We aim to clearly define short-, mid-, and long-term objectives with sustainable outcomes for all our projects.
Impact Reporting
We aim to track, record, and publish the impact of each of our projects.
Working Against Dependency
We aim to build in-country capacity by assisting local organizations in becoming self-sustaining.
Responsible Exit Strategies
For each local organization we work with, we aim to have a plan in place for withdrawing support responsibly.
Clear Roles & Specialized Training
We aim to ensure that every participant is assigned a clear role and that they are fully trained and supported to carry out their work by specialized staff.
Respect for all
In all our actions we aim to respect the skills and efforts of all and seek to protect the rights, culture and dignity of everyone who engages with GVI.
Local Ownership
We work to ensure that credit for the results of any project, along with any data collected, research conducted, or Intellectual Property developed, remains the property of local organizations.
Transitioning from the Orphanage Model
We do not condone and aim to withdraw support of orphanages and residential care centers.
Child and Vulnerable adult policies
We will live by our Child Protection and Vulnerable Adult policies.
Continual Development
As an organization, GVI is committed to striving toward best practice, and to educating both our potential participants, our partners, and the world at large about them. Both the volunteering and sustainable development sectors are increasingly, and rightly, under scrutiny. Many recent local and global articles highlight poor practices and questionable ethics. GVI is widely recognized for striving to apply global best practice in the volunteering, education and sustainable development sectors throughout our operations by reputable organizations such as ChildSafe.
However, global best practice is always evolving and we dedicate both time and resources to engage with internationally respected experts and learn from the latest research to ensure our programs both fulfil their potential to create maximum positive impact, and minimise their potential to create unintentional negative impact. Along with and as part of the sustainable development and volunteering community, we are constantly learning and applying this learning to practice. We do not always get everything right, but we seek feedback from our community members, partners, participants and our staff, and react accordingly. We know are already doing a great job, and feedback we have received confirms this, but we aim to do even better and are continuously refining our operations to improve upon our already excellent reputation.
Program Ethics
NO ENTERTAINMENT-BASED ACTIVITIES
We don't support the use of wild animals for entertainment purposes. This includes riding animals, having them perform tricks, feeding or bathing them or getting close to them to take photos
NO ORPHANED ANIMAL SANCTUARIES
We don't encourage, support or allow the rearing of "orphaned" wild baby animals kept at a "sanctuary". The conservation value of these types of programs is negligent and would only ethically be used in extremely rare cases
GUIDELINES FOR TOUCHING OR MOVEMENT RESTRICTION
When wild animals are restricted for conservation purposes we follow the guidelines of Fair Trade in Tourism South Africa (FTTSA), approved by the Global Sustainable Tourism Council.
ANIMAL WELFARE GUIDELINES
We ensure that the Five Freedoms of Animal Welfare are followed. These include the freedom to express normal behaviour and freedom from distress, discomfort, hunger, thirst, fear, pain, injury or disease.
LOCAL COMMUNITY EMPOWERMENT
We ensure that conservation efforts are also always locally led, that community needs are front-and centre of any conservation effort and that our participants, projects and partners work to increase local community engagement in local conservation efforts.
NO VETERINARY PROGRAMS
We don't offer any veterinary programs or animal rescue and rehabilitation programs. We don't allow participants to do any work they would not be able to do in their home country.
Qualifications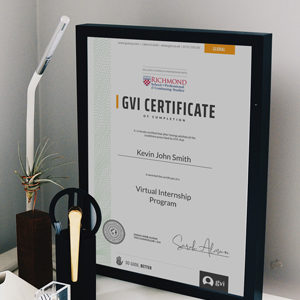 University of Richmond Certificate Careers in Sustainability
Career paths in social and environmental impact are not as well-established as in other fields. That's why we'll provide our interns who have successfully completed their program with our Careers in Sustainable Development course. In this course, you'll learn about current and emerging opportunities in a range of sectors, allowing you to make the best decision about your future.
This online course, valued at $395, is included in all internships. Full course details can be found here.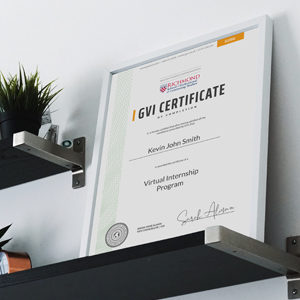 University of Richmond Certificate Leading Teams for Impact
Leadership is a critical skill set for anyone looking to make an impact or drive sustainable development. Develop your own leadership style and learn how to set achievable objectives, give effective feedback and manage conflict successfully. After successfully completing the course, which you have the option of doing prior to your in-country program, you'll receive a certificate from the University of Richmond.
This online course, valued at $395, is included in all volunteering programs. Full course details can be found here.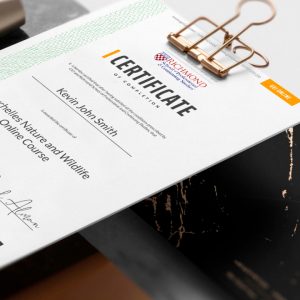 University of Richmond Certificate Wildlife Conservation
If you have a passion for wildlife conservation then this course will provide you with the foundational skills and understanding needed to achieve your conservation-related goals. You'll learn about the various methods of wildlife monitoring, as well as exploring the delicate balance involved in terrestrial ecosystem management. After successfully completing the course, which you have the option of doing prior to your in-country program, you'll receive a certificate from the University of Richmond.
This online course, valued at $395, is included in all volunteering programs. Full course details can be found here.
References and Recommendations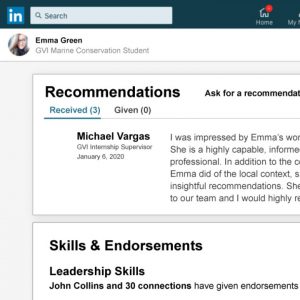 LinkedIn Recommendation and Skills Endorsement
This is only included in the research and career internships.
If you've fulfilled the requirements of your internship, your supervisor will complete a LinkedIn recommendation for you. This'll summarise the most impactful points of your professional reference. They'll also endorse skills they've seen you demonstrate during your internship.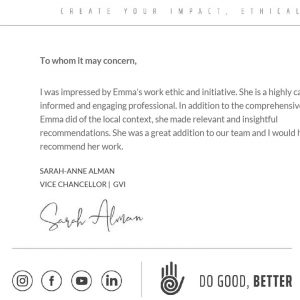 Professional Reference
Once you've successfully completed your internship, you'll receive a digital professional reference signed by your program manager. It'll include a description of the topics covered and the experience gained on your program. Add this to your job applications to boost your chances of securing the position of your choice.
Career Services
After successfully completing your internship you'll have a host of new skills, specialised knowledge and work experience. You'll also have a professional reference and, possibly, new qualifications. Our post-program career services will help you leverage what you've gained throughout your internship to take the next step on your chosen career path.
Careers in Sustainability
Career paths in social and environmental impact are not as well-established as other fields. That's why we provide all of our interns with a Careers in Sustainable Development course in partnership by the University of Richmond. In this course, you'll learn about current and emerging opportunities in a range of sectors, allowing you to make the best decision about your future.
This online course is valued at £295 and is included in all internships.
Course details can be found here.
When you've successfully completed your internship, you'll have the opportunity to schedule two career coaching sessions with one of GVI's career mentors.
Use these small group sessions to develop your career goals, personal branding and job-hunting strategies.
At the end of your internship you'll be added to our list of potential candidates we'll consider first for GVI vacancies around the world. Stay up-to-date on positions by checking our Careers Abroad jobs portal. Get in touch if you find that fits you perfectly.
Job Portal Access
Once signed up to a GVI Internship, you'll receive access to our jobs portal listing thousands of vacancies in social and environmental impact roles around the world. Employers range from non-profits to purpose-driven businesses.
If you join a career and research internship program for the duration of 24 weeks or longer you'll receive a money-back job guarantee. We promise that you'll find a position in an impact-driven field within 18 months of successfully completing the program or you'll receive 50% of your internship program fee back.
Parent Info
'If only every student could do this. It changes your life in all the right ways,' says Chris Heritage, parent of Luke Heritage, one of our teen volunteers who has participated on two GVI programs, one in Costa Rica and another in South Africa.
We are a parent-run organisation that is incredibly serious about health and safety, and increasing the impact, as well as the long-term career benefits of our programs. Our programs help young people develop the skills to select a career path that is personally fulfilling, and live a life aligned to the well-being of our planet and the global community.
Ken and Linda Jeffrey, whose son Sam volunteered with GVI in Thailand, talk about how the experience affected Sam. He also went on to volunteer with GVI again in South Africa. 'I know it sounds like a cliche but in a sense, he did go away as a boy and he came back as a young man. Both of us could recommend GVI without any hesitation to any other parent thinking about exploring an opportunity for their children to explore the world and to see different parts of it.'
Parent Info Pack
Download the Parent Pack and learn more about:
Our staff: All our projects are run by staff, selected, vetted, trained, and managed by our central office.
Health and safety: Our safety practices include a child and vulnerable adult protection policy and high participant ratios.
Staying in touch: See what's happening on base, by following a hub's dedicated Facebook page.
Free parent consultations: We would love to talk to you about exciting opportunities available for your child.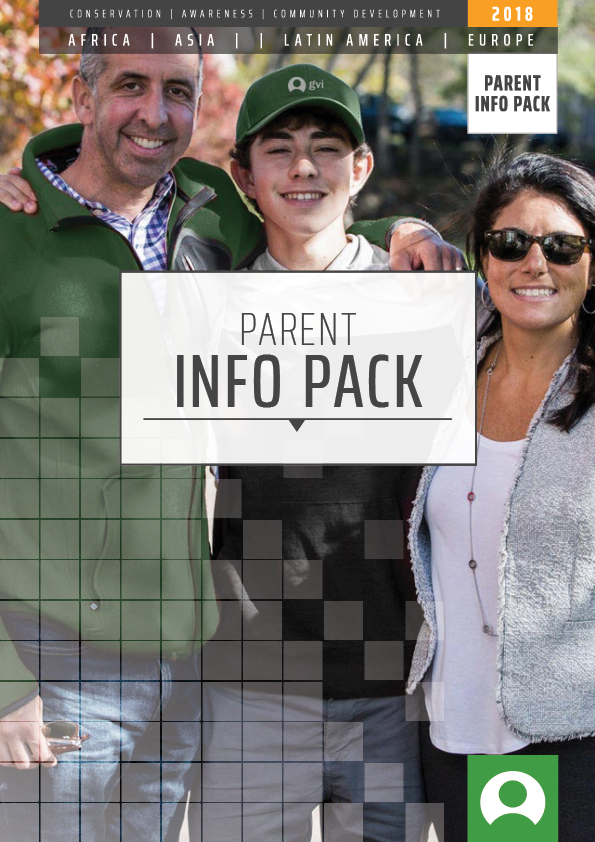 Support & Safety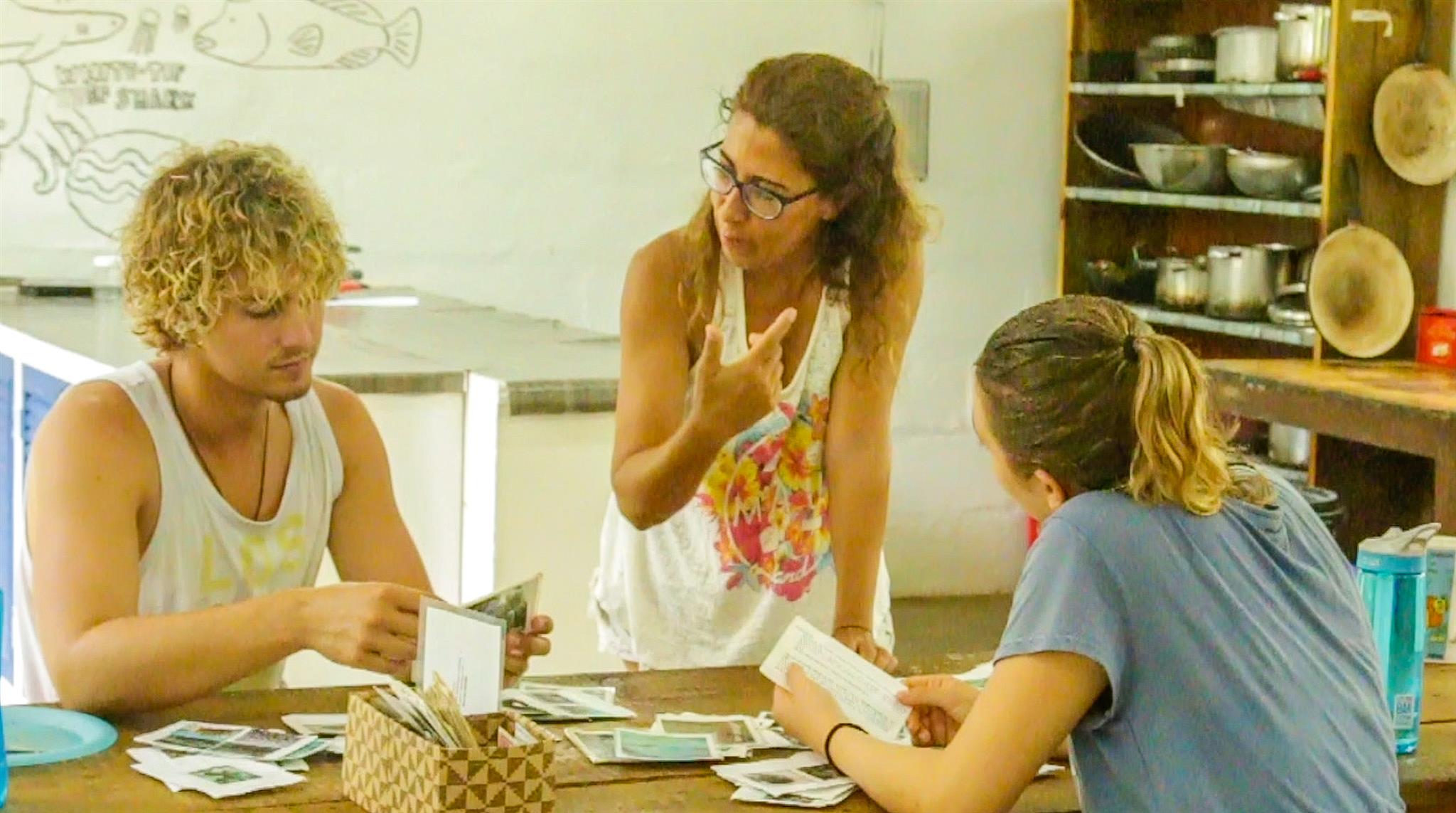 We won't sugarcoat it — traveling abroad is usually a complex process that carries an element of risk. But this is exactly why we're passionate about providing extensive support throughout the process as well as the highest safety standards during the in-country phase. We believe that volunteering abroad should not only be impactful, but an enjoyable experience that carries as little risk as possible. This is exactly how we've been able to maintain our reputation as the most highly respected volunteering organisations in the sector over the past two decades.
COVID-19 Safety
Enhanced cleaning and social-distancing measures are in place throughout each GVI program. Learn more.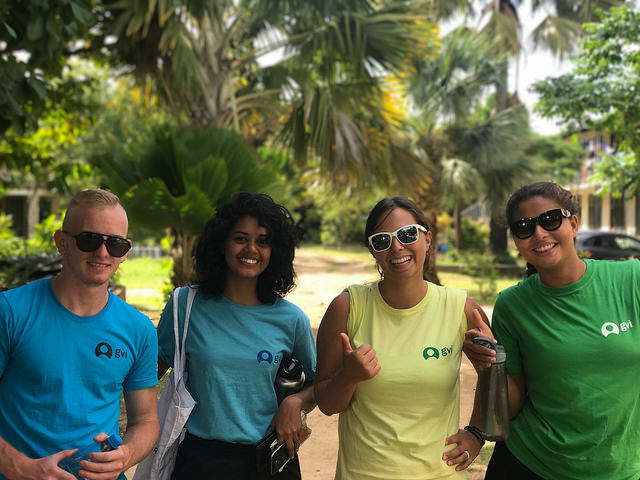 Support
Once a participant books, they will be assigned a personal support coordinator who will oversee their pre-departure journey. The support coordinator helps to bridge the gap between program enrolment and arrival at one of our field bases. Your personal support coordinator will ensure that you are provided with all the necessary information required to apply for visas, background checks, and any other documentation.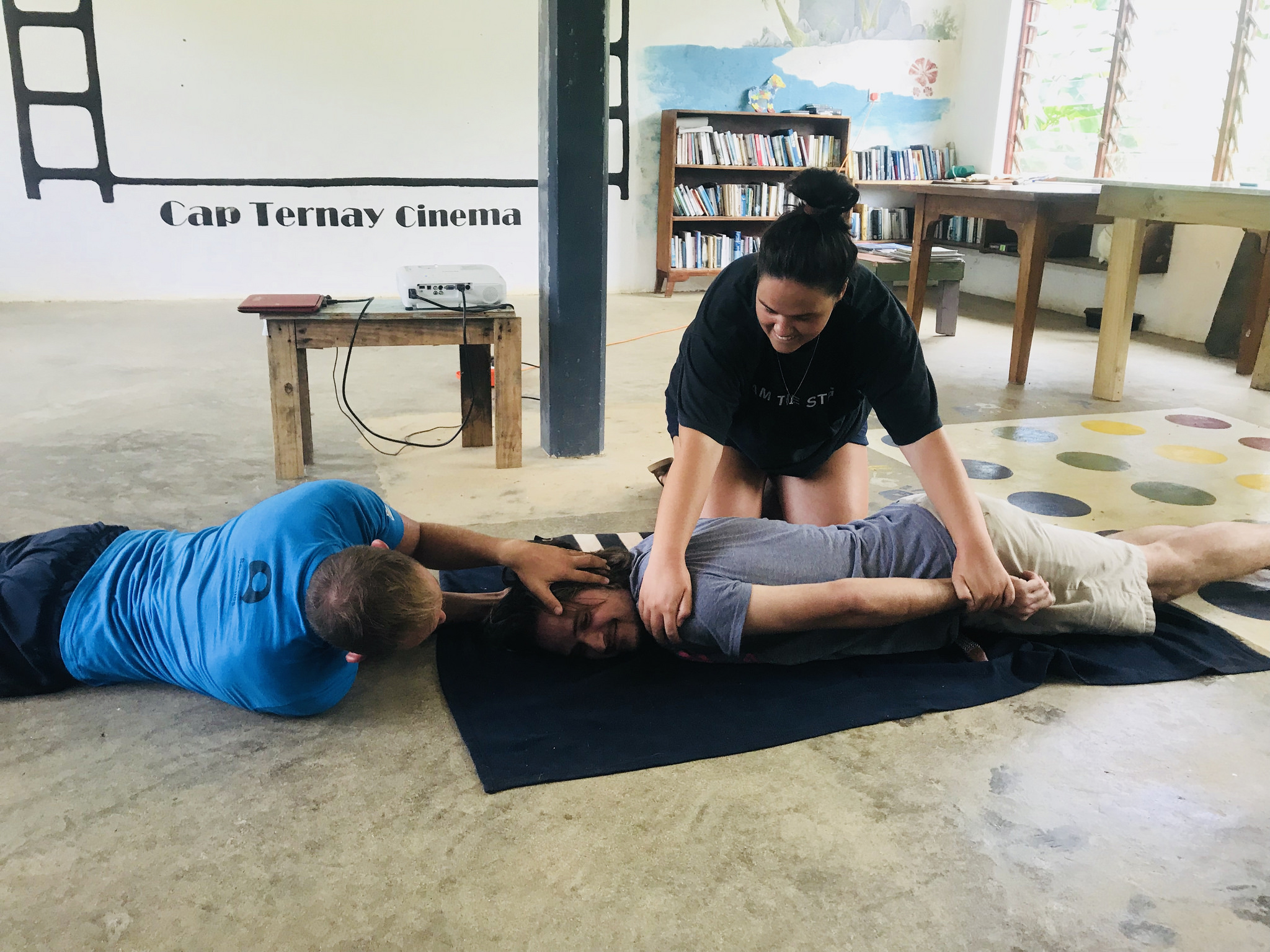 Safety
Upon arrival at the airport, participants will be greeted by a GVI staff member. All GVI staff are our own and all our programs around the world are run by our staff. All GVI field staff are background checked, Emergency First Response and safety trained. The minimum staff to participant ratio on GVI's programs is one to six, although on several bases we have a ratio of one to three. When finishing the experience, participants will provide feedback on all aspects of their program.
Download our Travel Smart Checklist
Essential information you need to travel safely during the COVID-19
pandemic – including destination ratings, flight bookings, and tests.
Health & Safety Case Studies
Work Placements
Our career internship programs include the option of joining and completing a work placement of between 2 to 12 weeks with impact-focused organisations all over the world. These could be charities, businesses, governments, or GVI itself. Please note that placements come at an additional cost. Speak to us for details.
Similar programs you may be interested in:
Subscribe to our newsletter for program updates and access to scholarship offers.
Contact Us
GVI
225 Franklin Street, 26th Floor, Boston, MA, 02110
Learning Provider Number (LPN): 10002692
Centre Number: 17067

Contact Us
GVI
225 Franklin Street, 26th Floor, Boston, MA, 02110
Learning Provider Number (LPN): 10002692
Centre Number: 17067