jQuery('.mobile-cta').appendTo('#mobile-cta-placeholder .et_pb_code_inner');
Make an impact on a wildlife volunteering program
When you're walking through Thailand's forested jungles, you might spot an Asian elephant snacking on some bamboo, or splashing in a river. This type of natural behaviour is what the best wildlife volunteering programs aim to promote.
GVI's wildlife conservation programs give you a chance to get involved in conservation research, data collection and environmental education work abroad. Our projects promote sustainable conservation efforts in some of the world's most biodiverse places: from the verdant jungles of Jalova in Costa Rica, to the granitic island of Curieuse in Seychelles.
And becoming a conservation volunteer with GVI also means working with some of the world's most endangered animals. You'll get involved in programs working towards the conservation of:
African animals – like cheetahs, rhinos, lions, elephants and hyenas

Aldabra giant tortoises

Asian elephants

jaguars

reptiles and amphibians

sea turtles

sicklefin lemon sharks

tropical birds.
Read this article to find out why wildlife volunteering is an excellent way to make an impact abroad: Why animal conservation may be the best way to volunteer abroad.
Sustainable conservation volunteering programs
Every GVI wildlife volunteering program looks to find sustainable solutions to global conservation concerns. What does this mean? Well, conservation volunteering programs need to be planned and implemented in a way that allows the organisation to collaboratively create a solution that will last for a long time and can eventually be maintained without external support.
GVI's wildlife volunteer programs are also aligned with the United Nations Sustainable Development Goals (UN SDGs) – global goals calling for worldwide action to address the biggest global issues. By taking this approach, GVI guarantees that you'll be contributing towards the most relevant and effective volunteer wildlife conservation programs.
GVI partners with some of the most reputable international conservation organisations so that we can stay up to date with conservation science and contribute to wildlife conservation in the best ways possible. Our conservation volunteering programs also offer you the opportunity to earn internationally recognised qualifications that can improve your employment opportunities in the future, and even start you off in a career in wildlife conservation.
And, we keep an eye on how effective our conservation volunteering programs really are and set our goals against global benchmarks. You can read about the work we've done with the help of volunteers like you in our Impact and Ethics Report.
As part of our efforts to run our programs as ethically and safely as possible, all of our wildlife volunteering programs are governed by both a strict stance on animal interaction and our robust health and safety practices. In this way, our expert staff ensure that animal conservation volunteering activities are safe, ethical and impactful.
Where can you get involved in wildlife volunteering?
Whether you're set on seeing the Big Five out in the golden stretches of the African savannah, or you're more keen to clamber through the rainforests of Costa Rica searching for species as you trek: there's no shortage of top-travel destinations where you can get involved in volunteering with wildlife.
Become a conservation volunteer in Latin America
Set out on a journey into the belly of the Costa Rican rainforest. Your heart may skip a beat on hearing the cacophony of bird calls cascading down from the trees, or the slither and croak of the reptiles and amphibians inching their way through the undergrowth.
This rainforest is filled with tons of tropical wildlife that are easy to spot. And there are many ways for you to volunteer with wildlife in Costa Rica. Have a look at our conservation volunteering programs in the Costa Rican rainforest centred on:
There are even volunteering with wildlife programs that will take you out in the rainforest terrain, tracking one of Costa Rica's most elusive tropical animals, the jaguar.
And let's not forget that the beaches of Costa Rica are a must-see on any Costa Rican travel itinerary. Go beyond just basking in the sun on the beaches of Tortuguero National Park. Instead, sink into sea turtle conservation and make a meaningful impact as a conservation volunteer in Costa Rica.
Get involved in volunteer wildlife conservation in Africa
Experience the sun rising over the Drakensberg Mountain range, the chirping of crickets wafting up from the hot grassy plains, or the stillness of the night in the wilderness of South Africa. Not many places in the world offer a wildlife volunteer experience quite like this.
Volunteer wildlife conservation programs in the Greater Kruger National Park of Limpopo can make your dreams of working towards the conservation of African animals – including the Big Five – come true.
You can get involved in any of the following volunteer wildlife conservation programs:
See how you can up your skill set on a wildlife volunteering program in South Africa in this article: Grow your conservation skills with a wildlife project in South Africa.
Take on turtle conservation in Greece
Bask in the beauty of coastal Mediterranean sunsets when you travel to Greece to contribute towards the conservation of loggerhead sea turtles.
In Greece, volunteers will be based in Giannitsochori – a small, traditional village in the municipality of Zacharo, southern Elis.
Here, you can get involved in any of the following sea turtle conservation programs:
With white-sand beaches, tranquil turquoise waters and rocky mountain terrains, what better place to make an impact in wildlife volunteering?
See how you can work towards making a positive impact with volunteer work in Greece in this article: Deepen your summer European travel experience by doing volunteer work in Greece.
Take part in conservation volunteering in Thailand
Follow your volunteer wildlife conservation aspirations to Thailand. Forget the tour buses and busy city streets of the typical tourist-in-Thailand experience. You'll be volunteering in locations some distance away from the major cities.
Set foot in the mountainous jungles of Chiang Mai province. Here, you can get involved in wildlife volunteering activities aimed at conserving Thailand's largest land animal, the Asian elephant. Assist traditional elephant keepers with reintroducing Asian elephants to their natural habitat and monitor their progress.
Read more about Asian elephants in Thailand in this article: The history and future of elephants in Thailand.
You can also get involved in women's empowerment workshops and education sessions with the local community that promote the conservation of this forested terrain.
Or, settle down in Phang Nga province instead, where towering mountain peaks are scattered across the land, and can even be spotted poking out of the sea in Phang Nga Bay!
In Phang Nga province, conservation volunteers can contribute towards conservation efforts like:
Volunteer with wildlife in Seychelles
And if you're most keen to make an impact in an island environment – because you know that climate change has had a big effect on islands – GVI offers conservation volunteering opportunities on Curieuse Island in Seychelles.
Find out what it's like to be ferried across the sea to an island with soft-sand beaches, lofty granite mountains, mangrove forests, and a diversity of island fauna and flora. Sounds delightful, doesn't it? Well, it's not just pleasant to look at, Curieuse Island is home to so many important ecosystems that the entire island is classified as a national park.
Step down from the ferry and onto its sandy shoreline, feel your worries slip away as you watch the palm trees swaying in the breeze, and listen to the steady sound of waves breaking along the coastline. Now, get excited about being in the perfect place to learn about island ecosystems.
Start off by dipping into sicklefin lemon shark conservation. In this project, you'll work with national park conservationists in the catch-and-release shark research project. Measure and count sicklefin lemon shark pups, and collect conservation data that contributes to local efforts aimed at conserving this endangered species.
Or, take a slow walk on the beach – clipboard in hand and keen eye at the ready – while scanning for endangered sea turtles during the nesting season. Both hawksbill and green sea turtles come to Seychelles to lay their eggs. And as a conservation volunteer on this project, you'll have the opportunity to assist with collecting important conservation data during this season.
Your records will add to the conservation information of local organisations and help inform future conservation activities. Then, work with other wildlife volunteers to usher sea turtle hatchlings from their nests to the sea, encouraging the survival of the offspring of these endangered species.
Q: How is ethical animal interaction ensured on a GVI wildlife conservation program?
A: GVI employs best practices when it comes to volunteering with wildlife, and is a British Standards 8848 compliant provider. Our programs are award-winning and endorsed by some of the biggest contributors in ethical conservation activities.
We also partner with some of the most reputable international conservation organisations so that we can stay up to date with conservation science, contribute towards large-scale ethical activities, and make a positive impact in wildlife conservation.
Q: How do volunteers interact with animals on an ethical wildlife volunteer program?
A: The key to ethical animal interaction is to avoid any contact with animals, unless for relevant scientific purposes or for activities such as health checks. All interaction must be supervised by trained staff.
Q: Why is ethical interaction important in a wildlife volunteer program?
A: It's important to remember that it can be dangerous to get close to wild animals under any circumstances. Organisations offering tours and leisure activities where you can get close to wild animals unnecessarily increases the risk of injury to human beings and animals. It can also have far-reaching effects for the animals themselves.
Wild animals that become too dependent on human interaction can lose part of their ability to fend for themselves in nature, and this can lead to these animals becoming injured or dying in a setting where they should be able to survive. It's not sustainable for humans to continue caring for wild animals for a few reasons. For example, wild animals' mental and physical health can be affected when they are kept in captivity, and most wild animals cannot be domesticated to the point that they can safely live in the same habitat as humans.
But perhaps the most important consideration is the fact that each animal belongs to a specific ecosystem, and the maintenance of these ecosystems depends on the presence of wild animals, and their innate capabilities – like hunting, foraging and how they interact with other animals.
Q: Do you need to be trained before you can handle animals ethically?
A: Yes. Reputable conservation volunteering organisations should provide the necessary training before volunteers participate in any kind of animal-handling activities. Animal handling is only necessary when it is focused on animal care or conservation research.
All of GVI's programs are run by experienced professionals. Volunteers who assist these professionals in animal care activities are taken through comprehensive training before being allowed to interact with any animals. This includes standard volunteer health and safety training, as well as training in animal-handling and biological survey techniques – which could earn you your GVI Biological Survey Techniques certification.
GVI also ensures that all wildlife volunteers are supervised during these activities. In this way we can be sure that volunteers are interacting with animals in the most ethical and effective ways possible.
Q: Why should sustainability be a priority in ethical conservation volunteering activities?
A: By aligning our organisation's activities with the United Nations Sustainable Development Goals (UN SDGs), GVI is committed to efforts that not only make a positive impact in wildlife conservation but also contribute towards long-term goals.
Volunteer wildlife conservation organisations that focus on making a long-term impact factor sustainability into their programs. Sustainability means that conservation efforts:
prevent the dependency of wild animals or local communities on volunteer activities

can continue through the efforts of local community members, even if GVI's staff and volunteers are no longer present

make use of resources in a way that doesn't compromise the access that future generations have to these resources.
By making sustainability a priority, GVI makes a promise to get involved in the most ethical, relevant and effective wildlife volunteering activities that can continue to make a positive impact into the future.
Want to know more about what makes a wildlife volunteering program ethical? Have a look at this article: Questions to ask when volunteering with animals.
Download our program brochures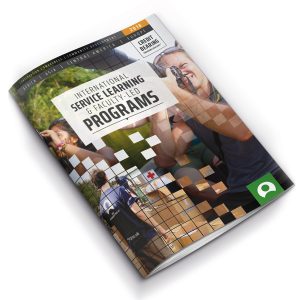 Take your conservation volunteering ambitions to the next level with an immersive 23-week safari field guide course with [...]