UNDER 18 VOLUNTEERING ABROAD
GVI sends thousands of teenagers abroad every year through our specially designed under 18 volunteer projects. Our projects aim to give young adults (aged 15 to 17), a perfect blend of volunteering, cultural and language immersion, skills training and adventure activities during their summer abroad. Volunteering abroad at a young age, not only helps young adults gain a better understanding of the world, its problems and how they can be solved, but it is also seen by universities and employers as something that sets the individual apart from other applicants.
Under 18 volunteers can choose from various volunteer abroad projects, volunteer as a group with their school, join an alternative springbreak project abroad, or take local language lessons and truly immerse themselves into the local communities while contributing to critical development projects. TAKE NOTE: We accept payment by credit card.
GROUP SUMMER VOLUNTEER PROGRAMS
If you are an educator looking for volunteering opportunities for teen groups you can always opt for our group summer volunteer programs for high school students. For a more educational high school volunteer trip that incorporates teen service projects, take a look at our service learning group programs.
GAP YEARS
For more adventurous students who are seeking extensive personal and professional development before committing to a four-year institution, GVI provides gap year programs and planning support for an active year "on." Take a look at our gap year programs!
HEALTH & SAFETY AND TEEN VOLUNTEERING ABROAD
For parents and guardians of under 18 travelers, you can download our Information Pack here.
On every programme we operate, your GVI leaders will be with you to make sure that you are safe, and to ensure consistent communication with our offices back home.
Health and safety on our programmes is paramount – we have an impeccable track record and strive to maintain it.
Download our program brochures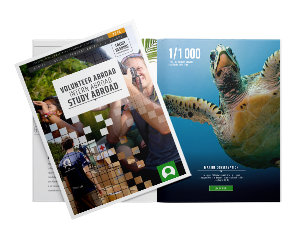 HEAR ALL ABOUT OUR HIGH SCHOOL VOLUNTEER TRIPS!
Or, to read more testimonials from other high school students about their teen community service abroad, view our High School testimonials.
Our Teen Volunteer Programs