Madagascar Wildlife Conservation Internship
Stand out from other candidates by gaining conservation experience in a one-of-a-kind habitat.
Program Code: MGNB0925N
Program Information
An exceptional career starts with an exceptional internship. Travel to the last remaining primeval rainforest on the island of Nosy Be, home to rare, critically endangered species. Here, you'll learn how real conservationists manage issues such as illegal logging and poaching and start to master wildlife conservation techniques that'll set you up for a lifetime of success in the field.
Get out of the library or the lab. Visit a remote research base to get the data needed to complete your thesis or research paper.
Want to land a job working for a purpose-driven organisation or kickstart your career in an impact-focused field?
Travel with ambition and purpose. Make a positive environmental or social impact and gain experience in an impact-focused role or sector.
Get out of the library or the lab. Visit a remote research base to get the data needed to complete your thesis or research paper.
This program is designed for undergrad, graduate students or post doctoral researchers looking to complete research in a number of fields related to conservation and international sustainable development. You'll conduct your own data collection and analysis with support and guidance from a research supervisor.
Designed for students and researchers
Complete your research paper or thesis
Conduct data collection and analysis
Receive support from a research supervisor
Want to land a job working for a purpose-driven organisation or kickstart your career in an impact-focused field?
Join our career internship program. It's designed for those looking to get their first job or advance their careers in international sustainable development. You'll complete a purposeful project for a real organisation working in conservation or international development, located in a number of locations around the world. A supervisor specialising in international professional work will guide you throughout the experience.
Designed for new graduates and working professionals 

Complete a real project for an organisation abroad

Get experience within a sustainable development organisation

Receive direction from a career supervisor
Travel with ambition and purpose. Make a positive environmental or social impact and gain hands-on, impact-focused experience in the field.
Gain practical experience in the field while receiving support from a supervisor throughout. As a core intern, you'll take part in project work with local partners while also taking on extra responsibilities on base, giving you opportunities for leadership experience. This means you could lead workshops and surveys or organise fundraising events and beach cleanups, for example.
Designed for students, new graduates and working professionals 

Get field experience in real-world conservation and community development work

Gain insight into careers within the sustainable development sector

Receive direction from an internship  supervisor
Overview
In a competitive world, to get the job you want, you have to stand out. So why not start in one of the most outstanding places on earth, Madagascar. This is a conservation internship for those who are a little different, because Madagascar is a little different. Most of the species on the island can only be found here. This includes the famous lemur, the most endangered mammal on earth.
You'll be working to conserve the sole remaining rainforest on Nosy Be island and its at-risk inhabitants in the protected area of Lokobe National Park. Some of the precious species that call this singular old-growth rainforest home are the critically endangered Nosy Be mouse lemur, also known as the Claire's mouse lemur, one of the smallest primates in the world. 
Through tracking, biodiversity surveys and camera trapping, you'll help to gather data on these threatened species. Your work will also help to establish the baseline biodiversity of the forest. 
Some of the most significant threats to wildlife in the area are deforestation and poaching. You'll be learning from local conservationists how they prevent both and get involved where you can. You might discuss with them how they work against illegal logging or how they protect the panther chameleon, an animal frequently poached for the international pet trade. There might also be a chance to support indigenous plant nurseries.
HIGHLIGHTS



Gain conservation experience in one of the most biologically unique habitats on earth. 




Learn how to track mammals such as lemurs through a dense rainforest habitat.




Find out how to set up and monitor camera traps. 




Become experienced in conducting biodiversity surveys. 




See first-hand how real conservationists counter illegal activities, such as poaching, in a National Park.



Program Details
Flexibility
Change your location and dates free of charge.
Payment Plans
Flexible payment plans available.
Cancellation Waiver
Cancel anytime and receive a full refund minus your deposit.
Life On Base
Our base is located on Nosy Be island, which, like the rest of Madagascar, is known for its abundant and unique biodiversity that can be found only here. Nosy Be means "big island" in the Malagasy language and is located off the northeastern coast of Madagascar.

Fieldwork on the conservation project may include trekking through the Lokobe Strict Reserve looking for signs of critically endangered lemurs or the great variety of bird, reptile, amphibian and butterfly species that call this rainforest habitat home. Some forest surveys are conducted in the morning or at night, which means you could catch a glimpse of spectacular sunsets and sunrises over the Indian Ocean. There are bound to be many photo opportunities during the course of your program.

Participants specialising in community development might support English language learning for young students in the morning and Lokobe park rangers and other adults in the evening.

The base is basic but comfortable with lots of space in which to take part in training workshops, carry out research or just relax after a busy day. We're much like a big family on base and cooking and tidying duties are shared on a rotation basis among staff and participants. Evenings include debriefs on the day's activities and enjoying a meal together.
Base Tour
COVID-19 Safety
Enhanced cleaning and social-distancing measures in place. Learn more.
Covid-19 Response
Health and Hygiene
For over 20 years, GVI has prioritised the health and safety of our staff, participants, partners and local community members. In response to the global COVID-19 pandemic, GVI has created the GVI health and hygiene team to put in place new standards of cleanliness, norms and behaviours that meet or exceed international recommendations to ensure the ongoing safety of GVI's participants, staff and communities around the world. Internationally recommended practices, such as advice from the World Health Organization (WHO), the Centers for Disease Control and Prevention, and the governments Australia, UK and US, continue to be monitored and the standards are likely to change if and when international advice changes.
The work GVI is contributing to across the globe remains important and the following measures allow our participants to continue to join GVI's programs and continue impacting positively on their world and the communities we work with. The following changes to our existing protocols have been made by the GVI health and hygiene team to strengthen our health and hygiene protocols and ensure that international standard safeguards are in place to protect our participants, staff and host communities.
What's It like?

If you'd like to find out what the experience of joining a GVI project is really like, simply contact us and we'll put you in touch with one of our many Alumni.
We'll try to match you to an Alum based on your location, nationality, age, stage of academic career, gender, and program interests. This allows you to gain insights into the experience that is most relevant to you.
Depending on your location you might be able to speak to an Alum over the phone or online, or meet up with them face-to-face at a coffee shop nearby. We also run a series of small events around the world where you can speak to GVI Alumni, Ambassadors and staff members.
Arrivals
When it comes to support, we ensure that each participant is provided with unparalleled, 360 degree support, from your initial contact with the GVI Family, all the way through your program, and even after, as you become part of the GVI Alumni Team.
As part of this promise, we will ensure, whenever possible, that one of our dedicated staff will be available to meet you at the airport. In most locations, we also set up a Whatsapp group to help with managing airport arrivals. We will arrange with you prior to your departure that, should you arrive in the agreed upon pick up window, a member of our staff will be there to welcome you, easily identifiable in a GVI t-shirt or holding a GVI sign and wearing a friendly smile. This means there will be someone there to greet you as you land, and from there you will be transported to your GVI base to start your adventure and meet the rest of your team.
COVID-19 Safety
Please note that the above images were taken pre COVID-19. All airport pick-ups and program operations now run with enhanced cleaning and social-distancing measures in place. Learn more.
Your Supervisor
We're of the belief that internships are learning experiences and that a great supervisor is absolutely essential to the success of any internship program. Our supervisors will assist you in familiarising yourself with your environment and provide the guidance you need to meet your goals and solve problems. They're remote, so that location and travel restrictions don't affect us in choosing the supervisor that best suits your needs.
If you choose our research internship package, you'll be assigned an research supervisor. Your research supervisor will provide guidance for you in achieving your data collection and analysis goals. They'll also help you to navigate the complex challenges of collecting and analysing data within the context of international field research.
When you choose our core internship package, you'll be assigned an internship supervisor. They'll help you to navigate day-to-day challenges involved in completing learning and tasks related to your internship program. They'll provide guidance throughout your internship so that you can get your work done successfully and maximise the benefits of your experience.
If you choose our career internship package, you'll be assigned a career supervisor. Your career supervisor will help you to navigate the professional relationship with the international organisation for which you'll be completing a project. They'll also help you to master skills necessary for successfully making the transition from full-time student to full-time employee.
Project Details
ACCOMMODATION

Participants sleep in dorm rooms with bunk beds that can accommodate 46 people.
There are shared bathrooms with showers and flushing toilets. The accommodation is equipped with running water. Electricity is solar-power so as to have a minimal impact on the natural environment. Participants are encouraged to bring their own solar-charged portable battery packs for the charging of personal devices.

MEALS

Staff and participants take it in turns to prepare meals according to a rota. Meals are usually simple but healthy, combining the flavours of Malagasy ingredients. Malagasy cuisine is heavily based on rice and beans. Breakfasts may include porridge, fresh fruit, toast and pancakes. Depending on the preferences of participants, dinner and lunch options vary, but usually consist of rice served alongside vegetables and, if you are a meat eater, meat. Dishes are usually served with a variety of locally made chilli sauces which are prevalent in Malagasy cuisine. There may also be a selection of curries, stir-fries, pasta, salads, fries and barbequed meat.

TRANSPORTATION

A GVI staff member will be at the airport to welcome you. From there, we'll provide a transfer to our base location. Transport is also provided for project work unless the project site is within walking distance. On weekends, participants can travel by boat from the base to Hell-Ville and can go on to visit local attractions on foot, by taxi or by tuk-tuk.

COMMUNICATION

With certain networks, there's decent phone signal reception on base. Internet cafes can also be found in town and WiFi is widely available in restaurants, hotels and cafes, however the business may require you to make a purchase before allowing you to access the network.

CLIMATE

Nosy Be has a tropical climate, with warm temperatures year-round. The island has an average temperature of 25–27 °C (77–80 °F) during the hotter months of November to April and 23–26 °C (73–79 °F) during the drier months of May to October. The rainy season takes place during the months of December, January and February but most days of the year are sunny.
Our Ethics
Below is a list of core ethics and best practices we believe are essential to the operation of high quality, ethical volunteer and sustainable development programs. We believe that all responsible volunteer and sustainable development operations should focus upon these principles. If you are considering volunteering, these are some of the key considerations you should question, to ensure that your time and money contributes towards positive change.
We want to constantly develop our own understanding of ethical best practice. In so doing, we aim to provide an exemplary industry standard for other education institutions, international development organisations, and social enterprises. Our Badge of Ethics stands for the drive to always do good, better. Find out more, click on the Badge below.
Our 10 Ethical Commitments
Locally Driven, Collaborative Projects
We aim to design all our projects in collaboration with local organizations and communities and ensure that they are locally driven.
Clear Objectives & Sustainable Outcomes
We aim to clearly define short-, mid-, and long-term objectives with sustainable outcomes for all our projects.
Impact Reporting
We aim to track, record, and publish the impact of each of our projects.
Working Against Dependency
We aim to build in-country capacity by assisting local organizations in becoming self-sustaining.
Responsible Exit Strategies
For each local organization we work with, we aim to have a plan in place for withdrawing support responsibly.
Clear Roles & Specialized Training
We aim to ensure that ever participant is assigned a clear role and that they are fully trained and supported to carry out their work by specialized staff.
Respect for all
In all our actions we aim to respect the skills and efforts of all and seek to protect the rights, culture and dignity of everyone who engages with GVI.
Local Ownership
We work to ensure that credit for the results of any project, along with any data collected, research conducted, or Intellectual Property developed, remains the property of local organizations.
Transitioning from the Orphanage Model
We do not condone and aim to withdraw support of orphanages and residential care centers.
Child and Vulnerable adult policies
We will live by our Child Protection and Vulnerable Adult policies.
Continual Development
As an organization, GVI is committed to striving toward best practice, and to educating both our potential participants, our partners, and the world at large about them. Both the volunteering and sustainable development sectors are increasingly, and rightly, under scrutiny. Many recent local and global articles highlight poor practices and questionable ethics. GVI is widely recognized for striving to apply global best practice in the volunteering, education and sustainable development sectors throughout our operations by reputable organizations such as ChildSafe.
However, global best practice is always evolving and we dedicate both time and resources to engage with internationally respected experts and learn from the latest research to ensure our programs both fulfil their potential to create maximum positive impact, and minimise their potential to create unintentional negative impact. Along with and as part of the sustainable development and volunteering community, we are constantly learning and applying this learning to practice. We do not always get everything right, but we seek feedback from our community members, partners, participants and our staff, and react accordingly. We know are already doing a great job, and feedback we have received confirms this, but we aim to do even better and are continuously refining our operations to improve upon our already excellent reputation.
Program Ethics
NO ENTERTAINMENT-BASED ACTIVITIES
We don't support the use of wild animals for entertainment purposes. This includes riding animals, having them perform tricks, feeding or bathing them or getting close to them to take photos
NO ORPHANED ANIMAL SANCTUARIES
We don't encourage, support or allow the rearing of "orphaned" wild baby animals kept at a "sanctuary". The conservation value of these types of programs is negligent and would only ethically be used in extremely rare cases
GUIDELINES FOR TOUCHING OR MOVEMENT RESTRICTION
When wild animals are restricted for conservation purposes we follow the guidelines of Fair Trade in Tourism South Africa (FTTSA), approved by the Global Sustainable Tourism Council.
ANIMAL WELFARE GUIDELINES
We ensure that the Five Freedoms of Animal Welfare are followed. These include the freedom to express normal behaviour and freedom from distress, discomfort, hunger, thirst, fear, pain, injury or disease.
LOCAL COMMUNITY EMPOWERMENT
We ensure that conservation efforts are also always locally led, that community needs are front-and centre of any conservation effort and that our participants, projects and partners work to increase local community engagement in local conservation efforts.
NO VETERINARY PROGRAMS
We don't offer any veterinary programs or animal rescue and rehabilitation programs. We don't allow participants to do any work they would not be able to do in their home country.
Training
A GVI program is an investment in your career. No matter which you choose, you will be working toward improving your employability by mastering new social skills, gaining further technical expertise and earning qualifications in many cases. Most of our staff are, in fact, GVI Alumni, and we have helped many of our Alumni discover, move toward, and earn their own personal dream jobs. Each program includes introductory workshops, ongoing presentations, as well as on-the-ground professional support provided by our very own trained staff members. In addition, our training programs are critical for helping us to ensure the long-term impact of our sustainable development projects around the world.
For All GVI Participants
Orientation: Your Health, Safety and Wellbeing
Learn about COVID-19 pre-departure guidelines, base expectations, personal and area hygiene practices and what we are doing to keep you safe.
Orientation: Travelling Responsibly and Ethically
Learn about the importance of child and vulnerable adult protection best practices and how to apply them while on project.
Orientation: UN Sustainable Development Goals
Introduction to the history and evolution of sustainable development, the United Nations Sustainable Development Goals (UN SDGs) and how these related to your project work.
Orientation: Further Opportunities for Impact
Learn about our country locations and further opportunities available to you during or after your program.
Qualifications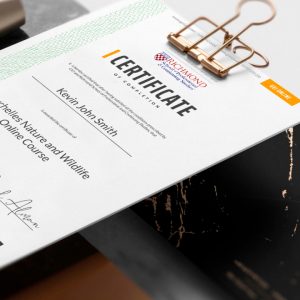 University of Richmond Certificate Careers in Sustainability
Career paths in social and environmental impact are not as well-established as in other fields. That's why we'll provide our interns who have successfully completed their program with our Careers in Sustainable Development course. In this course, you'll learn about current and emerging opportunities in a range of sectors, allowing you to make the best decision about your future.
This online course, valued at $395, is included in all internships. Full course details can be found here.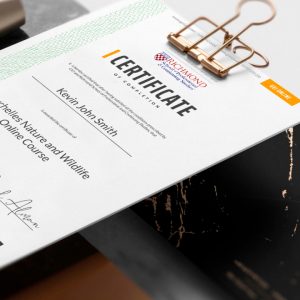 University of Richmond Certificate Leading Teams for Impact
Leadership is a critical skill set for anyone looking to make an impact or drive sustainable development. Develop your own leadership style and learn how to set achievable objectives, give effective feedback and manage conflict successfully. After successfully completing the course, which you have the option of doing prior to your in-country program, you'll receive a certificate from the University of Richmond.
This online course, valued at $395, is included in all volunteering programs. Full course details can be found here.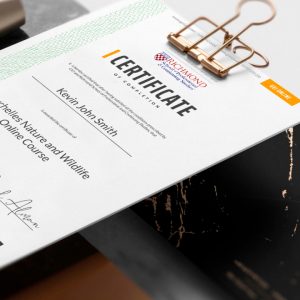 University of Richmond Certificate Wildlife Conservation
If you have a passion for wildlife conservation then this course will provide you with the foundational skills and understanding needed to achieve your conservation-related goals. You'll learn about the various methods of wildlife monitoring, as well as exploring the delicate balance involved in terrestrial ecosystem management. After successfully completing the course, which you have the option of doing prior to your in-country program, you'll receive a certificate from the University of Richmond.
This online course, valued at $395, is included in all volunteering programs. Full course details can be found here.
References and Recommendations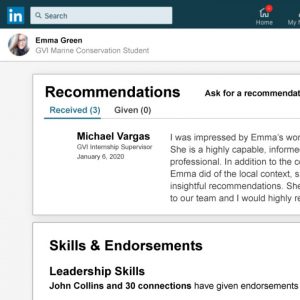 LinkedIn Recommendation and Skills Endorsement
This is only included in the research and career internships.
If you've fulfilled the requirements of your internship, your supervisor will complete a LinkedIn recommendation for you. This'll summarise the most impactful points of your professional reference. They'll also endorse skills they've seen you demonstrate during your internship.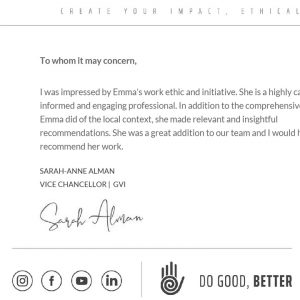 Professional Reference
Once you've successfully completed your internship, you'll receive a digital professional reference signed by your program manager. It'll include a description of the topics covered and the experience gained on your program. Add this to your job applications to boost your chances of securing the position of your choice.
Career Services
After successfully completing your internship you'll have a host of new skills, specialised knowledge and work experience. You'll also have a professional reference and, possibly, new qualifications. Our post-program career services will help you leverage what you've gained throughout your internship to take the next step on your chosen career path.
Careers in Sustainability
Career paths in social and environmental impact are not as well-established as other fields. That's why we provide all of our interns with a Careers in Sustainable Development course in partnership by the University of Richmond. In this course, you'll learn about current and emerging opportunities in a range of sectors, allowing you to make the best decision about your future.
This online course is valued at £295 and is included in all internships.
Course details can be found here.
When you've successfully completed your internship, you'll have the opportunity to schedule two career coaching sessions with one of GVI's career mentors.
Use these small group sessions to develop your career goals, personal branding and job-hunting strategies.
At the end of your internship you'll be added to our list of potential candidates we'll consider first for GVI vacancies around the world. Stay up-to-date on positions by checking our Careers Abroad jobs portal. Get in touch if you find that fits you perfectly.
Job Portal Access
Once signed up to a GVI Internship, you'll receive access to our jobs portal listing thousands of vacancies in social and environmental impact roles around the world. Employers range from non-profits to purpose-driven businesses.
If you join a career and research internship program for the duration of 24 weeks or longer you'll receive a money-back job guarantee. We promise that you'll find a position in an impact-driven field within 18 months of successfully completing the program or you'll receive 50% of your internship program fee back.
Free time
Joining a program not only allows participants to collaborate with communities or work toward preserving unique ecosystems but it also offers plenty of opportunities to explore the surrounding area or travel further to see what other parts of the region have to offer.
Long term field staff are a great source of advice, and have helped us put together the following information on local travel options. Many decide to travel before or after their experience (subject to immigration restrictions), solidifying the lifetime friendships established on program. Please note that the below suggestions are not included in the program fee, and are for the individual to organise at their own expense.
Cultural Immersion
Engaging intimately with a new context teaches not only global awareness but adaptability and critical thinking, skills highly valued in the modern marketplace. Local and cultural immersion is encouraged on all our programs around the world, and is also one of the most enjoyable aspects of your experience. Luckily, there are many activities you can get involved with in your free time, or before and after your program. On our community programs the focus is on cultural topics, while on marine or wildlife programs the emphasis is more on the environmental element. Use your evenings and weekends to explore diverse and eclectic topics like Theravada Buddhism in Laos or how plastic pollution and climate change affects Indian Ocean coral.
Parent Info
'If only every student could do this. It changes your life in all the right ways,' says Chris Heritage, parent of Luke Heritage, one of our teen volunteers who has participated on two GVI programs, one in Costa Rica and another in South Africa.
We are a parent-run organisation that is incredibly serious about health and safety, and increasing the impact, as well as the long-term career benefits of our programs. Our programs help young people develop the skills to select a career path that is personally fulfilling, and live a life aligned to the well-being of our planet and the global community.
Ken and Linda Jeffrey, whose son Sam volunteered with GVI in Thailand, talk about how the experience affected Sam. He also went on to volunteer with GVI again in South Africa. 'I know it sounds like a cliche but in a sense, he did go away as a boy and he came back as a young man. Both of us could recommend GVI without any hesitation to any other parent thinking about exploring an opportunity for their children to explore the world and to see different parts of it.'
Parent Info Pack
Download the Parent Pack and learn more about:
Our staff: All our projects are run by staff, selected, vetted, trained, and managed by our central office.
Health and safety: Our safety practices include a child and vulnerable adult protection policy and high participant ratios.
Staying in touch: See what's happening on base, by following a hub's dedicated Facebook page.
Free parent consultations: We would love to talk to you about exciting opportunities available for your child.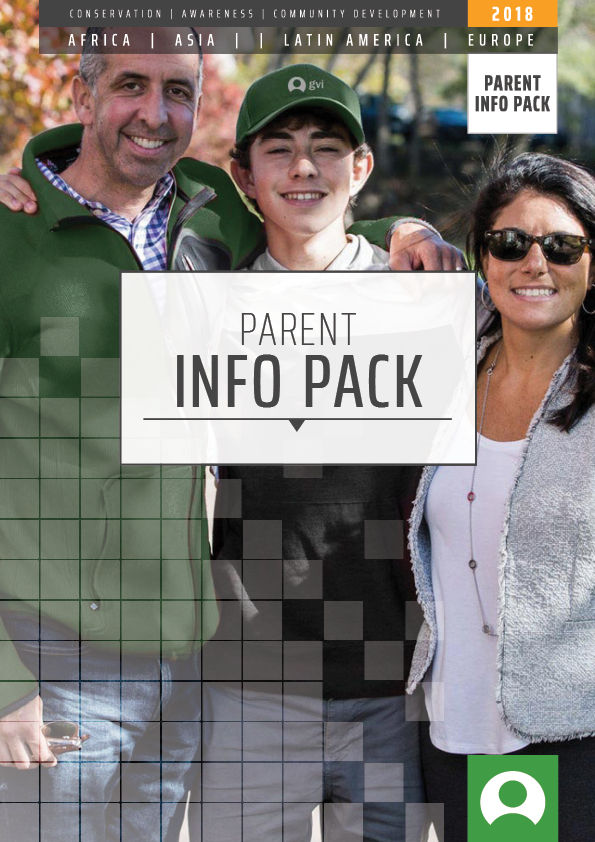 Support & Safety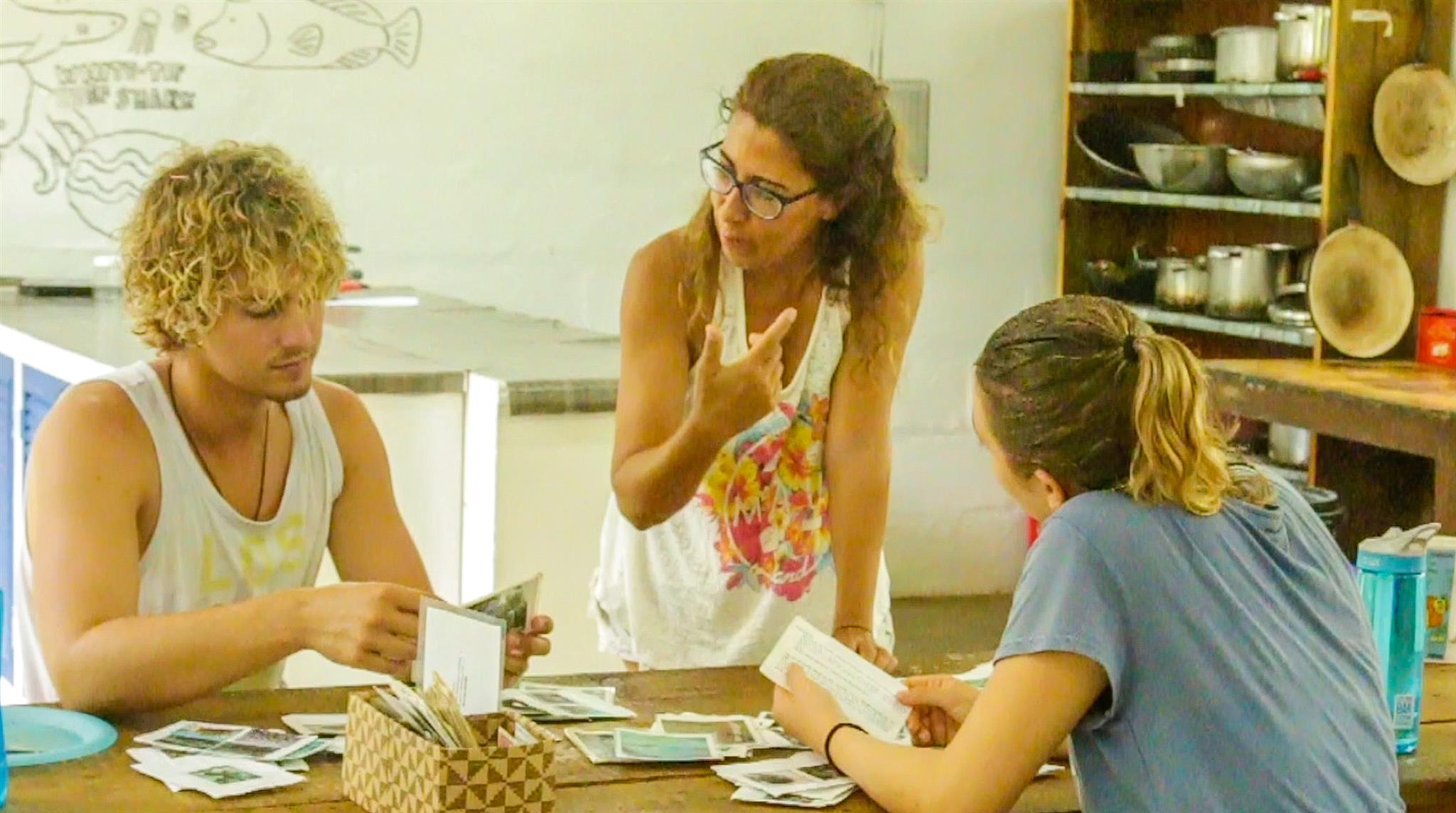 We won't sugarcoat it — traveling abroad is usually a complex process that carries an element of risk. But this is exactly why we're passionate about providing extensive support throughout the process as well as the highest safety standards during the in-country phase. We believe that volunteering abroad should not only be impactful, but an enjoyable experience that carries as little risk as possible. This is exactly how we've been able to maintain our reputation as the most highly respected volunteering organisations in the sector over the past two decades.
COVID-19 Safety
Enhanced cleaning and social-distancing measures are in place throughout each GVI program. Learn more.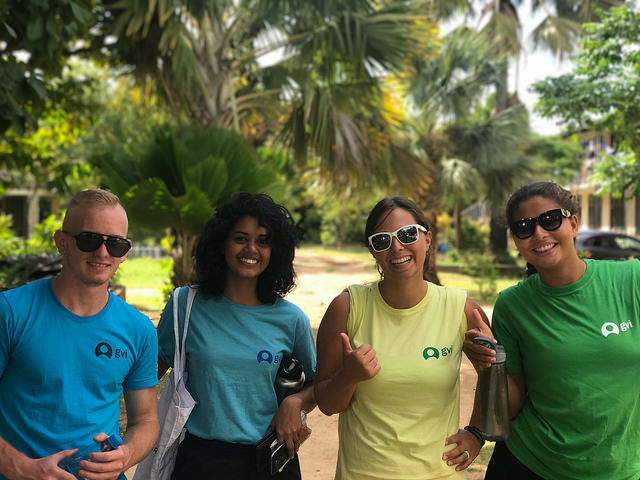 Support
Once a participant books, they will be assigned a personal support coordinator who will oversee their pre-departure journey. The support coordinator helps to bridge the gap between program enrolment and arrival at one of our field bases. Your personal support coordinator will ensure that you are provided with all the necessary information required to apply for visas, background checks, and any other documentation.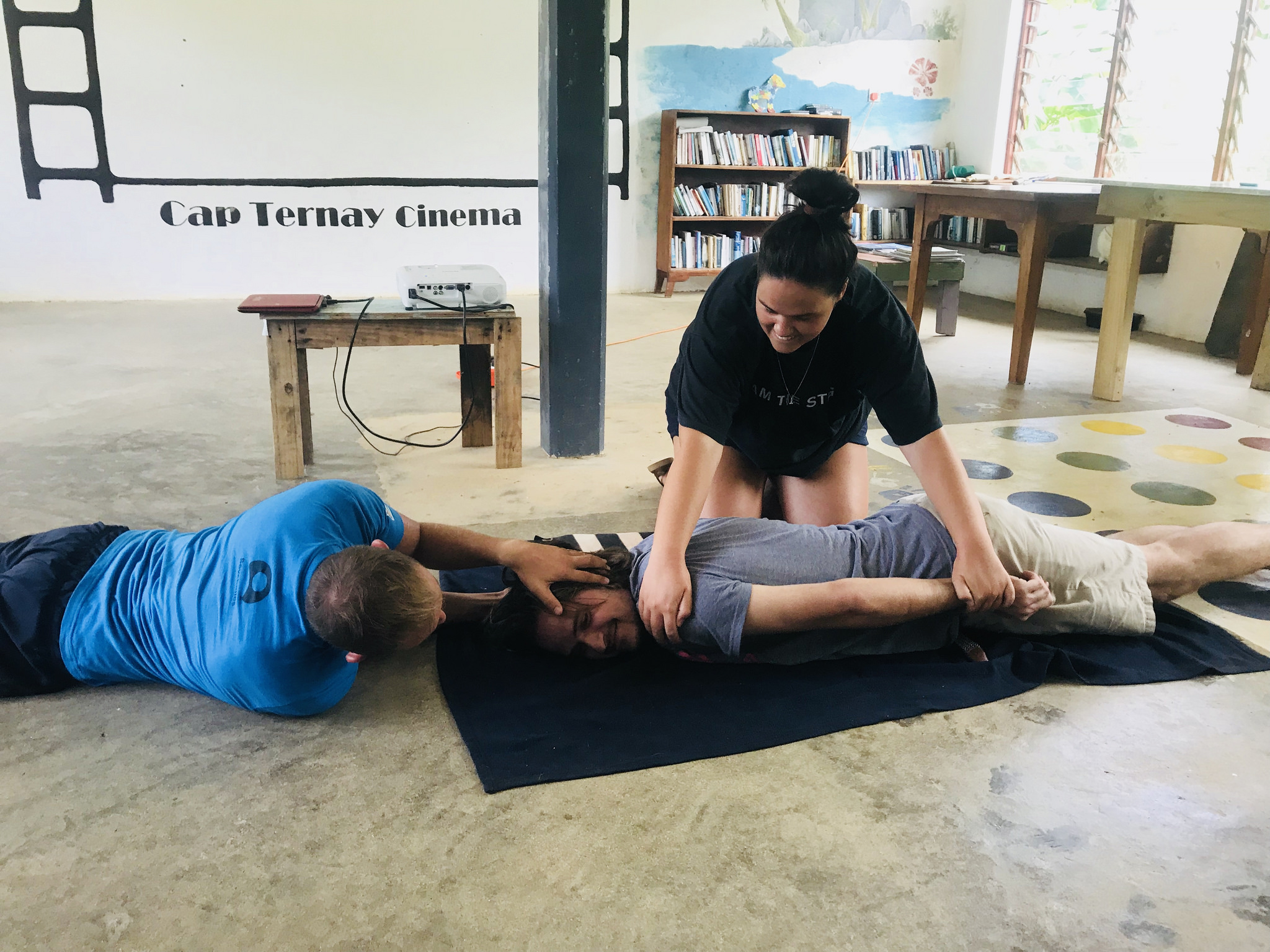 Safety
Upon arrival at the airport, participants will be greeted by a GVI staff member. All GVI staff are our own and all our programs around the world are run by our staff. All GVI field staff are background checked, Emergency First Response and safety trained. The minimum staff to participant ratio on GVI's programs is one to six, although on several bases we have a ratio of one to three. When finishing the experience, participants will provide feedback on all aspects of their program.
Health & Safety Case Studies
What's Included
24-hour emergency phone

24-hour in-country support

Access to Alumni Services and Discounts

Airport pick-up (unless otherwise stated)

All necessary project equipment and materials

All necessary project training by experienced staff

Location orientation

Long term experienced staff

Meals while on project (except on work placements for long term internships)

Safe and basic accommodations (usually shared)

Welcome meeting
What's Not Included
Additional drinks and gratuities

Extra local excursions

Flights

International and domestic airport taxes

Medical and travel insurance

Personal items and toiletries

Police or background check

Visa costs (where necessary)
Work Placements
Our career internship programs include the option of joining and completing a work placement of between 2 to 12 weeks with impact-focused organisations all over the world. These could be charities, businesses, governments, or GVI itself. Please note that placements come at an additional cost. Speak to us for details.
Contact Us
GVI
75 State Street, Floor 1&2, Boston, MA, 02110
Learning Provider Number (LPN): 10002692
Centre Number: 17067