Safari Field Guide Course in South Africa
Spend 23 weeks training in the African bush with an optional 6 months placement
Safari Field Guide Course in South Africa
Spend 23 weeks training in the African bush with an optional 6 months placement
Program Code: ZABF0039N
Our Impact
Location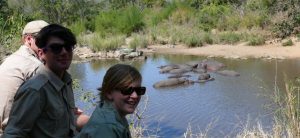 Mahlahla, Limpopo
Our FGASA and hospitality operations are situated in the Limpopo Province of South Africa, approximately 500km north east of Johannesburg and just 1 hour's drive from the western gates of Kruger National Park. With the towering Drakensburg escapment to the west, this stunning area of South Africa's lowveld offers breathtaking views, diverse landscapes and some of the best Big 5 game-viewing opportunities in Southern Africa. Our field guide and hospitality placement opportunities are located in some of the finest luxury safari lodges and game reserves of Southern Africa.
Program Information
Program Snapshot
Become an accredited Field Guide and forward your conservation career when you spend 23 weeks training in the iconic South African lowveld; one of the best wildlife locations in the country. You will gain skills and qualifications applicable to many conservation careers and there's an optional placement to give you the opportunity to gain experience and secure the best possible start to your career.
Get out of the library or the lab. Visit a remote research base to get the data needed to complete your thesis or research paper.
Want to land a job working for a purpose-driven organisation or kickstart your career in an impact-focused field?
Travel with ambition and purpose. Make a positive environmental or social impact and gain experience in an impact-focused role or sector.
Get out of the library or the lab. Visit a remote research base to get the data needed to complete your thesis or research paper.
This program is designed for undergrad, graduate students or post doctoral researchers looking to complete research in a number of fields related to conservation and international sustainable development. You'll conduct your own data collection and analysis with support and guidance from a research supervisor.
Designed for students and researchers
Complete your research paper or thesis
Conduct data collection and analysis
Receive support from a research supervisor
Want to land a job working for a purpose-driven organisation or kickstart your career in an impact-focused field?
Join our career internship program. It's designed for those looking to get their first job or advance their careers in international sustainable development. You'll complete a purposeful project for a real organisation working in conservation or international development, located in a number of locations around the world. A supervisor specialising in international professional work will guide you throughout the experience.
Designed for new graduates and working professionals 

Complete a real project for an organisation abroad

Get experience within a sustainable development organisation

Receive direction from a career supervisor
Travel with ambition and purpose. Make a positive environmental or social impact and gain hands-on, impact-focused experience in the field.
Gain practical experience in the field while receiving support from a supervisor throughout. As a core intern, you'll take part in project work with local partners while also taking on extra responsibilities on base, giving you opportunities for leadership experience. This means you could lead workshops and surveys or organise fundraising events and beach cleanups, for example.
Designed for students, new graduates and working professionals 

Get field experience in real-world conservation and community development work

Gain insight into careers within the sustainable development sector

Receive direction from an internship  supervisor
Overview
Join us in South Africa's Lowveld region, one of the world's best big game territories and train to become a qualified field guide, a knowledgeable conservationist and experience the African bush at its best. This course is the ideal platform for a successful career in the African safari lodge industry and many international wildlife conservation careers or for a hands-on experience in the African bush that you will never forget. So be proactive and broaden your horizons, while gaining diverse qualifications, experience and transferable skills to improve your employability. The course can offer all this, whilst you have an adventure of a lifetime.
On the course we offer high quality theoretical and practical training, covering a diverse range of topics while being situated in one of the wildlife hot spots in South Africa. The foundation of the course is structured around the FGASA (Field Guide Association of Southern Africa) syllabus, which will give you an in depth knowledge and understanding of Southern African Fauna and Flora. This, along with the additional activities, will show potential employers around the world that you have the ability and drive to learn, and importantly transferable skills to take into your conservation career.  Other relevant and exciting activities and qualifications have also been added to boost your CV and show employers that you are resourceful and determined about making it in conservation.
The curriculum includes bush skills such a wildlife tracking, shooting competency, 4×4 driving, outdoor first aid, wildlife photography, wildlife surveying techniques and in-depth knowledge and practical application of subjects such as conservation, ecology, reserve management, geology and animal behaviour. The course has been designed to develop applicants into highly skilled professionals in the exciting area of field guiding, conservation, research, adventure tourism or lodge management, by providing a well-rounded, specialised education which focuses not only on the theory but the practical aspects of wildlife conservation and guiding.
Unlike many other training providers, this course focuses on practical skills and gives students a regular exposure to working and guiding around dangerous game, such as Elephant, Lion, Rhino, Leopard, Buffalo and Hippo. This invaluable experience gives students excellent grounding for any of our placements and future employment in 'Big Five' game reserves, research and conservation jobs in Africa and beyond.
All the trainers are from The Field Guide Association of Southern Africa (FGASA) and the course is both theoretical and practical. Students who choose to take the 23 week course and not the work placement will still be professionally qualified if they pass their exams.
The course is known for producing the highest caliber graduates for this demanding industry. Throughout the years, our graduates have achieved the highest marks of all the FGASA long term providers many times and are considered some of the best trained guides in the industry.
Field Guide students have an opportunity to undertake a 6 month placement. This allows students to gain valuable hands on experience, as well as cementing the information and skills learnt during the training period, and gaining a valuable 'foot-in-the-door' to the exhilarating and competitive safari tourism industry and, wildlife and conservation careers.
Please remember, the allocation is based on performance, interest and personality as determined by the head trainer. All students MUST pass both the FGASA and course requirements before being placed at any placement.
Program Details
GVI's sister company, Bushwise, is a Field Guide College in the heart of South Africa's bushveld. Bushwise is an accredited FGASA training provider with the highest success rate in passing the FGASA exams, and also securing field guiding jobs post-internship.
Bushwise's Story
Co-founder Sophie Newman joined GVI in its infancy, where she set up and ran the GVI Karongwe Wildlife Expedition. Back then, GVI consisted only of Sophie in the field and the founder of GVI, Richard Walton, who manned the office in the UK. As GVI grew Sophie went on to set up and run wildlife and community conservation programs across Africa. These included predator projects in Venetia, South Africa, community and marine conservation programs in Kenya, and SANParks internship programs, to name a few.
During her 8 years as a Regional Director for GVI, she found it a constant battle to find staff with the qualifications, skills, and ethical professionalism GVI required. There was clearly a great need to assist young passionate conservationists and wildlife enthusiasts in getting these skills and qualifications to start their career. So, Richard and Sophie embarked on setting up Bushwise Field Guides. The vision was to develop a high quality, all-inclusive training course, which offered a platform for students to gain all the relevant qualifications, practical experience and importantly, develop the professional ethics and soft skills.
Bushwise ran its first course back in 2006 at Mahlahla campus, and looking back to the early days, Bushwise's ethos and vision has remained the same, but the program has evolved tremendously. Over the years we have focused all our attention on the long-term courses, which provides the best platform to gain the quantity and quality of knowledge and skills needed. We work closely with the lodges to develop and tweak the program as the industry changes. This ensures our students get the necessary experience to benefit not just their employment but also adhere to the lodges' standards. We have added numerous qualifications, fine-tuned the training, refined our soft skills development, and built an exceptional Bushwise team.
We will continue to work proactively with the lodges in this ever-changing industry, to ensure our Bushwise course is the most relevant and of the highest standard. We also guarantee that our graduates are of the highest standard possible. Not only do we have a lasting relationship with our alumni, but Bushwise plans to develop additional courses and programs to build on their skills, and further their careers.
Flexibility
Change your location and dates free of charge.
Payment Plans
Flexible payment plans available.
Cancellation Waiver
Cancel anytime and receive a full refund minus your deposit.
Life On Base
Living on base in Mahlahla provides you with the perfect opportunity to trade a traditional office environment for a work week that unfolds in the heart of the African bushveld. Spend time in the wild on game drives, tracking animal spoor, identifying different types of fauna and flora, learning more about field guiding and also generally getting to know your fellow international students in front of the campfire at night.
Base Tour
COVID-19 Safety
Enhanced cleaning and social-distancing measures in place. Learn more.
Covid-19 Response
Health and Hygiene
For over 20 years, GVI has prioritised the health and safety of our staff, participants, partners and local community members. In response to the global COVID-19 pandemic, GVI has created the GVI health and hygiene team to put in place new standards of cleanliness, norms and behaviours that meet or exceed international recommendations to ensure the ongoing safety of GVI's participants, staff and communities around the world. Internationally recommended practices, such as advice from the World Health Organization (WHO), the Centers for Disease Control and Prevention, and the governments Australia, UK and US, continue to be monitored and the standards are likely to change if and when international advice changes.
The work GVI is contributing to across the globe remains important and the following measures allow our participants to continue to join GVI's programs and continue impacting positively on their world and the communities we work with. The following changes to our existing protocols have been made by the GVI health and hygiene team to strengthen our health and hygiene protocols and ensure that international standard safeguards are in place to protect our participants, staff and host communities.
Download our Travel Smart Checklist
Essential information you need to travel safely during the COVID-19
pandemic – including destination ratings, flight bookings, and tests.
What's It like?

If you'd like to find out what the experience of joining a GVI project is really like, simply contact us and we'll put you in touch with one of our many Alumni.
We'll try to match you to an Alum based on your location, nationality, age, stage of academic career, gender, and program interests. This allows you to gain insights into the experience that is most relevant to you.
Depending on your location you might be able to speak to an Alum over the phone or online, or meet up with them face-to-face at a coffee shop nearby. We also run a series of small events around the world where you can speak to GVI Alumni, Ambassadors and staff members.
Arrivals
When it comes to support, we ensure that each participant is provided with unparalleled, 360 degree support, from your initial contact with the GVI Family, all the way through your program, and even after, as you become part of the GVI Alumni Team.
As part of this promise, we will ensure, whenever possible, that one of our dedicated staff will be available to meet you at the airport. In most locations, we also set up a Whatsapp group to help with managing airport arrivals. We will arrange with you prior to your departure that, should you arrive in the agreed upon pick up window, a member of our staff will be there to welcome you, easily identifiable in a GVI t-shirt or holding a GVI sign and wearing a friendly smile. This means there will be someone there to greet you as you land, and from there you will be transported to your GVI base to start your adventure and meet the rest of your team.
COVID-19 Safety
Please note that the above images were taken pre COVID-19. All airport pick-ups and program operations now run with enhanced cleaning and social-distancing measures in place. Learn more.
Flights
Please note that if you use this service delivered by Student Universe and / or if you buy your ticket through this portal you are agreeing to the Student Universe Privacy Policy and Terms and Conditions. Your agreement regarding flights will be between you and Student Universe or as per their terms and conditions.
As GVI is providing this portal as a service we are not responsible for the accuracy of this site.
We are also not responsible for any loss, damage (including loss of profits or consequential damages), injury, illness, harm or death in relation to your flight and travel arrangements.
Download our Travel Smart Checklist
Essential information you need to travel safely during the COVID-19
pandemic – including destination ratings, flight bookings, and tests.
Meet the team -
Senior Field Management
Sophie
Director of Bushwsie
Sophie is the Bushwise Director and helped set up the company thirteen years ago. Since then she has been instrumental in helping to expand and improve Bushwise to make it what it is today. Originally from England she has been living in South Africa for twenty-three years. She is also an accomplished artist having displayed her work in Cape Town and various other places.
Trevor
General Manager at Bushwise
Trevor is our General Manager at Bushwise. He was born in Rhodesia, now known as Zimbabwe but grew up in South Africa. After spending most of his life in the corporate world, he realised that being outdoors was his true calling!
Meet the team -
In-Country Staff
Gerhard
Trainer at Bushwise
Gerhard is South African with a professional Lead Guide and Field Guide qualification, and a Diploma in Zoology. He is our trainer at Bushwise and our resident singer and songwriter. His songs have been aired on a local radio station and used in a religious stage production.
Kim
Sales Manager at Bushwise
Kim handles all the sales for Bushwise and is also involved in the social media marketing. She first stepped onto a game reserve working in hospitality and found that that was the place for her! She loves snakes but is terrified of spiders.
Sharin
Admin Manager
Sharin is from South Africa and is our Admin Manager at Bushwise. She joined Bushwise after having been in the corporate world and lodge industry and has now been here for four years. She has a love-hate relationship with scorpions and has been stung twenty-four times in three years.
Vaughan
Trainer at Bushwise
Vaughan is one of our Trainers at Bushwise and has a special interest in entomology, the study of insects and their relationship with humans. He is from the local area, having grown up in the South African bush. He has a background in scientific research but feels that guiding is a perfect platform from which to preach conservation.
Your Supervisor
We're of the belief that internships are learning experiences and that a great supervisor is absolutely essential to the success of any internship program. Our supervisors will assist you in familiarising yourself with your environment and provide the guidance you need to meet your goals and solve problems. They're remote, so that location and travel restrictions don't affect us in choosing the supervisor that best suits your needs.
If you choose our research internship package, you'll be assigned an research supervisor. Your research supervisor will provide guidance for you in achieving your data collection and analysis goals. They'll also help you to navigate the complex challenges of collecting and analysing data within the context of international field research.
When you choose our core internship package, you'll be assigned an internship supervisor. They'll help you to navigate day-to-day challenges involved in completing learning and tasks related to your internship program. They'll provide guidance throughout your internship so that you can get your work done successfully and maximise the benefits of your experience.
If you choose our career internship package, you'll be assigned a career supervisor. Your career supervisor will help you to navigate the professional relationship with the international organisation for which you'll be completing a project. They'll also help you to master skills necessary for successfully making the transition from full-time student to full-time employee.
Your Impact
All of our programs have short, mid and long-term objectives that fit with the United Nations Sustainable Development Goals or UN SDGs. This enables us to report on our collaborative impact across the world in a streamlined manner, measuring which UN SDGs we are making a substantial contribution to. Furthermore, this will help our local partners and communities measure and visualise their contribution to the UN SDGs.
Prior to your arrival on base, you will be educated about the history of the UN SDGs. Then, once on base you'll learn about the specific goals of your location, the long-, mid- and short-term objectives, and also clarification of how your personal, shorter-term involvement contributes to these goals on a global level.
Our aim is to educate you on local and global issues, so that you continue to act as active global citizens after your program, helping to fulfil our mission of building a global network of people united by their passion to make a difference.
Our Limpopo based programs are primarily aimed at developing the wildlife conservation sector, boosting the local economy by providing additional skills in the field, and providing high quality training to students from all over the world.
As such, the main UN Sustainable Development Goals of this project include #15, Life on Land, #10, Reducing Inequality and #8 Decent Work and Economic Growth.
Project Objectives
GVI Mahlahla, Limpopo's Long-term Objectives:
1. Focusing on training students to the highest standard possible, in both theoretical knowledge and practical experience.
2. Improving the employability prospects of field guides within the conservation industry, providing them with the skills necessary to specialise within their areas of interest.
3. Teaching up to field guiding level 2 field guide standards, providing more than just the basics offered at training providers elsewhere on the continent.
4. Growing Bushwise Recruitment, a branch of the business dedicated to finding jobs for participants after the successful completion of a six month program, and a six month placement.
5. Protecting and preserving the natural wildlife habitat of the Limpopo area.
Our Ethics
Below is a list of core ethics and best practices we believe are essential to the operation of high quality, ethical volunteer and sustainable development programs. We believe that all responsible volunteer and sustainable development operations should focus upon these principles. If you are considering volunteering, these are some of the key considerations you should question, to ensure that your time and money contributes towards positive change.
We want to constantly develop our own understanding of ethical best practice. In so doing, we aim to provide an exemplary industry standard for other education institutions, international development organisations, and social enterprises. Our Badge of Ethics stands for the drive to always do good, better. Find out more, click on the Badge below.
Our 10 Ethical Commitments
Locally Driven, Collaborative Projects
We aim to design all our projects in collaboration with local organizations and communities and ensure that they are locally driven.
Clear Objectives & Sustainable Outcomes
We aim to clearly define short-, mid-, and long-term objectives with sustainable outcomes for all our projects.
Impact Reporting
We aim to track, record, and publish the impact of each of our projects.
Working Against Dependency
We aim to build in-country capacity by assisting local organizations in becoming self-sustaining.
Responsible Exit Strategies
For each local organization we work with, we aim to have a plan in place for withdrawing support responsibly.
Clear Roles & Specialized Training
We aim to ensure that every participant is assigned a clear role and that they are fully trained and supported to carry out their work by specialized staff.
Respect for all
In all our actions we aim to respect the skills and efforts of all and seek to protect the rights, culture and dignity of everyone who engages with GVI.
Local Ownership
We work to ensure that credit for the results of any project, along with any data collected, research conducted, or Intellectual Property developed, remains the property of local organizations.
Transitioning from the Orphanage Model
We do not condone and aim to withdraw support of orphanages and residential care centers.
Child and Vulnerable adult policies
We will live by our Child Protection and Vulnerable Adult policies.
Continual Development
As an organization, GVI is committed to striving toward best practice, and to educating both our potential participants, our partners, and the world at large about them. Both the volunteering and sustainable development sectors are increasingly, and rightly, under scrutiny. Many recent local and global articles highlight poor practices and questionable ethics. GVI is widely recognized for striving to apply global best practice in the volunteering, education and sustainable development sectors throughout our operations by reputable organizations such as ChildSafe.
However, global best practice is always evolving and we dedicate both time and resources to engage with internationally respected experts and learn from the latest research to ensure our programs both fulfil their potential to create maximum positive impact, and minimise their potential to create unintentional negative impact. Along with and as part of the sustainable development and volunteering community, we are constantly learning and applying this learning to practice. We do not always get everything right, but we seek feedback from our community members, partners, participants and our staff, and react accordingly. We know are already doing a great job, and feedback we have received confirms this, but we aim to do even better and are continuously refining our operations to improve upon our already excellent reputation.
Program Ethics
NO ENTERTAINMENT-BASED ACTIVITIES
We don't support the use of wild animals for entertainment purposes. This includes riding animals, having them perform tricks, feeding or bathing them or getting close to them to take photos
NO ORPHANED ANIMAL SANCTUARIES
We don't encourage, support or allow the rearing of "orphaned" wild baby animals kept at a "sanctuary". The conservation value of these types of programs is negligent and would only ethically be used in extremely rare cases
GUIDELINES FOR TOUCHING OR MOVEMENT RESTRICTION
When wild animals are restricted for conservation purposes we follow the guidelines of Fair Trade in Tourism South Africa (FTTSA), approved by the Global Sustainable Tourism Council.
ANIMAL WELFARE GUIDELINES
We ensure that the Five Freedoms of Animal Welfare are followed. These include the freedom to express normal behaviour and freedom from distress, discomfort, hunger, thirst, fear, pain, injury or disease.
LOCAL COMMUNITY EMPOWERMENT
We ensure that conservation efforts are also always locally led, that community needs are front-and centre of any conservation effort and that our participants, projects and partners work to increase local community engagement in local conservation efforts.
NO VETERINARY PROGRAMS
We don't offer any veterinary programs or animal rescue and rehabilitation programs. We don't allow participants to do any work they would not be able to do in their home country.
Qualifications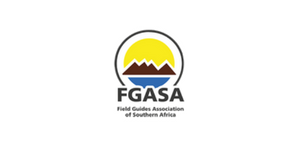 The FGASA Apprentice Field Guide (NQF2)
The FGASA Apprentice Field Guide (NQF2) qualification is aimed at achieving the ability of a graduate Field Guide to identify the major living and non-living features of the natural environment in which s/he operates. To interpret them at a level based mainly on observation and from an elementary scientific and cultural perspective. As a general guideline, a Field Guide (NQF2) has a sound knowledge of the history, geology, plants and animals (i.e. birds, mammals, reptiles, etc.) in the specific area of guiding operation.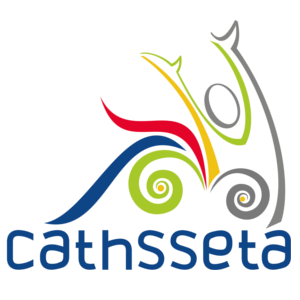 CATHSSETA National Qualification (NQF2) in Nature Guiding
NQF2 enables you to create and conduct a short-guided experience, based on local natural and cultural resources, that entertains and informs visitors. It enables you to be a competent guide operating within a local area. In addition you will be positioned to further your learning, practice and career within the guiding sector, through, among others, the support and teamwork of members of the guiding sector – either at further levels or in other areas of practice. Expansion into other sectors of tourism is also possible.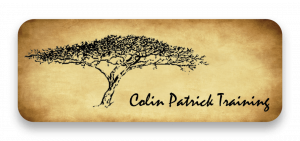 Cybertracker track & sign qualification (SASSETA & CATHSSETA)
These Courses are designed to be of benefit to both the novice tracker and yet at the same time to fine tune the skills of an experienced tracker. Aspects covered are principles of tracking, track&sign identification, study of animal gaits and movements, tracking techniques, the study of animal behaviour and signs, and animal trailing methods. All assessments are accredited by Cybertracker conservation and FGASA.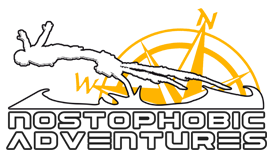 National Level 3 4x4 Driving qualification
FGASA endorsed Specialist Training Provider which represents the 4×4 Training Field with regards to the Nature Guide specific training. Following the national SAQA Unit Standard 254 135, the 4×4 qualification you receive is specialized in reserve-based & overland nature, or adventure guides' needs.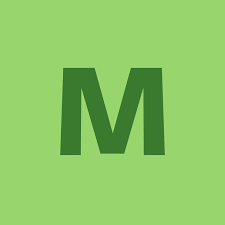 National Level 1/2 First Aid Wilderness Certificate
Modjadji First Aid Training offers Level 1-3 nationally accredited first aid courses. The latest audiovisual support and lots of practical training add fin to an exciting dimension of life. Modjadji First Aid only uses highly skilled educators and facilitators to offer the courses.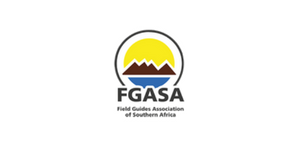 FGASA Apprentice Trails Guide
The FGASA Apprentice Trails Guide is an individual who is in training (in an apprentice programme) to become a Trails Guide and will learn how to function as 2nd Rifle and later as 1st Rifle during the training phase. The apprentice program is a stepping stone in the process for a guide to attain a FGASA Trails Guide Qualification and is not qualified to conduct trails or walks in areas with dangerous game in absence of a FGASA Trails Guide (NQF4), Professional Trails Guide, or SKS (DG) Guide.
Career Services
After successfully completing your internship you'll have a host of new skills, specialised knowledge and work experience. You'll also have a professional reference and, possibly, new qualifications. Our post-program career services will help you leverage what you've gained throughout your internship to take the next step on your chosen career path.
Careers in Sustainability
Career paths in social and environmental impact are not as well-established as other fields. That's why we provide all of our interns with a Careers in Sustainable Development course in partnership by the University of Richmond. In this course, you'll learn about current and emerging opportunities in a range of sectors, allowing you to make the best decision about your future.
This online course is valued at £295 and is included in all internships.
Course details can be found here.
When you've successfully completed your internship, you'll have the opportunity to schedule two career coaching sessions with one of GVI's career mentors.
Use these small group sessions to develop your career goals, personal branding and job-hunting strategies.
At the end of your internship you'll be added to our list of potential candidates we'll consider first for GVI vacancies around the world. Stay up-to-date on positions by checking our Careers Abroad jobs portal. Get in touch if you find that fits you perfectly.
Job Portal Access
Once signed up to a GVI Internship, you'll receive access to our jobs portal listing thousands of vacancies in social and environmental impact roles around the world. Employers range from non-profits to purpose-driven businesses.
If you join a career and research internship program for the duration of 24 weeks or longer you'll receive a money-back job guarantee. We promise that you'll find a position in an impact-driven field within 18 months of successfully completing the program or you'll receive 50% of your internship program fee back.
Parent Info
'If only every student could do this. It changes your life in all the right ways,' says Chris Heritage, parent of Luke Heritage, one of our teen volunteers who has participated on two GVI programs, one in Costa Rica and another in South Africa.
We are a parent-run organisation that is incredibly serious about health and safety, and increasing the impact, as well as the long-term career benefits of our programs. Our programs help young people develop the skills to select a career path that is personally fulfilling, and live a life aligned to the well-being of our planet and the global community.
Ken and Linda Jeffrey, whose son Sam volunteered with GVI in Thailand, talk about how the experience affected Sam. He also went on to volunteer with GVI again in South Africa. 'I know it sounds like a cliche but in a sense, he did go away as a boy and he came back as a young man. Both of us could recommend GVI without any hesitation to any other parent thinking about exploring an opportunity for their children to explore the world and to see different parts of it.'
Parent Info Pack
Download the Parent Pack and learn more about:
Our staff: All our projects are run by staff, selected, vetted, trained, and managed by our central office.
Health and safety: Our safety practices include a child and vulnerable adult protection policy and high participant ratios.
Staying in touch: See what's happening on base, by following a hub's dedicated Facebook page.
Free parent consultations: We would love to talk to you about exciting opportunities available for your child.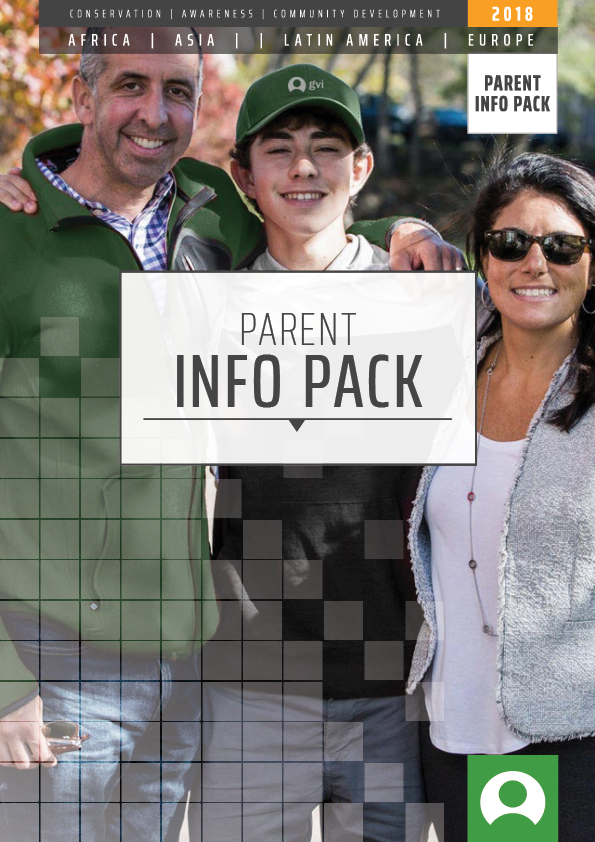 Support & Safety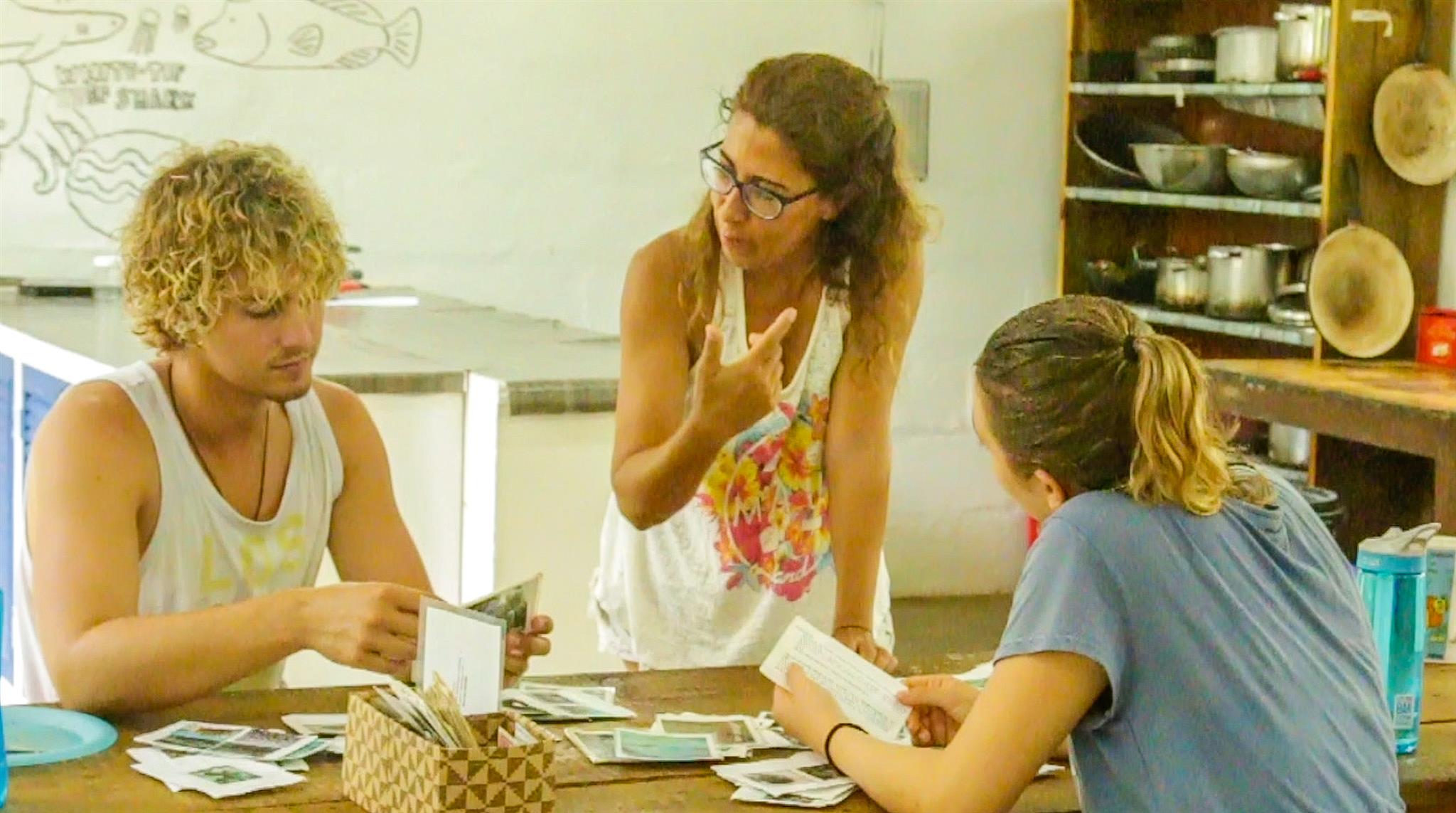 We won't sugarcoat it — traveling abroad is usually a complex process that carries an element of risk. But this is exactly why we're passionate about providing extensive support throughout the process as well as the highest safety standards during the in-country phase. We believe that volunteering abroad should not only be impactful, but an enjoyable experience that carries as little risk as possible. This is exactly how we've been able to maintain our reputation as the most highly respected volunteering organisations in the sector over the past two decades.
COVID-19 Safety
Enhanced cleaning and social-distancing measures are in place throughout each GVI program. Learn more.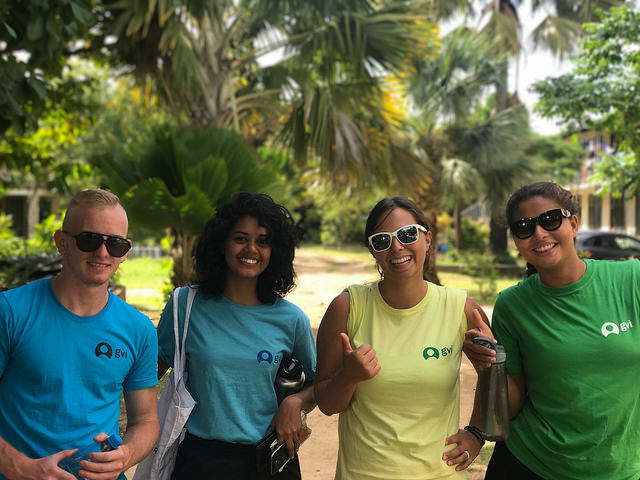 Support
Once a participant books, they will be assigned a personal support coordinator who will oversee their pre-departure journey. The support coordinator helps to bridge the gap between program enrolment and arrival at one of our field bases. Your personal support coordinator will ensure that you are provided with all the necessary information required to apply for visas, background checks, and any other documentation.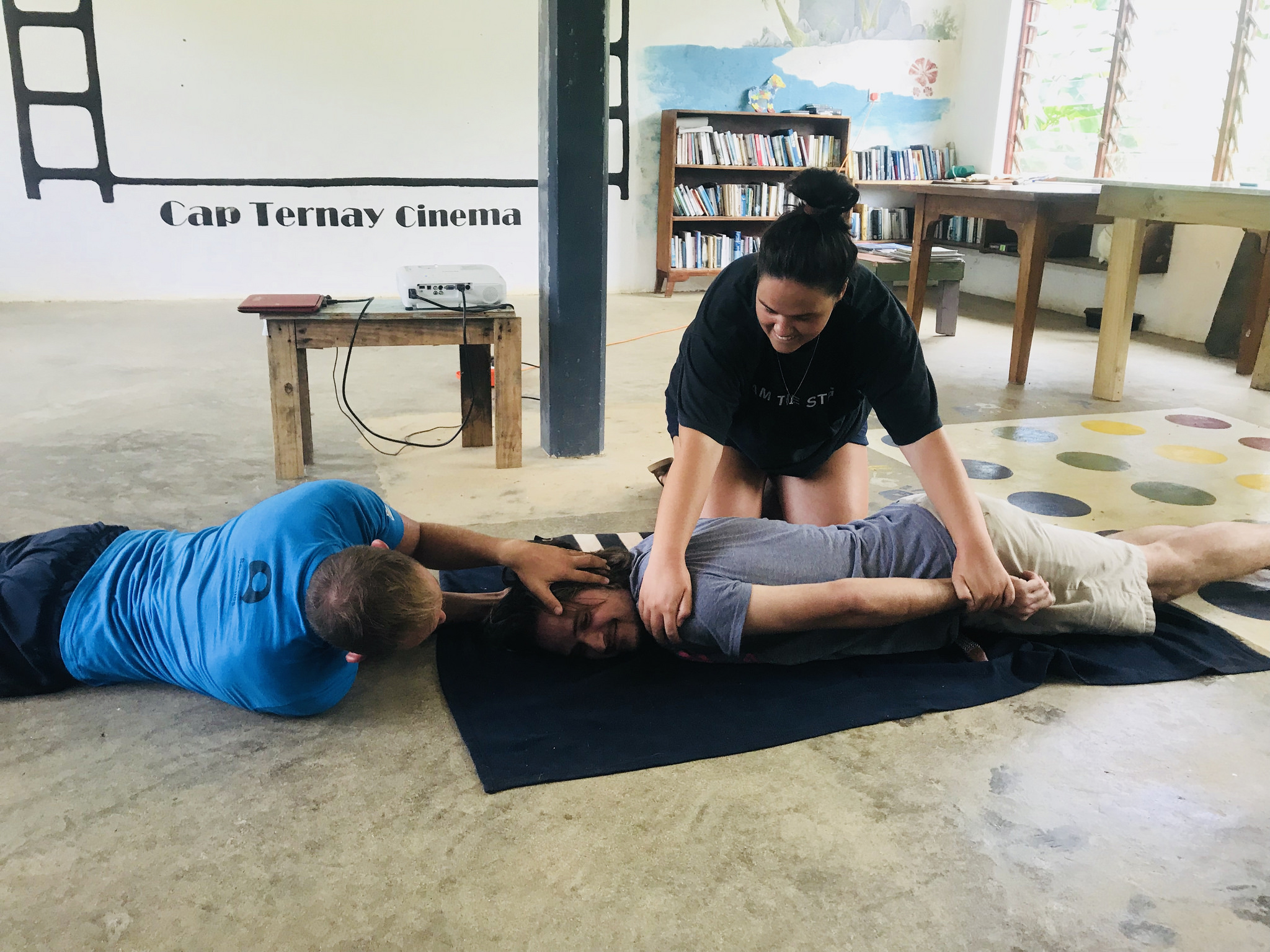 Safety
Upon arrival at the airport, participants will be greeted by a GVI staff member. All GVI staff are our own and all our programs around the world are run by our staff. All GVI field staff are background checked, Emergency First Response and safety trained. The minimum staff to participant ratio on GVI's programs is one to six, although on several bases we have a ratio of one to three. When finishing the experience, participants will provide feedback on all aspects of their program.
Download our Travel Smart Checklist
Essential information you need to travel safely during the COVID-19
pandemic – including destination ratings, flight bookings, and tests.
Health & Safety Case Studies
Work Placements
Our career internship programs include the option of joining and completing a work placement of between 2 to 12 weeks with impact-focused organisations all over the world. These could be charities, businesses, governments, or GVI itself. Please note that placements come at an additional cost. Speak to us for details.
Similar programs you may be interested in:
Subscribe to our newsletter for program updates and access to scholarship offers.
Contact Us
GVI
225 Franklin Street, 26th Floor, Boston, MA, 02110
Learning Provider Number (LPN): 10002692
Centre Number: 17067

Contact Us
GVI
225 Franklin Street, 26th Floor, Boston, MA, 02110
Learning Provider Number (LPN): 10002692
Centre Number: 17067