Program Details
Code: MXPM0436C
PADI Instructor Internship
A comprehensive, well-rounded training program, taking a PADI Open Water diver to being a highly qualified and specialised PADI instructor with our extensive marine conservation expedition.
Program Information
Ideal for PADI Open Water divers and Divemasters who dream of becoming highly qualified and specialised PADI instructors, with extensive marine conservation training. PADI Instructors make for more versatile employees than Divemasters, so if you're planning on choosing it as a career path, this customised, professional programme focused on marine conservation and its best practices is perfect for you. Selected interns will be given the opportunity to return to our marine conservation expedition base as PADI Open Water Instructors!
Overview
Welcome to our flagship program.
Our flagship program includes marine conservation training, Divemaster training and a dive shop placement, preparing you for our tailor made Instructor Development Course (IDC) and Master Scuba Diver Trainer course (MSDT).
We give you world-class professional-level training that is transferable to any dive-industry application, distinctively unique as our training is environmentally focused, with extensive conservation understanding and training. In 30 weeks, you will be qualified as a PADI Master Scuba Diver Trainer, with the training and ability to work and teach around the world, with specific diving, marine conservation, biology and work experience.
This is a one-of-a-kind program, facilitating access to an industry where conservation knowledge and understanding will set you apart from and above the rest.
Important:
if you are already PADI Divemaster qualified, and/or have extensive marine conservation training already, please do speak to us about tailoring this program for you. Options are available to complete the program without these elements.
Your 30 weeks will consist of the following
Marine Conservation Training – 12 weeks
PADI Divemaster Course (Internship & Placement) – 12 weeks
IDC & MSDT Course – 6 weeks
Why an IDC & MSDT?
With very few exceptions, the main business of any dive centre is training, and given that only Instructors can conduct most PADI programs, the hiring standard at most dive centres is Instructors, rather than Divemasters. They make much more versatile employees and our programs will turn you into a very well rounded dive professional ready to work in this demanding industry. The addition of the MSDT preparation program adds to your versatility as an instructor, as you will be able to offer additional, sought after speciality courses to your customers. The PADI Master Scuba Diver Trainer rating sets you apart as a dive instructor who takes continuing education seriously and is committed to teaching a variety of courses.
Marine Conservation Focus
Our PADI IDC & MSDT course is unique as it focuses and builds on the diving, conservation, biology and work experience that you will have learnt on our Divemaster Internship and marine training program. Complemented with a purpose-built, instructor-level training program heavily focused on conservation best practices, it will make you uniquely qualified to enter the scuba industry to work for operations located within Marine Protected Areas or otherwise.
We are currently the only organisation which implements a program like this, giving you unparalleled training, knowledge and experience which cannot be replicated elsewhere. You will work with members of our team who are marine biologists and/or have considerable training in the field, and have experience in research diving and working as Marine Park guides, so you will have fantastic opportunities to build on the conservation skills learnt on your expedition.
Scuba Diving Requirements
Before you start the internship, you will need to be qualified to at least PADI Open Water, or equivalent.
Program Details
GVI Live
16 Nov
Our marine conservation...
Our marine conservation base, GVI Fiji Caqalai, recently welcomed The Scuba News. Read about their experience diving the [...]
17 Nov
GVI - Volunteer Abroad [...]
Langa, meaning 'sun' in Xhosa, is one of the oldest townships in South Africa. It was a focal point of resistance against [...]
Posts from the Field
GVI Blog
Our oceans cover 71% of the earth's surface and they are a valuable resource to all living creatures. Without water, no life [...]
Life on the Internship
Marine Conservation Training
You will live and work for 12 weeks with a GVI research team and undergo an extensive training program, taking your diving skills through to advanced level and gaining an intimate knowledge of the marine ecosystem. This knowledge will be put into practice while you work as part of a team to compile crucial research on coral reef and fish species. Whilst undergoing this training, you will receive coaching to develop personal and professional skills, whilst helping staff out on base with additional duties, and receiving personal feedback as part of the internship.
Working days can be long and start early. Diving days begin with a team boat push followed by a short journey to one of the research dive sites. Other days may involve training on base, community days, beach clean-ups and bird surveys. Depending on weather conditions, we aim for everyone to have 1 or 2 dives/snorkels each day, 5 days a week, during which you will conduct underwater surveys after completion of your training. Besides diving, you should expect to be involved in additional projects and activities, including training sessions, marine debris surveys and removal, environmental education sessions or alternative income training, depending on local and project needs. Days are rounded off with evening debriefs, followed by dinner and time to relax, take in a beautiful sunset and share stories.
You will be assessed each week in order to measure your progress, and as long as you are successful on your training phase you will then proceed to complete your PADI Divemaster course during your 12-week work placement with XTC Dive Centre.
During the above, you will earn recognised qualifications including:


PADI Coral Reef Research Diver Distinctive Specialty


PADI Advanced Open Water


PADI Rescue Diver certifications


First Aid & CPR training (Emergency First Response Certification)


Biological Survey Techniques


PADI Divemaster Course and Placement
After completing your 12-week phase on the GVI base, you will join the team at XTC Dive Center to complete your professional training internship. During your 12-week internship, you will not only learn the specifics of dive guiding and supervising both certified and non-certified divers, you will also learn dive theory, the legal and ethical requirements of working in the dive industry and demonstrate your in-water skills in a variety of situations and circumstances.
This training will take you above and beyond PADI's basic requirements to be certified as a Divemaster and you will gain real-world experiences by working with customers, rather than just role-playing and learn about the day-to-day running of a dive center. There is much more to being a dive professional than just going diving and you will gain exposure and training in dive equipment maintenance, compressor maintenance and tank filling, customer service, logistical and administrative processes. Combining this with your experiences from your Marine Conservation Expedition will fully prepare you for working in the dive industry whilst helping to preserve our fragile marine ecosystem.
This opportunity will provide comprehensive practical experience of working in the dive industry as you become an integral part of the XTC staff and you will work with the team on a daily basis.
---
How this program makes a difference:
Our work on the marine conservation training phase aims to assess the health of the Mesoamerican barrier reef system. We focus on data collection for Fish and Coral species. Our goal is to increase local and global awareness of marine issues and provide data used for policy-making decisions.
Over time and with the contributions of a small number of volunteers, Centro Ecologico Akumal (CEA) have been able to amass a large database on the condition, health and changes of this section of the Mesoamerican Barrier Reef. With all our helpful and hardworking participants we can help our partners move forward providing great support to their work these other areas of the reef.
Project Details
The Instructor Development Course
The Instructor Development Course (IDC) is the next step once you have completed your Divemaster Internship. During the IDC, you will build on the leadership, general dive skills and theory that you learnt during your Divemaster training and develop your teaching skills in line with PADI's educational system. You will learn how to teach both in the classroom and in the water (confined and open water) and explore different techniques to help your students overcome any potential problems they may have. You will conduct numerous practical sessions in these three areas on which you will be evaluated using classmates as your students. The program also focuses on the requirements and standards for teaching the courses that you, as a new instructor, are authorized to teach; Open Water, Advanced, Rescue, Divemaster and three environmentally focused specialties. Through PADI's standardized teaching methods, you will be able to transfer your skills into any PADI training facility worldwide with minimal adaptations.
Our purpose-built, instructor-level training program heavily focuses on conservation best practices and makes you uniquely qualified to teach in environments that would benefit from diving programs being run in an environmentally conscious way, regardless of whether they are Marine Protected Areas or not. This means that, despite the fact that the training is environmentally focused, you will receive world-class professional-level training that is transferable to any dive-industry application, with extensive conservation understanding and training.
Instructor Examination (IE)
Upon successful completion of the IDC, an examiner from PADI will come and conduct their final impartial evaluation, through the IE. This is for PADI to independently verify that you have the skill level and professionalism that PADI expects from its instructors. We are privileged that PADI generally comes to us to conduct on-site IE's which is logistically beneficial but is also advantageous to you as you will be familiar with the facilities and dive sites.
---
Master Scuba Diver Trainer
Once PADI verifies your skills and you have successfully completed the IE, we conduct the Master Scuba Diver Trainer (MSDT) preparation program. This is where our program stands out.
At the IDC stage, as much as we are able to and do go the extra mile to deliver a world-class program, the course is to a large degree, standardised. It is during the MSDT preparation program where we deliver a lot of additional training. You will go through 5 Specialty Instructor Courses (3 of which are standardized, and 2 which are distinctive to our conservation-focused qualification).
Your 2 specialist qualifications will be Coral Reef Research Diver Instructor, a qualification uniquely designed by GVI and XTC and Marine Conservation Specialist Instructor, which focuses on the best practices of delivering courses and guiding dives in protected areas whilst minimizing a divers impact and increasing their awareness of marine issues.The remaining 3 specialties that we recommend are Enriched Air, , Digital Underwater Photography and Gas Blender, however at XTC Dive Center, the instructors have a wealth of experience teaching the full range of PADI specialties, so you do have flexibility in choosing your preferred specialty areas.
The MSDT rating is the second level of PADI's Instructor ratings and it denotes instructors who have undergone additional training and have a certain level of experience teaching. . Many dive centers choose to employ MSDT's over Instructors because of their additional skills and knowledge, that make them stand out from the crowd by being able to teach popular PADI programs that customers ask for. To actually be certified as an MSDT, will not only need to have 5 specialty instructor ratings you will get through XTC's preparation program, but also have certified 25 students. Please do note that this program does not actually certify you at that level, as you will need to get additional teaching experience, but it gives you the 5 speciality instructor ratings necessary. Selected interns will be given the opportunity to return to our marine conservation expedition base as PADI Open Water Instructors, giving you the opportunity to gain the 25 certifications required for the MSDT certification.
---
Going The Extra Mile
PADI requires that you get certain pass marks in each area, however, not only do we provide you with more practice sessions than PADI require, we also train at a higher level than required by PADI, ensuring that you get as much exposure as possible to the potential problems that you may come up against with real students, when working in the industry.
The program also furthers your education on the legal requirements for you as an instructor, your obligations and responsibilities to your students, tips on marketing courses and also looks at the business of scuba diving. PADI's minimum training time for an IDC is 7 days, however, as is the case with our Divemaster training, we go well above and beyond PADI's basic requirements, to guarantee that your training is the best it can possibly be, and you are sufficiently prepared for any eventuality.
You are not trained to be just any instructor – we want you to be the best instructor you can be, with the skills necessary to feel comfortable teaching whilst being an environmental ambassador.
Job Placement Assistance
Taking part in our IDC/MSDT Internship includes unrivalled career development guidance. Our extensive experience in the industry, as well as an extensive network of contacts around the world will all be shared with you, through our formalised career. Resume/CV workshop and job placement assistance.
Selected interns will be offered the opportunity to return to our marine conservation expedition base, as part of our staff team. This will help you gained further experience and our knowledgeable in-house instructors will provide invaluable advise and tips during your initial stages as an official PADI instructors. Not only that but you will able to reach the needed minimum number of student certifications so you can fulfill your MSDT qualification. Over 50% of our team are ex volunteers and interns, so there is always a chance of going straight from your instructor training into a job with us!
Most importantly, with your unique marine conservation knowledge and experience, you stand out. We are the only organisation that can provide you with such training; therefore you are part of a very select few candidates, making you invaluable to the SCUBA industry. We will do all we can help you get your career off to a good start.
We've been there, done it, and have succeeded. You can too.
Akumal's short, mid, and long-term objectives:
All of our programs have short, mid and long-term objectives that fit with the United Nations Sustainable Development Goals. This enables us to report on our collaborative impact across the world in a streamlined manner, measuring which UN SDGs we are making a substantial contribution to. Furthermore, this will help our local partners and communities measure and visualize their contribution to the UN SDGs.
Upon arrival to base, you will be educated about the history of the UN SDGs. You will learn about the specific goals of your location, the long-, mid- and short-term objectives, and also clarification of how your personal, shorter-term involvement contributes to these goals on a global level.
Our aim is to educate you on local and global issues, so that you continue to act as active global citizens after your program, helping to fulfill our mission of building a global network of people united by their passion to make a difference.
Learn about the long-term objectives you will be contributing to in Akumal:


Provide data to our partners on the overall health of the reef, to be used for coastal management, and to have a better understanding of the Mesoamerican barrier reef system.


Raise environmental awareness within the area and local community.


Minimise the environmental impact that visitors and other people have within the bay area.


Increase in-country capacity within our partners and community members in the area.


What's It like?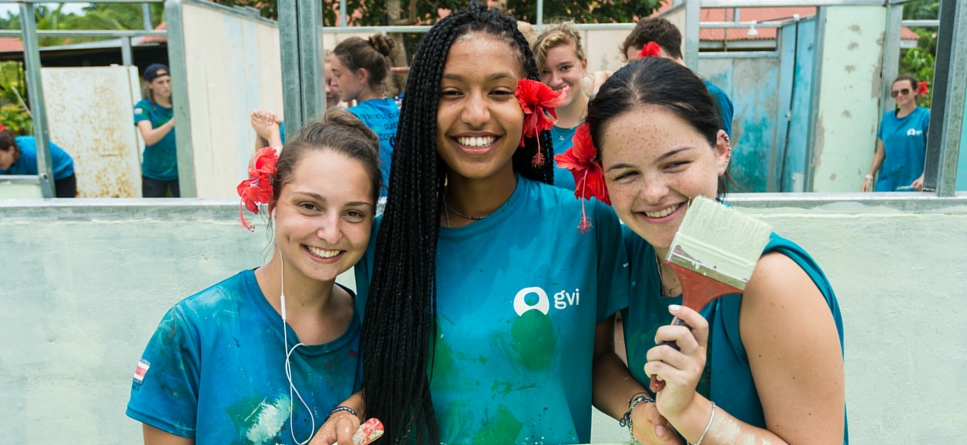 If you'd like to find out what the experience of joining a GVI project is really like, simply contact us and we'll put you in touch with one of our many Alumni.
We'll try to match you to an Alum based on your location, nationality, age, stage of academic career, gender, and program interests. This allows you to gain insights into the experience that is most relevant to you.
Depending on your location you might be able to speak to an Alum over the phone or online, or meet up with them face-to-face at a coffee shop nearby. We also run a series of small events around the world where you can speak to GVI Alumni, Ambassadors and staff members.
Our Ethics
Below is a list of core ethics and best practices we believe are essential to the operation of high quality, ethical volunteer and sustainable development programs. We believe that all responsible volunteer and sustainable development operations should focus upon these principles. If you are considering volunteering, these are some of the key considerations you should question, to ensure that your time and money contributes towards positive change.
Our 10 Ethical Commitments
Locally Driven, Collaborative Projects
We aim to design all our projects in collaboration with local organizations and communities and ensure that they are locally driven.
Clear Objectives & Sustainable Outcomes
We aim to clearly define short-, mid-, and long-term objectives with sustainable outcomes for all our projects.
Impact Reporting
We aim to track, record, and publish the impact of each of our projects.
Working Against Dependency
We aim to build in-country capacity by assisting local organizations in becoming self-sustaining.
Responsible Exit Strategies
For each local organization we work with, we aim to have a plan in place for withdrawing support responsibly.
Clear Roles & Specialized Training
We aim to ensure that ever participant is assigned a clear role and that they are fully trained and supported to carry out their work by specialized staff.
Respect for all
In all our actions we aim to respect the skills and efforts of all and seek to protect the rights, culture and dignity of everyone who engages with GVI.
Local Ownership
We work to ensure that credit for the results of any project, along with any data collected, research conduct, or Intellectual Property developed, remains the property of local organizations.
Transitioning from the Orphanage Model
We do not condone and aim to withdraw support of orphanages and residential care centers.
Child and Vulnerable adult policies
We will live by our Child Protection and Vulnerable Adult policies.
Continual Development
As an organization, GVI is committed to striving toward best practice, and to educating both our potential participants, our partners, and the world at large about them. Both the volunteering and sustainable development sectors are increasingly, and rightly, under scrutiny. Many recent local and global articles highlight poor practices and questionable ethics GVI is widely recognized for striving to apply global best practice in the volunteering, education and sustainable development sectors throughout our operations by reputable organizations such as ChildSafe.
However, global best practice is always evolving and we dedicate both time and resources to engage with internationally respected experts and learn from the latest research to ensure our programs both fulfil their potential to create maximum positive impact, and minimise their potential to create unintentional negative impact. Along with and as part of the sustainable development and volunteering community, we are constantly learning and applying this learning to practice. We do not always get everything right, but we seek feedback from our community members, partners, participants and our staff, and react accordingly. We know are already doing a great job, and feedback we have received confirms this, but we aim to do even better and are continuously refining our operations to improve upon our already excellent reputation.
What's Included
24-hour emergency phone

24-hour in-country support

5 Specialty manuals

Access to Alumni Services and Discounts

Airport pick-up (unless otherwise stated)

All necessary project equipment and materials

All necessary project training by experienced staff

CONANP presentation and workshop

Certification and summary of training and experience received

Community work workshop

Confidential professional reference

Coral reef ecology

EFR Instructor Application fee

EFRI

EFRI Manual

Final evaluation

First Aid & CPR training and certification

IDC

IDC Crew Pack

IDC preparatory training

Instructor Application fee

Instructor Examination fee

Introduction to teaching techniques

Leading biological surveys course

Location orientation

Long term experienced staff

MSDT 5 specialities

Meals while on project (except on work placements for long term internships)

PADI Advanced Open Water

PADI Coral Reef Research Diver Distinctive Speciality

PADI Divemaster Application fees

PADI Rescue Diver and PADI Dive Master certifications

Peak Performance Buoyancy Workshop

Project Aware Presentation and Workshop

Real hands on experience and learn about the challenges that marine conservation has in this region

Safe and basic accommodations (usually shared)

Shark Awareness Workshop

Specialty Instructor fees

Teamwork and leadership experience

Transfer to base location

Use of O2 equipment workshop

Weekly evaluation with your mentor

Welcome meeting

Work placement (if successful on training period)
What's Not Included
Additional drinks and gratuities

Extra local excursions

Flights

International and domestic airport taxes

Meals (during work placement & IDC/MSDT training)

Medical and travel insurance

PADI Open Water

Personal dive kit, e.g. mask, fins, wetsuit, time, DSMB and reel, slate, etc.

Personal items and toiletries

Police or background check

Some equipment is not included

Visa costs (where necessary)
Exploration
Our long-term field staff are a great source of advice and are here to help you make the most of your time abroad. Remember to ask about discounts on local activities and side trips through your association with GVI. Our Yucatan field teams have helped us put together the following information on trips and travel options in Mexico!

Optional Side Trips

As a large and vibrant country, Mexico can seem daunting at first, but here are a few ideas to get you going in the Yucatan Peninsula on your weekends off:

In this region, you are spoilt for choice in the number of opportunities to try out different dive sites away from the expedition. You could start with a dive or snorkel within the unique cenotes (underwater river systems); dive Cozumel, where the wall dives along the island have been voted as part of the world's best top ten diving locations; or, for a full weekend, try Isla Holbox, a small island off the north of the peninsula. It's a beautiful, tranquil place, great for a quiet weekend away. Whale sharks (the world's largest fish) migrate up near the island from June to September and snorkelling alongside them while they filter feed is a truly breathtaking experience!

Alternatively, if you are looking for a break from the water, make your way to Río Lagartos where flamingos flock and river crocodiles abound; visit Bacalar – known as the lake of seven colours due to the various shades of blue; or visit prime breeding areas for the hawksbill, loggerhead, leatherback, and green turtle (May to October).

Immerse yourself in the surviving Mayan culture of the area and visit remote and untouched Mayan archaeological sites, such as the famous and easily accessible sites of Tulum and Coba, or visit the beautiful and majestic Mayan ruins of Palenque in the Chiapas region. And finally, the colonial city of Mérida is the peninsula's cultural capital and the local artisans of Izamal will be sure to offer you some souvenirs of your trip.

Further Travel Opportunities

If you want to travel throughout the rest of Mexico either before or after your time with us, there is more than your fair share of interesting places that are well worth a visit. Take a trip to the Calakmul Biosphere Reserve and experience lowland tropical forests and have an opportunity to try and seek out threatened species; the island of Espíritu Santo offers kayaking with whale sharks (seasonal) and sea lions; if you are keen to try surfing, Puerto Escondido is rated as one of the world's best surfing spots.

Oaxaca is a beautiful city to visit on the Pacific Coast, a colonial city with some of the nation's most magnificent architecture, also offering several archaeological sites including the Zapotec ruins, a UNESCO World Heritage Site. Further south, San Cristobal de las Casas, Chiapas, is definitely worth a visit. Colourful buildings, historical architecture, and impressive nearby ecological sites with fun activities will easily keep you entertained for days.

Neighbouring countries to the south, Guatemala and Belize offer something different yet again. In Belize, island hop all the way down the coast, stopping to dive the Blue Hole, another world-class dive site. Guatemala can be reached easily by bus and offers everything from the UNESCO World Heritage Site at Antigua, to volcanoes, the beautiful Lake Atitlan, adventure sports such as mountain biking, and the majestic Mayan ruins of Tikal.

If you do decide to spend time travelling through Central America, make sure to allow yourself time to take it all in, because this region will pull you in and not let go!
The Team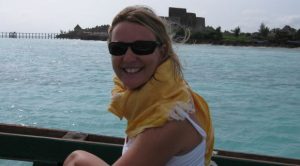 Shayle Havemann
Director of Programs
Meet Shayle, our innovative and driven director for all our projects around the world. She has two honours degrees, one in Industrial and Organisational Psycology, and another in Developmental and Education Psycology. Shayle also has over 10 years experience in setting up, managing and evaluating environmental and community programs across Africa, Asia, Europe and Latin America.

She is well-practiced in facilitating meaningful and effective intercultural engagement and this makes her the perfect person for overseeing our operations in the multicultural country of South Africa.

When not attending meetings or planning her next endeavour, Shayle can be found spending time with her family or taking part in some or other exciting outdoors activity!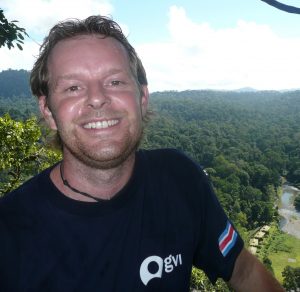 Steve G
GVI Chief Executive
Steve started with GVI in 2002 as a marine biologist and commercial diver with a history of working around the world with NGOs and commercial companies on natural resource conservation initiatives. He joined GVI to set up and run GVI's first ever marine research program in Mexico.

He has since worked around the world setting up and directing almost all of the projects that GVI runs today. He has a wealth of experience in working with grass-roots NGOs, government agencies, education institutions, international bodies and corporations across Africa, Asia, Latin America.

He offers GVI a wealth of experience and knowledge of global issues, local solutions, international volunteering and cultural interactions but, above all, he brings a very clear focus upon the impact of our work and the satisfaction rates of our participants, interns and partners.

Steve is a PADI Open Water Scuba Instructor, EFR Instructor Trainer, has a H. S. E Commercial Diving License, a H. S. E. Diving First Aid Certificate and a RYA Level II Powerboat Handling Certificate.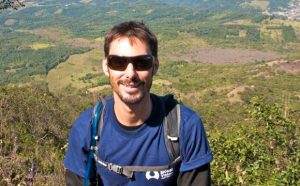 Daniel P-T
Director of Programs
Danny oversees the development and running of all of our field operations. He started out with GVI as our Country Director in Mexico and quickly became an invaluable part of the team.

 Although being Director of Programs is a pretty demanding job, Danny manages to find time to do the other things he loves in-between. He's an avid photographer and is always training for a triathlon or ironman.

What's Danny's favourite aspect of his job? "Starting new projects – we get lots of request for assistance and it's difficult to decide when funds are limited. The evaluation process and those initial talks with local partners are very interesting. Seeing projects grow from an idea to full programs is very exciting. I also love the relationships you create with local organisations, they become friends and we jointly work to achieve the project aims.

Danny is a DAN DEMP instructor, EFR Intructor trainer, has been a Divemaster since 2002, working in Australia, Honduras, Mexico and Spain.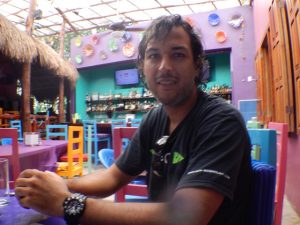 Javier Salas
XTC Owner & PADI Course Director & Trimix Instructor Trainer
Javier is originally from Mexico City, and is a PADI Course Director and Trimix Instructor Trainer.

Despite lacking easy access to the ocean, diving is something he has been passionate about from a very young age, taking a certification course at age 12. At 16, Javier starting assisting dive courses and obtained his first instructor rating at age 18, becoming an Instructor Trainer at age 21.

In 2008 Javier became the owner of XTC Dive Center in Xcalak and has has spent most of his time from that moment working towards making XTC a world-class facility, offering training and diving in the Xcalak Reef National Marine Park and the Chinchorro Banks Biosphere Reserve, including professional and technical diving. Javier is directly and intensely involved in conservation initiatives as a permanent member of the Advisory Boards for both the Biosphere Reserve and National Park, helping support projects run in collaboration with the government, NGO´s and international aid organizations.

His 20+ year career as a diver and 12+ year career as a dive instructor has led him to dive and teach in a variety of climates and environments including wreck diving in dry suits in the Great Lakes, and issuing certification cards for 2000+ individuals at all levels.

Since 2011 PADI has awarded XTC several awards for excellence including Regional Finalist (best in Latin America) in the Outstanding Dive Business category.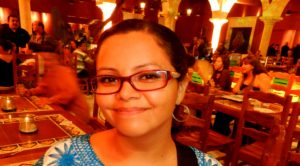 Lluvia S
Country Director
"The work that the volunteers do is extremely important; if it wasn't for them we wouldn't be able to run the projects. The different activities they do like collecting data on the reef, delivering environmental education lessons all help our partners to achieve their goals."

Lluvia has a background in environmental education, and originally joined GVI as a participant in our National Scholarship Programme in Mexico, on our Marine Conservation Expedition and we just couldn't let her go!

She's responsible for the running of all our volunteer programs in Mexico, so you'll certainly get to know her if you take part in our Marine Conservation Expedition element.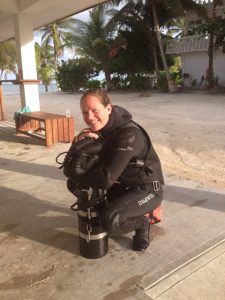 Mary Peter
XTC General Manager & PADI Master Instructor
Mary is our General Manager, a PADI Master Instructor, Tec Trimix Instructor, CCR Diver, Stage Cave Diver and a "Sidemount Nutcase".

She started diving in 2003 in Egypt and has since been diving all around the world including Thailand, Indonesia, Australia, the Caribbean, Ecuador as well as the cooler waters of Canada and Switzerland accumulating over 2000 dives.

Having been a banker for many years, she decided to switch high heels and suits for fins and wetsuit in 2009 and moved to the Dominican Republic where she started her professional dive career by becoming a PADI Divemaster. She became an instructor in 2010 and has since continued her education to become a PADI Master Instructor as well as a Tec Trimix Instructor.

She lived in Honduras for several years where she has gained a wealth of experience teaching courses from beginner level to PADI Professional programs, International Yacht Training courses as well as the full range of Technical Programs including assisting on Tec Deep Instructor and Tec Trimix Instructor Courses.

Mary joined XTC in October 2014 as General Manager. She is in charge of rotational instructors, captains and office staff and also oversees the technical training and diving activities. Her corporate background helps her in running the shop like clockwork whilst making sure customers have the best possible experience. In her free time, you will likely find her in the water, doing a deep Trimix dive, somewhere in a cave or training with her latest addition in the gear cupboard, a Sidemount Closed Circuit Rebreather. Being a true Swiss Miss, Mary speaks English, French, German and Spanish and has a weak spot for Chocolate!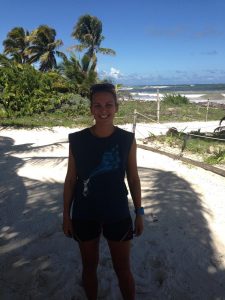 Kerry
Senior Dive Officer
'I am excited to see many new Divemasters and Instructors result from these internships and see them on the road to an exciting and rewarding career path.'

Kerry's diving adventure began in 2008 in Coffs Harbour, Australia, where she was managing a hostel with an onsite dive shop. From there, her diving career began! After also attempting the 9-5 lifestyle, Kerry also chose the ocean and joined out Divemaster Internship in Mexico, where she completed her placement at XTC, which led onto completing her Instructor Development Course too!

Kerry went on to use her qualifications to work as an instructor at a PADI Career Development Centre in Vietnam, where she progressed to an IDC Staff Instructor whilst managing two of their dive centres.

Since leaving GVI it was always Kerry's aim to return as a staff member, which she is lucky enough to have done!
Parent Info
'If only every student could do this. It changes your life in all the right ways,' says Chris Heritage, parent of Luke Herritage, one of our teen volunteers who has participated on two GVI programs, one in Costa Rica and another in South Africa.
We are a parent-run organisation that is incredibly serious about health and safety, and increasing the impact, as well as the long-term career benefits of our programs. Our programs help young people develop the skills to select a career path that is personally fulfilling, and live a life aligned to the well-being of our planet and the global community.
Ken and Linda Jeffrey, whose son Sam volunteered with GVI in Thailand, talk about how the experience affected Sam. He also went on to volunteer with GVI again in South Africa. 'I know it sounds like a cliche but in a sense, he did go away as a boy and he came back as a young man. Both of us could recommend GVI without any hesitation to any other parent thinking about exploring an opportunity for their children to explore the world and to see different parts of it.'
Parent Info Pack
Download the Parent Pack and learn more about:
Our staff: All our projects are run by staff, selected, vetted, trained, and managed by our central office.
Health and safety: Our safety practices include a child and vulnerable adult protection policy.
Staying in touch: See what's happening on base, by following a hub's dedicated Facebook page.
Free parent consultations: We would love to talk to you about exciting opportunities available for your child.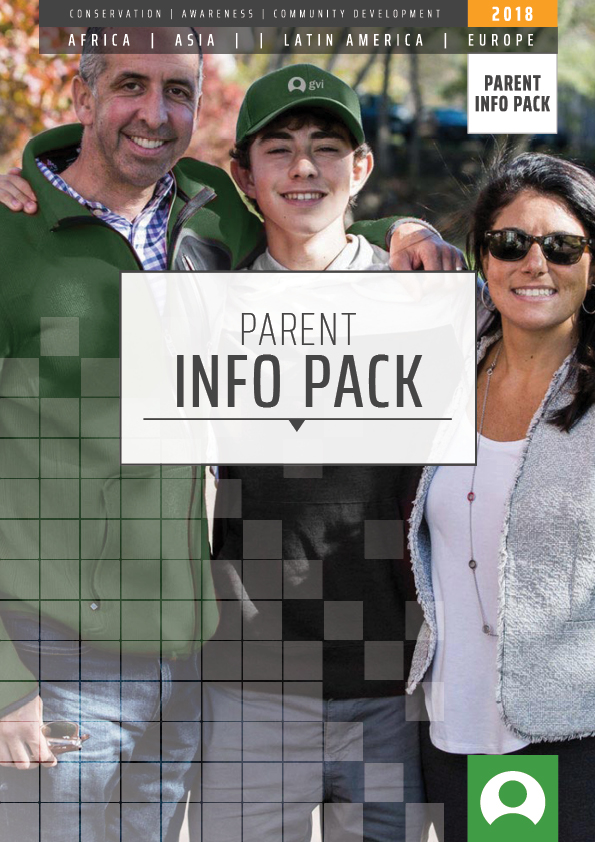 Arrivals
When it comes to support, we ensure that each participant is provided with unparalleled, 360 degree support, from your initial contact with the GVI Family, all the way through your program, and even after, as you become part of the GVI Alumni Team.
As part of this promise, we will ensure, whenever possible, that one of our dedicated staff will be available to meet you at the airport. We will arrange with you prior to your departure that, should you arrive in the agreed upon pick up window, a member of our staff will be there to welcome you, easily identifiable in a GVI t-shirt or holding a GVI sign and wearing a friendly smile. This means there will be someone there to greet you as you land, and from there you will be transported to your GVI base to start your adventure and meet the rest of your team.
Volunteers who went on this program also considered these
Live in the beautiful Yucatan Peninsula, gain valuable career experience and all[...]
Enter the global scuba diving industry with a professional diving qualification combined[...]
A comprehensive, well-rounded training program, taking a PADI Open Water diver to[...]
Contact Us
Global Vision International
225 Franklin Street, 26th Floor, Boston, MA, 02110
Learning Provider Number (LPN): 10002692
Centre Number: 17067

Download a Brochure