Amazon rainforest conservation expedition in Peru
Help protect the amazon rainforest and cloud forest in Peru.
Program Code: PEOX0905E
Program Information
Join us in the Amazon jungle to conserve and research rainforest and cloud forest animals. Help to protect one of the most rare habitats on earth, the cloud forest. You'll work with real conservationists to carry out important citizen science projects such as research on jungle biodiversity and species such as sloths, jaguars, pumas and armadillos.
Overview
Travel to Yanachaga-Chemillen National Park, a remote and rarely visited protected area of the Amazon, known for its abundance of rare cloud forest habitat and wealth of biodiversity. You'll be living in the heart of the cloud forest in a remote, solar-powered research base, surrounded by tropical animal species such as the three-toed sloth, armadillo, jaguar, puma, ocelot, jaguarundi, spectacled bear, andean fox, capybara and brown woolly monkey. It's also home to several indigenous communities including the Ashaninka and Yanesha peoples.
You'll be assisting a local conservation organisation with protecting the forest by carrying out research that'll inform environmental policy. Some of your work will revolve around collecting data on specific species by identifying elusive species through animal tracking and camera trapping. Other tasks will revolve around determining the health of the surrounding rainforest or cloud forest, and recording jungle sounds to identify key animal species. In addition, you could also spend time surveying selected areas for specific plants, fungi, frogs, moths, butterflies and other insects to determine the area's overall biodiversity.
HIGHLIGHTS



Contribute to Amazon rainforest conservation efforts.




Live in a remote research base, powered by renewable energy, surrounded by rare cloud forest habitat




See sloths and (if you're lucky) a jaguar in the wild.




See what life as a conservationist is actually like.




Gain real conservation skills from experts in the field.



Program Details
Flexibility
Change your location and dates free of charge.
Payment Plans
Flexible payment plans available.
Cancellation Waiver
Cancel anytime and receive a full refund minus your deposit.
Life On Base
This project gives you the opportunity to live and work within the rainforest. Share a home with like-minded people from all over the world with the amazon rainforest on your doorstep. In the evenings and on the weekends, hike the trails of the nearby national park, or spend time in Oxapampa town among the locals.
Base Tour
Highlights
24-hour in-country support
ACCOMMODATION
Lodgings for this program are dormitories sleeping up to eight people with each room equipped with electricity. A separate block provides hot water showers and a mixture of Western-style and dry toilets.
TRANSPORTATION
We provide day transfers from the airport in Jauja (JAU) to our
base in Oxapampa. If night transfers, a Movil Bus is availablewhich typically takes 10-12 hours. For travel on weekends, rent a bicycle to get around the province.
COMMUNICATION
Local SIM cards and pay-as-you-go credit can be bought affordably in Peru, however, bear in mind that it might not be as fast or reliable as you might be used to in your home country. Our project sites are mainly rural which means that wifi and telephone signals here are limited.
MEALS
Breakfast, lunch and dinners will be served at the accommodation with participants cooking meals together. On weekends off there are a number of restaurants to explore in Oxapampa town where you can sample some traditional Peruvian cuisine.
CLIMATE
Peru is famous for its unique and dramatic climate and Oxapampa, where our projects are based, is no exception.
MEDICAL FACILITIES
Oxapampa is at 1800 meters above sea level so it is important to give your body time to adjust to the high altitude and follow our staff instructions while acclimating. There are medical clinics and a hospital in Oxapampa. If there were to be a medical issue, GVI staff will ensure that affected participants are transported to the relevant facility depending on the nature and severity of the illness or injury.
COVID-19 Safety
Enhanced cleaning and social-distancing measures in place. Learn more.
Covid-19 Response
Health and Hygiene
For over 20 years, GVI has prioritised the health and safety of our staff, participants, partners and local community members. In response to the global COVID-19 pandemic, GVI has created the GVI health and hygiene team to put in place new standards of cleanliness, norms and behaviours that meet or exceed international recommendations to ensure the ongoing safety of GVI's participants, staff and communities around the world. Internationally recommended practices, such as advice from the World Health Organization (WHO), the Centers for Disease Control and Prevention, and the governments Australia, UK and US, continue to be monitored and the standards are likely to change if and when international advice changes.
The work GVI is contributing to across the globe remains important and the following measures allow our participants to continue to join GVI's programs and continue impacting positively on their world and the communities we work with. The following changes to our existing protocols have been made by the GVI health and hygiene team to strengthen our health and hygiene protocols and ensure that international standard safeguards are in place to protect our participants, staff and host communities.
What's It like?

If you'd like to find out what the experience of joining a GVI project is really like, simply contact us and we'll put you in touch with one of our many Alumni.
We'll try to match you to an Alum based on your location, nationality, age, stage of academic career, gender, and program interests. This allows you to gain insights into the experience that is most relevant to you.
Depending on your location you might be able to speak to an Alum over the phone or online, or meet up with them face-to-face at a coffee shop nearby. We also run a series of small events around the world where you can speak to GVI Alumni, Ambassadors and staff members.
Live Updates
Follow GVI Volunteer-In-Oxapampa-Wildlife's Facebook page for live updates straight from the field. Get an idea of the types of projects you might be involved in, meet our staff and participants, experience life on this GVI base, hear about free time activities, and learn about the local culture and environment.
GVIPeruOxapampaConservation
Arrivals
When it comes to support, we ensure that each participant is provided with unparalleled, 360 degree support, from your initial contact with the GVI Family, all the way through your program, and even after, as you become part of the GVI Alumni Team.
As part of this promise, we will ensure, whenever possible, that one of our dedicated staff will be available to meet you at the airport. In most locations, we also set up a Whatsapp group to help with managing airport arrivals. We will arrange with you prior to your departure that, should you arrive in the agreed upon pick up window, a member of our staff will be there to welcome you, easily identifiable in a GVI t-shirt or holding a GVI sign and wearing a friendly smile. This means there will be someone there to greet you as you land, and from there you will be transported to your GVI base to start your adventure and meet the rest of your team.
COVID-19 Safety
Please note that the above images were taken pre COVID-19. All airport pick-ups and program operations now run with enhanced cleaning and social-distancing measures in place. Learn more.
Flights
Please note that if you use this service delivered by Student Universe and / or if you buy your ticket through this portal you are agreeing to the Student Universe Privacy Policy and Terms and Conditions. Your agreement regarding flights will be between you and Student Universe or as per their terms and conditions.
As GVI is providing this portal as a service we are not responsible for the accuracy of this site.
We are also not responsible for any loss, damage (including loss of profits or consequential damages), injury, illness, harm or death in relation to your flight and travel arrangements.
Meet the team -
Senior Field Management
Karol Hermoza
Program Manager
Meet Karol our Program Manager for GVI Cusco. She is from the city of Lima, the capital of Peru. Karol has done her studies in tourism and got her master's degree from Durham University.
Your Impact
All of our programs have short, mid and long-term objectives that fit with the United Nations Sustainable Development Goals or UN SDGs. This enables us to report on our collaborative impact across the world in a streamlined manner, measuring which UN SDGs we are making a substantial contribution to. Furthermore, this will help our local partners and communities measure and visualise their contribution to the UN SDGs.
Upon arrival to base, you will be educated about the history of the UN SDGs. You will learn about the specific goals of your location, the long-, mid- and short-term objectives, and also clarification of how your personal, shorter-term involvement contributes to these goals on a global level.
Our aim is to educate you on local and global issues, so that you continue to act as active global citizens after your program, helping to fulfil our mission of building a global network of people united by their passion to make a difference.
Peru is one of the most biodiverse places in the world boasting over 500 species of mammals, 300 species of reptiles and 1,800 species of birds. With the Amazon rainforest, often referred to as 'the lungs of the world' covering 2/3rds of the country, the environmental protection of this area is crucial.
GVI works in collaboration with our partner the Center for Sustainable Development (CDS), to focus on three pillars of conservation, sustainable development and research. The CDS is a non-profit organisation that has been working in the rainforest in the region of Oxapampa since 2011.
The main UN Sustainable Development Goals include, #6 Clean Water and Sanitation, #13 Climate Action and #15 Life on Land.
Our Partners In Oxapampa Wildlife
Project Objectives
GVI Peru Long-term Objectives:
1. Identifying and understanding the biodiversity of the local region through research and monitoring.
2. Facilitating greater participation in sustainable practices through environmental education.
3. Focusing on reforestation efforts for the enrichment of the Peruvian Amazon and the recovery of degraded areas with native species.
Our Ethics
Below is a list of core ethics and best practices we believe are essential to the operation of high quality, ethical volunteer and sustainable development programs. We believe that all responsible volunteer and sustainable development operations should focus upon these principles. If you are considering volunteering, these are some of the key considerations you should question, to ensure that your time and money contributes towards positive change.
We want to constantly develop our own understanding of ethical best practice. In so doing, we aim to provide an exemplary industry standard for other education institutions, international development organisations, and social enterprises. Our Badge of Ethics stands for the drive to always do good, better. Find out more, click on the Badge below.
Our 10 Ethical Commitments
Locally Driven, Collaborative Projects
We aim to design all our projects in collaboration with local organizations and communities and ensure that they are locally driven.
Clear Objectives & Sustainable Outcomes
We aim to clearly define short-, mid-, and long-term objectives with sustainable outcomes for all our projects.
Impact Reporting
We aim to track, record, and publish the impact of each of our projects.
Working Against Dependency
We aim to build in-country capacity by assisting local organizations in becoming self-sustaining.
Responsible Exit Strategies
For each local organization we work with, we aim to have a plan in place for withdrawing support responsibly.
Clear Roles & Specialized Training
We aim to ensure that ever participant is assigned a clear role and that they are fully trained and supported to carry out their work by specialized staff.
Respect for all
In all our actions we aim to respect the skills and efforts of all and seek to protect the rights, culture and dignity of everyone who engages with GVI.
Local Ownership
We work to ensure that credit for the results of any project, along with any data collected, research conducted, or Intellectual Property developed, remains the property of local organizations.
Transitioning from the Orphanage Model
We do not condone and aim to withdraw support of orphanages and residential care centers.
Child and Vulnerable adult policies
We will live by our Child Protection and Vulnerable Adult policies.
Continual Development
As an organization, GVI is committed to striving toward best practice, and to educating both our potential participants, our partners, and the world at large about them. Both the volunteering and sustainable development sectors are increasingly, and rightly, under scrutiny. Many recent local and global articles highlight poor practices and questionable ethics. GVI is widely recognized for striving to apply global best practice in the volunteering, education and sustainable development sectors throughout our operations by reputable organizations such as ChildSafe.
However, global best practice is always evolving and we dedicate both time and resources to engage with internationally respected experts and learn from the latest research to ensure our programs both fulfil their potential to create maximum positive impact, and minimise their potential to create unintentional negative impact. Along with and as part of the sustainable development and volunteering community, we are constantly learning and applying this learning to practice. We do not always get everything right, but we seek feedback from our community members, partners, participants and our staff, and react accordingly. We know are already doing a great job, and feedback we have received confirms this, but we aim to do even better and are continuously refining our operations to improve upon our already excellent reputation.
Program Ethics
NO ENTERTAINMENT-BASED ACTIVITIES
We don't support the use of wild animals for entertainment purposes. This includes riding animals, having them perform tricks, feeding or bathing them or getting close to them to take photos
NO ORPHANED ANIMAL SANCTUARIES
We don't encourage, support or allow the rearing of "orphaned" wild baby animals kept at a "sanctuary". The conservation value of these types of programs is negligent and would only ethically be used in extremely rare cases
GUIDELINES FOR TOUCHING OR MOVEMENT RESTRICTION
When wild animals are restricted for conservation purposes we follow the guidelines of Fair Trade in Tourism South Africa (FTTSA), approved by the Global Sustainable Tourism Council.
ANIMAL WELFARE GUIDELINES
We ensure that the Five Freedoms of Animal Welfare are followed. These include the freedom to express normal behaviour and freedom from distress, discomfort, hunger, thirst, fear, pain, injury or disease.
LOCAL COMMUNITY EMPOWERMENT
We ensure that conservation efforts are also always locally led, that community needs are front-and centre of any conservation effort and that our participants, projects and partners work to increase local community engagement in local conservation efforts.
NO VETERINARY PROGRAMS
We don't offer any veterinary programs or animal rescue and rehabilitation programs. We don't allow participants to do any work they would not be able to do in their home country.
Training
A GVI program is an investment in your career. No matter which you choose, you will be working toward improving your employability by mastering new social skills, gaining further technical expertise and earning qualifications in many cases. Most of our staff are, in fact, GVI Alumni, and we have helped many of our Alumni discover, move toward, and earn their own personal dream jobs. Each program includes introductory workshops, ongoing presentations, as well as on-the-ground professional support provided by our very own trained staff members. In addition, our training programs are critical for helping us to ensure the long-term impact of our sustainable development projects around the world.
For All GVI Participants
Orientation: Your Health, Safety and Wellbeing
Learn about COVID-19 pre-departure guidelines, base expectations, personal and area hygiene practices and what we are doing to keep you safe.
Orientation: Travelling Responsibly and Ethically
Learn about the importance of child and vulnerable adult protection best practices and how to apply them while on project.
Orientation: UN Sustainable Development Goals
Introduction to the history and evolution of sustainable development, the United Nations Sustainable Development Goals (UN SDGs) and how these related to your project work.
Orientation: Further Opportunities for Impact
Learn about our country locations and further opportunities available to you during or after your program.
For All Participants at Oxapampa Wildlife
Conservation: Survey Techniques and Logistics
An introduction to different survey techniques and best practice guidelines for surveys; introduction to different types of data and how to record information via a datasheet.
Conservation: Biodiversity & Target Species Identification
Learn about biodiversity and how biodiversity is measured, and classifying different species and how to identify species that indicate the health of the habitat.
Instruction on the specific project objectives and skills necessary to carry out the required tasks, including research and monitoring practices.
Qualifications
GVI Online Wildlife Conservation course (optional)
If you have a passion for wildlife conservation then this course will provide you with the foundational skills and understanding needed to achieve your conservation-related goals. You'll learn about the various methods of wildlife monitoring, as well as exploring the delicate balance involved in terrestrial ecosystem management. After successfully completing the course, which you have the option of doing prior to your in-country program, you'll receive a certificate from the University of Richmond.
This online course, valued at $395, is included in all volunteering programs. Full course details can be found here.
References and Recommendations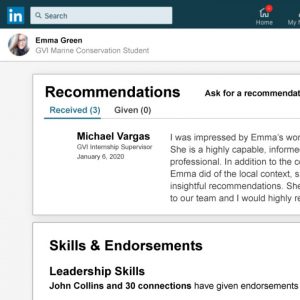 LinkedIn Recommendation and Skills Endorsement
This is only included in the research and career internships.
If you've fulfilled the requirements of your internship, your supervisor will complete a LinkedIn recommendation for you. This'll summarise the most impactful points of your professional reference. They'll also endorse skills they've seen you demonstrate during your internship.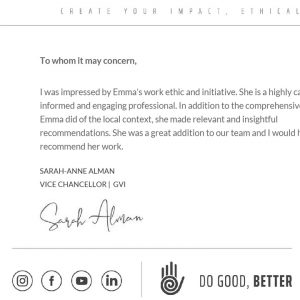 Professional Reference
Once you've successfully completed your internship, you'll receive a digital professional reference signed by your program manager. It'll include a description of the topics covered and the experience gained on your program. Add this to your job applications to boost your chances of securing the position of your choice.
Free time
Joining a program not only allows participants to collaborate with communities or work toward preserving unique ecosystems but it also offers plenty of opportunities to explore the surrounding area or travel further to see what other parts of the region have to offer.
Long term field staff are a great source of advice, and have helped us put together the following information on local travel options. Many decide to travel before or after their experience (subject to immigration restrictions), solidifying the lifetime friendships established on program. Please note that the below suggestions are not included in the program fee, and are for the individual to organise at their own expense.
Weekend Trips
El Tigre Waterfall
Take in the cascading waters of El Tigre Waterfall, also known as Catarata Rio Tigre. Viewed from a pedestrian suspension bridge over the river, this waterfall is located just 14 kilometres from the Oxapampa city centre.
Yanachaga-Chemillén National Park
Located to the north of Oxapampa you can find the Yanachaga-Chemillén National Park, known for its diverse flora and fauna species and rare cloud forest biome.
Ziplining
Experience the wonders of the Peruvian Amazon from a different perspective by ziplining through the cloud forests of Oxapampa.
Canoeing and Kayaking
There are many peaceful rivers and canals in the area to explore with a kayak or canoe. This tranquil setting will allow you to spot local wildlife like monkeys and birds in the canopies above.
Further Travels
Machu Picchu
Travel to the city of Cusco, known as the gateway to Machu Picchu. Here there are many trails available for hikers of differing fitness levels. This is arguably the most popular tourist destination in Peru, therefore we recommend booking far ahead of time to avoid disappointment.
Nazca lines
View the massive geoglyphs, symbols made using only rocks and the top layer of soil, make by the Nazca culture. The best views are afforded from the air, so be sure to rent a flight over Paracas National Reserve.
Huacachina desert oasis
A great day trip from Lima, is a visit to Huacachina, an oasis in the middle of the desert. Swim in the lake, relax on its shores, or sandboard the surrounding dunes.
Lima
Visit Peru's capital, stroll the promenade sampling the city's famous street eats or join the local surf cult hanging ten just off the edge of the capital's limestone cliffs.
Arequipa
Visit the three city set between three volcanoes. The city has a unique culture different to any other throughout Peru. Hike nearby Colca Canyon to see the great condor in flight.
The Reed Islands
Travel to Puno to learn how the local people make their own islands using reeds that float on one of the highest lakes in the world, Titicaca.
Cultural Immersion
Engaging intimately with a new context teaches not only global awareness but adaptability and critical thinking, skills highly valued in the modern marketplace. Local and cultural immersion is encouraged on all our programs around the world, and is also one of the most enjoyable aspects of your experience. Luckily, there are many activities you can get involved with in your free time, or before and after your program. On our community programs the focus is on cultural topics, while on marine or wildlife programs the emphasis is more on the environmental element. Use your evenings and weekends to explore diverse and eclectic topics like Theravada Buddhism in Laos or how plastic pollution and climate change affects Indian Ocean coral.
Oxapampa
Surrounded by beautiful high jungle scenery and located just 500 kilometres northeast of Lima, the small town of Oxapampa boasts many interesting cultural aspects. Rolling hills blanketed in the cloud serve as a backdrop to the charming wooden houses of the town, where the Peruvian, German and Austrian cultural influences can most obviously be seen. Oxapampa's close proximity to Yanachaga-Chemillén National Park is another one of the things that make this town a popular spot for tourists to the region.
Festivals
January: The Adoration of the Kings, or honouring of the birth of the Christ child by the three kings, is celebrated with great fanfare.
April: Easter is often celebrated for an entire week and the local plaza fills up with celebrants.
May: Taking place in late May and early June, Quyllurit'i, celebrates the beginning of harvest season. Thousands of pilgrims arrive to watch the sun rise.
June: The Selvamonos Music and Art Festival is celebrated in Oxapampa in June. Also celebrated in June is the traditional Incan festival of Inti Raymi in honour of the sun god Inti.
July: The festival of the Virgin of Carmen, is celebrated for four day with traditional costumes and dances in mid July. Late July is when Peru celebrates their independence from the Spanish government.
August: The first day of August is Andean New Year, and is celebrated by building and burning altars of traditional foods.
September: In early September Catholics celebrate the birth of the mother of Jesus with Peru. The festival of Lord Huanca honours a local saint and a local Andean ceremony acts as an initiation ceremony for boys from the local community.
November: On the first few days of November, Catholics celebrate the Day of the Dead to honour their ancestors.
Spirituality and Religion
Peru has a mostly Catholic population. However, communities still hold certain beliefs of the Inca religion. They honour the earth mother as well as local spirits.
Farming
Locally the most important agricultural pursuits are coffee and the farming of cattle using methods that date back to the time of the Inca. Here you can learn about how crops, like coffee, potatoes and corn, are grown and used for food, medicine, and as a dye for textiles. Learn about the process of planting, harvesting, and preparing food as well as how alpaca wool is gathered and dyed.
Languages
There will be plenty of opportunities to learn and practice your Spanish language skills by engaging with people in the local community.
Parent Info
'If only every student could do this. It changes your life in all the right ways,' says Chris Heritage, parent of Luke Heritage, one of our teen volunteers who has participated on two GVI programs, one in Costa Rica and another in South Africa.
We are a parent-run organisation that is incredibly serious about health and safety, and increasing the impact, as well as the long-term career benefits of our programs. Our programs help young people develop the skills to select a career path that is personally fulfilling, and live a life aligned to the well-being of our planet and the global community.
Ken and Linda Jeffrey, whose son Sam volunteered with GVI in Thailand, talk about how the experience affected Sam. He also went on to volunteer with GVI again in South Africa. 'I know it sounds like a cliche but in a sense, he did go away as a boy and he came back as a young man. Both of us could recommend GVI without any hesitation to any other parent thinking about exploring an opportunity for their children to explore the world and to see different parts of it.'
Parent Info Pack
Download the Parent Pack and learn more about:
Our staff: All our projects are run by staff, selected, vetted, trained, and managed by our central office.
Health and safety: Our safety practices include a child and vulnerable adult protection policy and high participant ratios.
Staying in touch: See what's happening on base, by following a hub's dedicated Facebook page.
Free parent consultations: We would love to talk to you about exciting opportunities available for your child.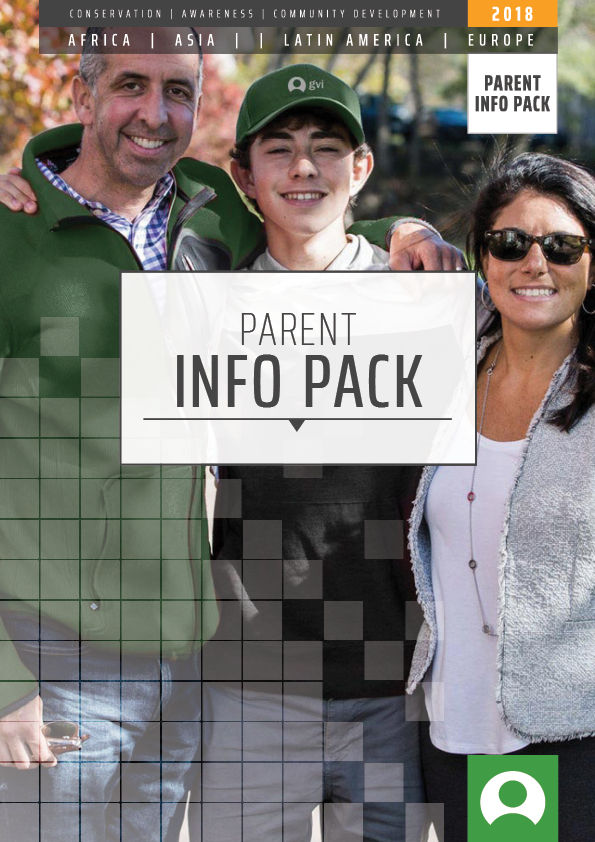 Support & Safety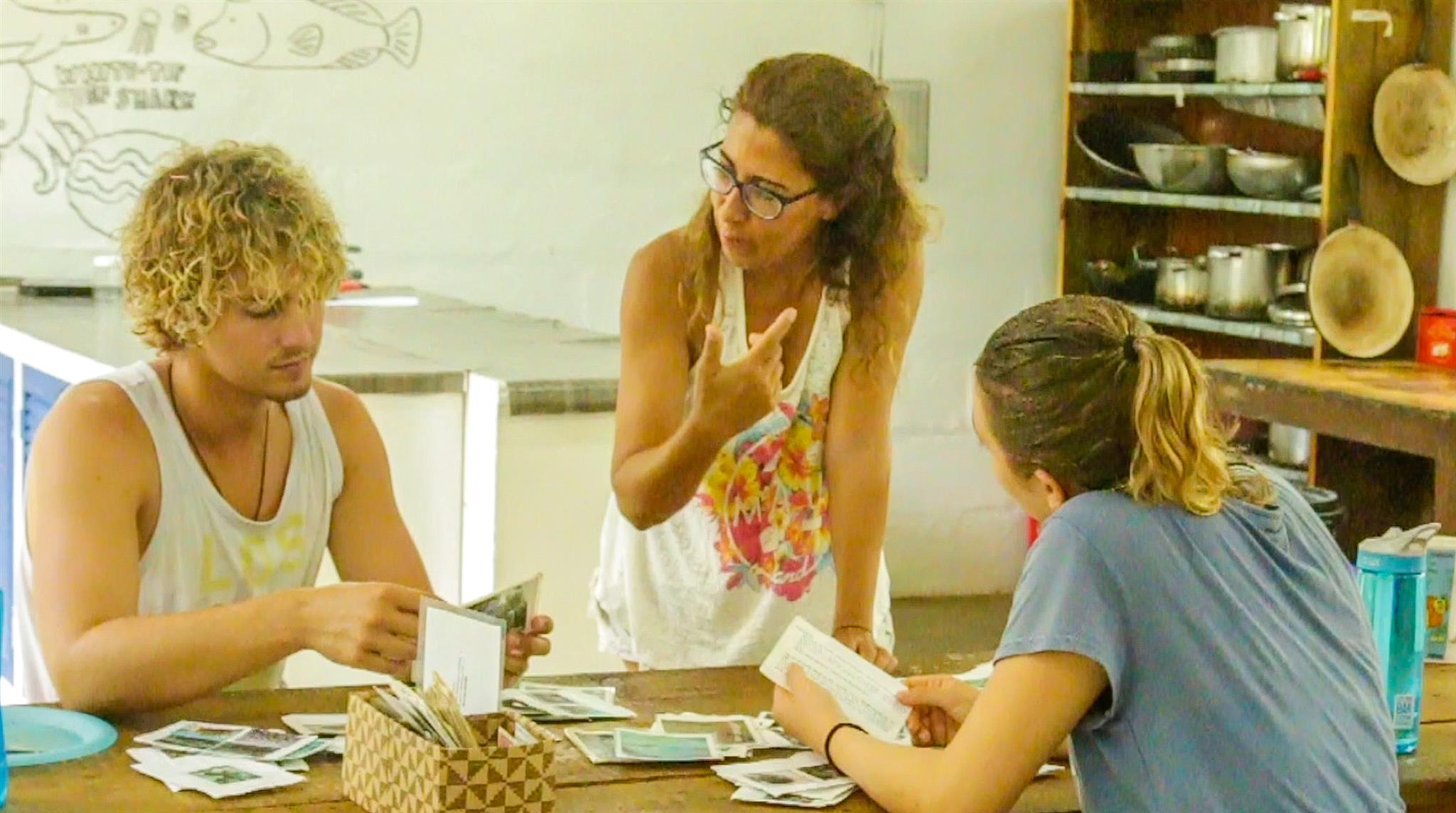 We won't sugarcoat it — traveling abroad is usually a complex process that carries an element of risk. But this is exactly why we're passionate about providing extensive support throughout the process as well as the highest safety standards during the in-country phase. We believe that volunteering abroad should not only be impactful, but an enjoyable experience that carries as little risk as possible. This is exactly how we've been able to maintain our reputation as the most highly respected volunteering organisations in the sector over the past two decades.
COVID-19 Safety
Enhanced cleaning and social-distancing measures are in place throughout each GVI program. Learn more.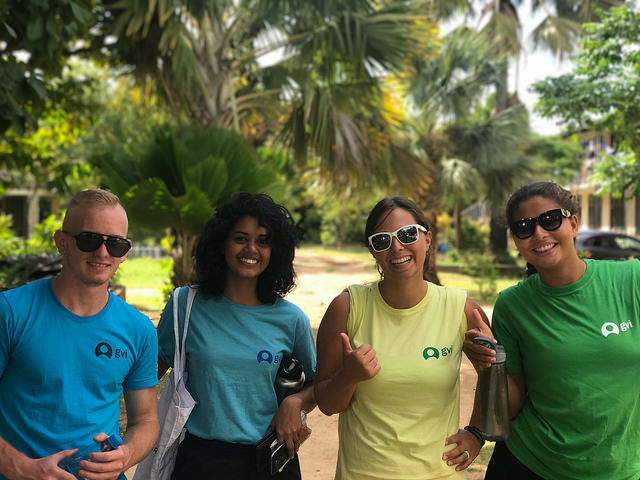 Support
Once a participant books, they will be assigned a personal support coordinator who will oversee their pre-departure journey. The support coordinator helps to bridge the gap between program enrolment and arrival at one of our field bases. Your personal support coordinator will ensure that you are provided with all the necessary information required to apply for visas, background checks, and any other documentation.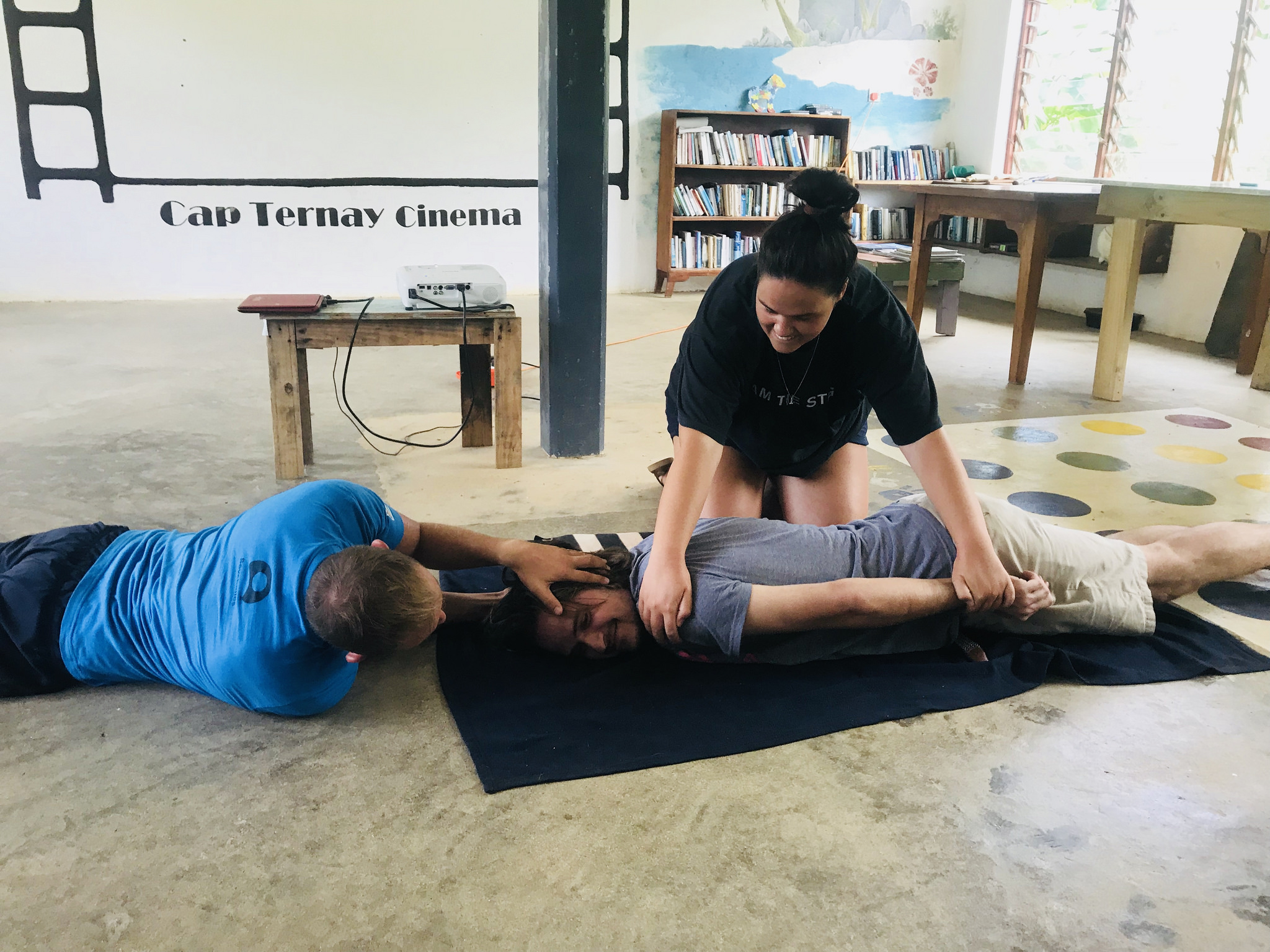 Safety
Upon arrival at the airport, participants will be greeted by a GVI staff member. All GVI staff are our own and all our programs around the world are run by our staff. All GVI field staff are background checked, Emergency First Response and safety trained. The minimum staff to participant ratio on GVI's programs is one to six, although on several bases we have a ratio of one to three. When finishing the experience, participants will provide feedback on all aspects of their program.
Health & Safety Case Studies
What's Included
24-hour emergency phone

24-hour in-country support

Access to Alumni Services and Discounts

Airport pick-up (unless otherwise stated)

All necessary project equipment and materials

All necessary project training by experienced staff

Location orientation

Long term experienced staff

Meals while on project (except on work placements for long term internships)

Safe and basic accommodations (usually shared)

Welcome meeting
What's Not Included
Additional drinks and gratuities

Extra local excursions

Flights

International and domestic airport taxes

Medical and travel insurance

Personal items and toiletries

Police or background check

Visa costs (where necessary)
Contact Us
GVI
75 State Street, Floor 1&2, Boston, MA, 02110
Learning Provider Number (LPN): 10002692
Centre Number: 17067