Volunteering in Costa Rica with GVI affords you the opportunity to experience the "pura vida" lifestyle the country is famed for while simultaneously giving back to a still developing country. Although Costa Rica is the longest-standing democracy in Central America, the majority of the population is still living in very basic conditions, especially further inland. Check out more Latin America volunteer programs here! Whether you are on an alternative springbreak program abroad, gap year, volunteering holiday or career break, you will be able to make a crucial difference in a variety of ways. Travel to either Mexico or Costa Rica where you will be able to:
GVI does not support orphanage volunteering. For more information see our stance on orphanage volunteering. We also support ChildSafe, a global child protection initiative, and regularly review our comprehensive Child and Vulnerable Adult Protection policy. All our staff and participants are required to complete a police background check before arrival on the program, and on-site child protection training is provided once they arrive in the host country. We also protect children from cyber and real-world threats by ensuring that our marketing follows child protection best practices.
Where Does GVI Work in Costa Rica?
Volunteer in Costa Rica in one of these two focus areas: community development or wildlife conservation. Get involved in our community projects in Quepos where we offer volunteers a chance to teach disadvantaged children, learn a new language, relax and enjoy the casual way of life, all while making a difference in the world. It is close to the stunning and diverse Manuel Antonio National Park and is surrounded by palm plantations and rainforest. In Jalova in the stunning Tortuguero National Park, surrounded on three sides by protected rainforest and on the other by the Caribbean Sea and a beach that is home to one of the largest nesting colonies of Green Turtles in the world, is where you will find our conservation base. Our work here is focused around the long-term management and conservation of this stunning rainforest.
Meet the team -
Senior Field Management
Jose Rodriguez
Program Manager
Meet Jose, he is our Program Manager at the GVI base at the stunning Tortuguero National Park in Jalova, Costa Rica. Originally from El Salvador and has work experience in many countries around the world, mostly Canada where he worked for over 10 years in Conservation and Turtles. If you ever need to find him, he will probably be outdoors hiking or camping. We are so happy to have him join our conservation team!
Meet the team -
In-Country Staff
Emma Wise
Science Officer
Meet Emma, she is our Science Officer at the GVI base in Jalova, Costa Rica. She currently runs the biodiversity project, focusing on the butterflies. She completed her 6-month internship here and got the opportunity to stay on and work with GVI. She grew up on a farm, hence her love for animals. We are so happy to have her on board!
Helen Young
Assistant Program Manager and Project Leader
Meet Helen, she is our Assistant Program Manager and Project Leader at the GVI base in Jalova, Costa Rica. Originally from Australia, she got the opportunity to live in Jalova over the past 2 years! She has over 20 years of experience in Scouts and her favorite insect is a Praying Mantis. We are so excited for you to meet her.
By Yelena Zylko, GVI Costa Rica Alumni Planning a volunteer trip is tough, and you are probably already buried in volunteering in Costa Rica reviews! Well, let me tell you about my personal experience with GVI. While Costa Rica is often viewed as a resort location for the rich and retired, it is so much more than that. It is the stunning Cloud Forrest of Monteverde, it is the Jamaican roots of the Caribbean side, the towering waves on the pacific coast and it is the trio of blue and red- scarlet macaw- Parrots that soar above your head as you walk down the road. As one of the most sustainable and bio diverse nations; volunteering here you will be able to uncover this little slice of paradise. Whether it's collecting data on Jaguars in Jalova or working with the sweet children of El Cocal the opportunities for volunteering in Costa Rica are endless. In Costa Rica they have a saying, a phrase that is often used as a general greeting: 'pura vida', to which the literal translation is 'pure life'. The people of Costa Rica, Ticos as they would prefer to be called, are never shy to spread their love of life or share the authentic culture that makes up this Central American paradise. Taking into account the sensational sunsets, stunning wildlife, 10-foot waves and tropical beaches this country certainly is the embodiment of pura vida. With a life- expectancy that surpasses the United States, it is no wonder that Costa Rica has been ranked as the happiest country in the world. Considering the fact that here in Costa Rica they enjoy a greater biodiversity than in the USA and Europe combined; the green nature of the country certainly plays an important role in its overall charm. This is ideal for anyone interested in Costa Rica conservation volunteering. The abolition of their standing army in 1948 makes it a safe haven for both environmentalists and those simply seeking some tranquillity or peace. Wildlife conservation in Costa Rica is a must as it provides countless opportunities for outdoor adventures; it is truly the heart and soul of this country that makes it a home away from home. Now that we've talked about the country lets look at places to volunteer in Costa Rica. Projects and Placements: GVI (Global Vision International) offer a variety of volunteer programs in Costa Rica both in the realm of volunteering as well as internships, for those looking to extend their stay. The volunteer projects in Costa Rica can last from two weeks to six months and cover two main areas: wildlife/ environmental conservation and community development. However, within these two focus points there are countless volunteer opportunities in Costa Rica that you can become involved in. For example, Sea Turtle or Jaguar Conservation in Jalova, Community Development Internships in Manuel Antonio, Volunteering for Teens in Costa Rica, Volunteering on Childcare and Community Development Projects or Teaching English to the Local Community, which was my own personal program. I volunteered in Quepos, Costa Rica for 6 weeks, teaching English to the adults and the children in the neighbouring community of El Cocal. This was an incredible experience and one that will forever resonate with me. Through being there I was able to see the students grow and help them in their goal of learning another language. I truly felt like I provided a great service in Costa Rica. GVI provided a platform to help the community of El Cocal and I am grateful to have been able to build a relationship with the people. There are also opportunities to intern in Costa Rica with GVI where you will gain skills and hands-on experience. Join as a conservation intern and get your practical field experience – now essential for any conservation career in Costa Rica, or elsewhere! Looking to get into teaching as a career – how about joining their internship where you teach English in Costa Rica? With GVI you can and even learn Spanish in Costa Rica while you're there! Quepos: This is where you can volunteer with children in Costa Rica, teaching English, and get involved in global health projects. This is also the heart of GVI's Costa Rica community service projects, and is truly an amazing location for international service learning in Costa Rica. Quepos is a little town on the pacific side of Costa Rica and acts as the base to fulfil GVI's aims of bettering the community and the lives of those in El Cocal, the neighbouring village. In the surrounding area there are many things to see and do. Quepos is a bustling little town meaning that nearby supermarkets, delicious bakeries and souvenir shops are a mere 5 minute walk. In this location there is also a range of activities for your inner adventurer. There are various agencies (Safari Adventure) through which you can book kayaking, white water rafting, zip lining or hikes. Quepos is also home to Nahomi; a secluded cove with clear, calm waters- making it an ideal spot for swimming. Manuel Antonio is also accessible by a 20 minute bus ride, leaving you to experience the surfing and natural wonders of the National Park. Quepos may be a populated town however it is surrounded by rainforest and plantations, allowing you to enjoy both the wildlife and the bustling Latin American culture. Jalova: For those who want to volunteer in Costa Rica with animals, GVI's base in Javlova is located within the realm of the incredible Tortuguero National Park and it is here that you will be living. Home to one of the the best volunteer programs in Costa Rica, here you can walk a few yards into the most idyllic sunset setting on the beach while also doing night surveys to encounter the incredible wildlife of Tortuguero National Park. Think of a remote jungle setting and this will give you an idea of the GVI base in Tortuguero. It is cut off from the rest of civilisation, thus allowing you to truly get back to nature. This makes it perfect for wildlife conservation in Costa Rica, whether you are here to simply see exotic wildlife whilst making an impact, or developing those skills for a future conservation career. The base is surrounded by protected rainforest and on the other side you will find the Caribbean Sea with a beach that is home to turtles building their nests and laying eggs and a must see for anyone interested in marine conservation in Costa Rica. With one of the largest nesting colonies of Green turtles in the world this hub is certainly one of the leading places in Costa Rica to encounter wildlife. GVI's conservation projects allows for a great opportunity to volunteer in Costa Rica with turtles, one of GVI's most popular projects. Costs and Affordability: While volunteer trips to Costa Rica may appear to be more expensive than its neighbour Nicaragua; it is still a developing country meaning that it remains a fitting destination for travellers and volunteers alike with low prices on food and various accommodations. While you go about researching how to volunteer in Costa Rica, we've laid out some information that you need to know. The local currency is the Costa Rican Colon with an exchange rate of 592 CRC to $1 USD; however you will find that many places accept dollars and will merely give you change in colones. This makes long term volunteering in Costa Rica quite affordable. The cost of food in Costa Rica varies however for the simple yet delicious native cuisine it is fairly cheap, with a Casado (rice, beans and plantain served with vegetables or meat and fish of your choice) for only 2,500 colones, $5 USD. It is extremely easy to navigate around Costa Rica as the local buses can generally take you to all of the country's most desirable destinations. The domestic buses are available from San Jose and spread across the vast Greenland to the crystal Caribbean waters and so it has never been easier to see all of Costa Rica's hidden wonders. The prices of the buses vary depending on the distance however they are generally about 4,500 colones or $9 USD. In terms of activities the cost isn't too bad. You can dip your toe in the surfing pool for $25 USD a lesson from Manuel Antonio beach or do an action packed day of zip lining from the Quepos hub for $75 USD. Some of GVI's volunteering programs in Costa Rica even include some of these side activities, such as their program for teen volunteering. Volunteer placements in Costa Rica can be tricky to acquire but through GVI you have so many options you're almost guaranteed a spot. The prices change depending on both the duration and also the activity involved. However, these fees cover accommodation, food and some transportation meaning that you can live comfortably and happily with your GVI family. Also in the case of GVI your money goes toward funding other programs and therefore making a difference in the world. Accommodation & Visas When you volunteer abroad in Costa Rica, the accommodation offered through the volunteer program is simple yet comfortable and as I found through my stay it certainly became like a second home. With GVI you will live in a house with the other volunteers situated near the base of your work. Whether you're looking at short term volunteer work in Costa Rica or wanting to intern abroad in Costa Rica, GVI will provide accommodation. Quepos: The volunteer house in Quepos is a homely place located in the centre of the town meaning it is close to all the amenities and everything you would need. While there is no hot water it serves as a relief from the scorching heat and the wifi available means that you are able to stay in contact with your friends and family. During my time there I helped to paint the house and so this extra touch of colour adds to the happiness and general warmth of the home. With the serenity of the roof, one can never feel sad or homesick in this house. Javlova: The accommodation in Jalova is fairly basic. It is a simple house with little supplies and amenities such as wifi and hot water not readily available. However, as you are located right in the middle of the jungle, this doesn't seem to matter and your experience with the other volunteers truly allows you to embrace the wilderness from your haven in the midst of Tortuguero National Park where you will contribute to jaguar and sea turtle conservation in Costa Rica. Both hubs have facilities for adult and teen volunteering in Costa Rica so you can be sure that you will be taken care of while on base. In order to volunteer in Costa Rica the visa requirements change depending on the country in which you are travelling from, the amount of time you intend to stay and also the type of work you will be doing. Make sure you research your specific circumstances to determine whether you will require a visa for your trip. Highlights to visit in Costa Rica: Volunteering with GVI in Costa Rica also allows you time to explore your surrounding areas. Costa Rica is a small country, being home to only 4.9 million people. However, it offers the best of both worlds as it harbours both the Pacific Coast to the West and the Caribbean Sea to the East; making it both a surfer's and snorkeler's dream. With two major oceans to choose from I definitely recommend you try to volunteer with sea turtles in Costa Rica! There are countless points of interest in Costa Rica, all of which are accessible from GVI's hubs in Jalova and Quepos. The capital, San Jose, offers easy transportation while also giving you a glimpse into the cultural centre of Costa Rica. Monteverde: The Cloud Forrest is undeniably a must see in Costa Rica. As you wistfully peer across the towering tree tops and walk through the mossy plants and soothing streams, you can truly immerse yourself in the country's heart of nature. Giving a sense that you really are up in the clouds Monteverde is a magical Neverland cloaked in mist. Take a tour through the trees with Selvatura Park or embrace your inner adventurer and zip line through the clouds on the longest zip line in Latin America. In Monteverde, not only can you embrace Costa Rica's bio-diversity but you can be whizzing through the forest while doing it. Montezuma: A quaint town with a hippie culture and one of the best atmosphere's in Costa Rica. With white sand coves that emulate the Caribbean coast and a triple tiered waterfall in which you can propel yourself into the plunging pools, Montezuma is nothing short of paradise and my favourite place in Costa Rica. Aside from magnificent waterfall hikes, in Montezuma you can take a trip to the neighbouring 'Isla Tortuga' for some incredible island views and snorkelling in which you will see a myriad of fishes and perhaps a shark. This charming town is also home to some of the best restaurants in the country and a sushi place in the main town that also offers a hummus bowl with bread that is to die for. Cahuita/Puerto Viejo: Embrace the Caribbean roots and crystal clear waters while lounging in a hammock, listening to Bob Marley sway through the streets. The Southern Caribbean Coast- with the villages of Puerto Viejo and Cahuita- has incredible sights for keen snorkelers and wildlife watchers alike. Cahuita National Park is small yet precious with an idyllic beach and fresh rainforest that stretch hand in hand for an 8 kilometre hike in which you can spot sloths, snakes, monkeys and perhaps a sting ray if you're lucky. In Puerto Viejo be sure to visit the Jaguar rescue centre to see the work that is being done on behalf of this endangered species. At night these villages come alive with Latin American culture, riddled with Caribbean influences and it is certainly a part of Costa Rica that is not to be missed. Manuel Antonio: Sloths hang from trees, Capuchin monkeys scuttle across the wooden handrails , Toucans soar from above and deer scurry through the undergrowth- all of this is present in the gem of Manuel Antonio National Park; the perfect place to uncover the wonders of the rainforest. Located right next to the hub in Quepos Manuel Antonio is not shy of a few tourists however this does not detract from the beauty of its surroundings. Arenal/La Fortuna: Hot springs and volcanoes. The town that allows you to relax in the gushing stream of the natural hot springs and experience the pure triumph of hiking a volcano all in one day. Conclusion: Volunteering in Costa Rica holds various benefits and challenges. I understand that it is highly daunting and overwhelming to jump into the unknown, especially if Spanish is not your native tongue. However, GVI offer Spanish lessons for those who struggle in this area and they certainly strive to make you feel right at home. Overall Costa Rica is the perfect place for those who want to start their own adventure. With a beach, lively Latin American culture, hidden wildlife or a volcano at every corner it certainly screams to be explored. Through volunteering or interning in Costa Rica you can discover this incredible country while helping to conserve the environment or better the lives of the local communities.
Download our program brochures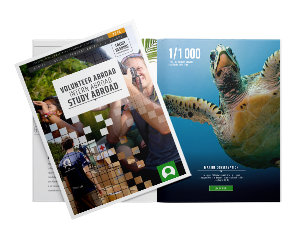 OUR VIDEOS & TESTIMONIALS
We've spoken about the smaller sea turtles that make their way to Jalova's beaches but what about the ocean giant: the Leatherback [...]
Hawksbill sea turtles are a critically endangered species whose population has declined drastically in the last 100 years. [...]
Take a Costa Rica volunteer trip to develop your skills while you have fun and make an impact!
Our Programs in Costa Rica