By Ashley Bernard
4 years ago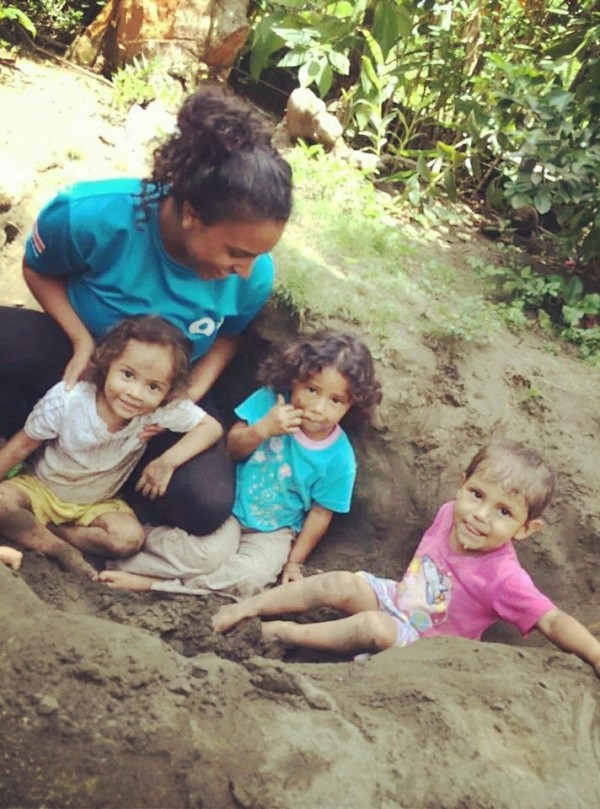 So, I've been given a live butterfly, a handful of freshly picked flowers, and I've had my hair braided. I've sang Titanic's "My Heart Will Go On" with a little boy (and I assure you we sang it with the conviction of a heartbroken Rose DeWitt Bukater), and I've played football (badly) with a team of exceptionally strong-legged girls. I've been on project in Costa Rica for about two weeks now and these are only a handful of interesting things that I've had the privilege of being a part of.
I have chosen to work specifically in the Aula at Cocal, one of the schools that we work with. This is a demanding job that requires a lot of patience, however, it's SO rewarding! The kids here are vibrant and full of laughter and sassiness. One kid in particular named Ellian spends a lot of time in the Aula. He jokes around and calls me "reina calamar"(squid queen), my friend "princessa sardina"(princess sardine), and our supervisor "el Castillo" (the castle). He also has an interesting obsession with the movie Titanic, and has to sing the "Titanic song" at least twice a day. He is also so intelligent and trustworthy! In a way, he is our little hall monitor, helping us around the class, and helping me specifically to figure out what a child is trying to tell me in Spanish. He reads so well and he continues to surprise me everyday with the amount of English he knows.
The kids here in general are so amazing and I know that when I leave in a week, I will definitely miss them. I thought that three weeks would be an eternity but being here now, I really do wish that I had chosen to stay longer. It just gets better and better as the kids get more used to you and begin to look at you not only as their weird foreign teacher, but also as their friend. They have also taught me so much… not only about Spanish, but also a lot about myself.  They're always so content and grateful that you can't help but to be inspired and to look at your own life to see that material things don't really matter as much as most people like to think they do. You begin to see that it's the human interaction… the friendship and positivity that brings about ultimate happiness. In many ways I feel like they know so much more than I do, and I continue to look at my relationship with them as a "give and take". Everyday they teach me more and more about Pura Vida… how to live pure… simple. It's so fantastic!