By Daniel Patrick
4 years ago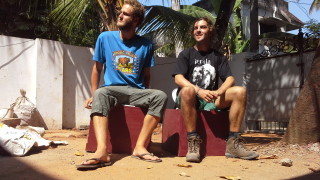 Just over a week here at GVI in India, yet it feels like I've been here for months.
Arriving at base I was greeted by the friendly faces of the fellow volunteers that I now consider to be my great mates. A bunch of exciting activities in the week following my arrival with five days in the hot Indian sun building toilets for the people in Santhom Slum, life is certainly exhilarating here.
One night I got the opportunity to go down to the after school care program with the education volunteers. An hour and a half of chasing around little kids with the biggest smiles you've ever seen! It was so much fun, teaching English, counting and playing games!
My first weekend here, three fellow construction volunteers and myself travelled down the coast to the beautiful seaside town of Varkala. A weekend of eating, relaxing and swimming in the ocean, we were left feeling perfectly refreshed for another week of construction!
In this second week we added the finishing touches to the 5 eco toilets that will be trialled by the people of Santhom before a further 20 are completed by future GVI volunteers. These toilets are wooden boxes with a bucket underneath that is emptied into larger compost bins. A very simple system, yet after seeing the current communal toilet that drains directly into the river that winds through the Santhom slum, it is clear that the completion of these toilets will have a huge impact on the community!
All in all a fantastic time at GVI India!
Daniel.