Up & Running in Phang Nga!
The GVI Team in southern Thailand have finally welcomed the first volunteers to the projects in Baan Nam Khem, Phang Nga province, this week and the guys have been busy getting out and about in the community:

We arrived at the GVI base on Saturday afternoon; we are living in the Baan Than Namchai Foundation's building in Baan Nam Khem, which constructed after the 2004 tsunami and is supported by an Australian charity called 'Hands Across the Water' . The building is really well designed to allow plenty of air through the sitting area so it never feels stuffy while we're out here. The accommodation is excellent, we have air conditioning in the rooms and an en suite bathroom! I've been sharing a room with the volunteer who is working on Teaching English to children, who has been having a great time doing lots of lessons with the kids. The cooking has been excellent, a huge variety of Thai meals for lunch and dinner with meat and vegetarian options; the food has been delicious and healthy.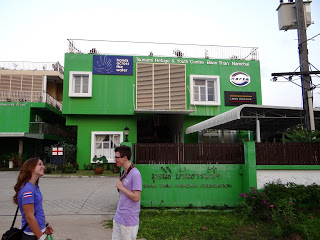 Volunteers outside the accommodation at the Baan Than Namchai Foundation
The GVI team have been really friendly and helpful and it's always a lot of fun taking part in different activities involving all the programs we have based here. Today the TEFL (Teaching English as a Foreign Language) volunteers went with the Healthcare project for a change of pace to work with children with learning difficulties at the Camillian Social Centre, not too far away from the base. It was a lot of fun getting involved, playing games and helping the kids with various things like motor skills. It's also good for them to be around more people who show that they care and have fun with them. The team and the volunteers have formed a very friendly atmosphere and in our free time we're getting to know each other better and better. The other volunteers and I have been organizing weekend trips all over the place which sound really exciting! I look forward to getting around a bit and experiencing more of the culture.


GVI staff Lee & Healthcare volunteer Julia with the kids at the Camillian center
As for the teaching on our program, it's really great to see so many people who want to take part in learning English. The students have jobs during the day but are diligent in coming to lessons in the evenings to learn English on top of their occupations. Everyone is eager to learn and I feel that they have been helping me learn how to teach just as much as I have been helping them with the English language. They're helping me to help them which is a really healthy relationship to have with members of the community and it should be an asset to GVI's growing reputation in Baan Nam Khem.
The first week has been a great success with more good things to come!
Jack Sanctuary
Thanks Jack! It's been a great week and staff & volunteers have been working hard to get the projects settled in, we're looking forward to developing things further over coming weeks. In the mean time everyone is taking a well-earned weekend of exploring and relaxing in Phuket, about 1.5 hours south of base – have fun guys!