'Tis the season for Fudge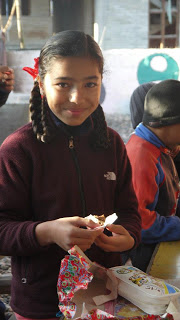 Asmita from Streets enjoying the sugar rush
As a small thank you to the staff and children of the projects we have been working on for welcoming us in, Ruth and I got to work on making a LOT of chocolate fudge and packaging it up as Christmas gifts.  Then we had the fun of playing Santa and delivering the delicious (yes, we are awesome at making fudge) treats. 
First up was our delivery to the Street Kids Rehabilitation Centre on Christmas Eve morning.
After breakfast the kids got stuck into the little balls of sugar.
Once the children were bouncing off the walls on their sugar high we moved onto the next delivery.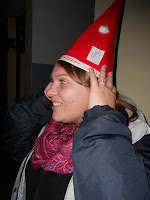 Ruth getting into the Chrissy spirit!
Christmas fun at Sathi Sansar
Sathi Sansar – a center for students with Cerebral Palsy – were eagerly awaiting our arrival as we'd been given the task of bringing along a Christmas movie for the kids to watch.  "Arthur Christmas" was the flick of choice and kept us all entertained (staff and kids).  When the movie was finished the kids went off to have lunch while the center's staff decorated the common room with a tree, balloons, and plenty of colour.  All the children were bought back into the room to the sounds of Christmas Carols and Ruth and I explaining what we would do at Christmas with our families back home.  Next Krishin, one of the staff members, covered everyone with fake snow from a spray can, then it was fudge time.  The sweets went down really well, and again it was time to leave once everyone had had their fill of sugar.
Just before leaving for Sarangkot we dropped in Himalayan Encounters supply so that the guys could share it amongst themselves on Chrissy day.
Christmas day was our next delivery.  We took along two parcels to our Conversation Club – one for the children, and one for the Family that run Shanti restaurant.  The fudge was loved by all, and luckily, there was plenty to go around.
After Christmas we were off to the daycares to pass around the chocolate joy, and all of the crazy kids got stuck in! 
We still have one delivery left to make.
Little Daffodils school in Pame have had exams and been closed for winter holiday so their delivery will be a lot later than everybody else's, but believe me, it's worth the wait!