It is a beautiful feeling to dream, but it's a whole new sensation realising it! Imagine being in a constant state of amazement. That is what life is like at GVI's Jalova base in Tortuguero National Park. With every trickling grain of sand beneath your feet, and the roaring of waves behind your back, you realise how lucky we are to have places like this on our planet, and hence how important it is to conserve them.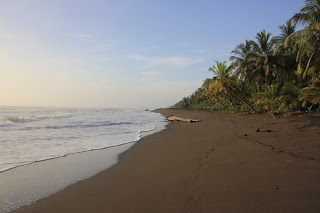 The 'saphire' sky over Tortuguero beach.
Imagine being in a classroom with the sound of birds and with the wind in your hair, with an unbroken belt of green around you and sapphire blue over you. That is the institution that we, the first batch of volunteers of 2013, call Jalova; and now home!
Throughout this first introductory week we have been bought closer to realising our purpose of being here by the most wonderful set of people that we have been told are our 'instructors'. I don't really understand that word in relation to these people; family seems far more appropriate.
Group photo of staff and volunteers, taken by Robyn.
The first week is pretty much like being in a wonderful magic show, where you go down a canal looking for birds and see an otter biting on his catch. A magic show where the shine of a torch in the forest reveals a variety of shapes, colours and forms. Every heartbeat is a lifetime, every glimpse a movie. It's like being in a magic show which teaches you how to love and enjoy learning (Lana's bread, Charlie's swimming lessons and Roberto's laugh all contribute to this!). It's a show that gets really muddy, sweaty stinky, dangerous (we get a few super toxic coral snakes in the audience seats sometimes) and not to forget itchy on occasions!
Sometimes you wonder who the magician is, only to look around and realise that for a show as brilliant as this, there can never be just one!  I guess Alice really did find Wonderland after all.
-Munib, 3 month volunteer