The Fascinating Dolphins!
By Sophie V. - Marine Volunteer
5 years ago
I love lots of things about Africa but this time I came here mostly for the dolphins.
I think dolphins are incredible and I always wanted to get to see them up close but I just can't stand seeing them in captivity so I joined GVI's marine project in the hopes that I would get lucky, because you never know, the good thing (for the dolphins) about the wild is that they simply can get away from you if they don't want to be bothered.
And lucky I was!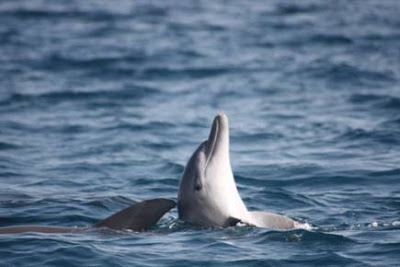 In the two weeks that I've been here, we've seen them every day except for two days. We were lucky enough to observe lots of different behaviours. We saw them travelling, foraging and socializing on all kinds of levels.
My two favourite sightings were of them socializing. But I mean REALLY socializing!
From the first day we were here and again today on our second to last day. What a beautiful gift!
They were jumping and rubbing each other and all of that right beside us!!! We got to observe them for over two hours today and it felt so good it almost made me forget how sick I was (I got a really bad cold and would not stay at base in case I missed something, what a good move!).
To top it off, we went snorkeling and I saw my first turtle swimming right beneath me! We saw turtles from the boat all the time but to see one in the water, this was just wonderful!
So I had an amazing two weeks here and I envy all GVI staff that get to do that all year round. I also think this project is really helpful for the dolphins and I wish that everybody who says that they love dolphins, would take the time to see them in the wild and see what they are really like.
Sophie V. – Marine Volunteer