Support makes a Difference
By Cheryl Martin
4 years ago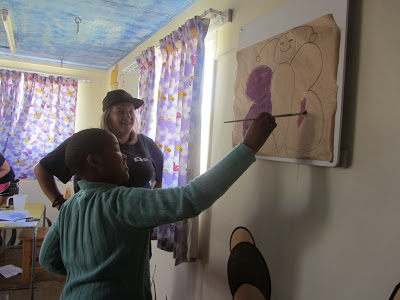 Sometimes as volunteers we can wonder how much of a difference we are making. The story of one of our children with Special Needs shows how, stimulation, support and care can really make a difference. Precious (not her real name but we'll protect her identity) joined us at Ikhayalethemba orphanage 18 months ago. She was about 12 years old. Although she could walk, she had very little movement. Her movements were stiff and even slightly turning her head was a real effort. She didn't have the confidence to make a choice, she always awaited direction.
Our volunteers worked hard with Precious. They involved her in morning circle time, took her for walks, taught her to throw a ball, encouraged her to draw, paint, thread and cut. They also encouraged the other children at the orphanage to interact with her. Whilst the volunteers gave great support to Precious, Mama, her family and the carers all gave Precious great support and encouragement too. The difference in Precious in 18 months is phenomenal. She pushes the other children around in their wheel chairs. She mops the floor, tucks the other children into bed, organises her belongings, and paints and draws with increasing independence and more ease of movement. Yesterday, she threaded a necklace and then tied it herself, for those who have worked with Precious, you will know what an amazing feat this is.
Precious is just one story from Ikhayalethemba. Her world has opened because Mama's family, the staff and our GVI volunteers have given her so much stimulation, care and support. There is no doubt that providing time for a child can make a real difference.