Songs, Dragon Boats and Mountains
By Monica Walker
4 years ago
Volunteers work hard during the week planning and teaching their lessons so when the weekend comes around it's a welcome opportunity to explore the beautiful rural surroundings of Luang Prabang. Recently we were invited to visit a village 45 minutes out of town play educational games at a local school and have a tour of the village. We met bright and early on Saturday morning and piled into the van for our drive through the mountainous countryside to Pak Khan village.
On arrival we were met by our Lao teacher, Mr Peng, and he escorted us through the village to his primary school where a class of 20 young students were waiting to meet the falang (foreigners). Curious looks from locals and cries of sabaidee followed us as we made our way over. The students were taught the song "Head, shoulders, knees and toes" and had great fun singing along to the song and video with our volunteers. They competed with each other to see who could do it the fastest. At the end of the singing their teacher Mr Peng guided them through some other English songs they had learned, including "If you're happy and you know it". Thanks to the generosity of our volunteers we were able to donate some books, pencils, balls and even clip on koalas from Australia!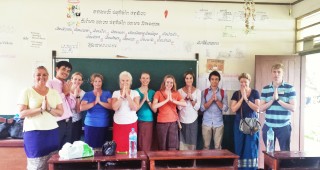 We walked back through the village and squeezed back into the van to have a tour of a new village being built by the Lao government as part of the dam projects they have going on around the country. This was a great privilege and it is something that you couldn't do as a tourist. The village included a large school that's being built for the locals.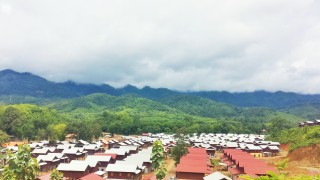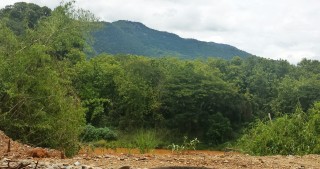 The volunteers were lucky enough to see a dragon boat being built while we were walking around the new village. Dragon boats are around 15 metres long and fit 50 or more rowers. They're built out of the trunk of a single tree and are carved with basic tools and then decorated. The annual dragon boat racing festival is one of the biggest celebrations in Luang Prabang.
Tummies began to rumble as it approached lunch time so we made our way to a local restaurant for a Lao style shared lunch. The menu included morning glory, noodle soup, chicken, spicy beef salad and of course lots and lots of sticky rice! The restaurant was situated at the top of a hill with stunning views of the surrounding countryside and new village.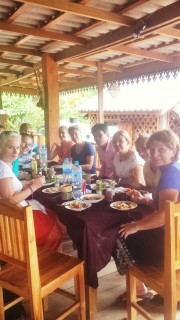 Satiated, entertained and content the volunteers climbed back into the van just in time before it started raining like it only can in the tropics. After such a packed day it's no wonder many snuck off to catch a quick afternoon nap! We had a wonderful time and are grateful to have such authentic local experiences.