Reflecting on the progress at Grade R
Every project has a story.  
As we were gathering photos for our recent four year celebration, it reminded us that one of the projects that had clearly made progress during that time was Grade R.
It began with a shell of a building back in 2011.  Mama Lumka had seen it had potential as a Grade R classroom and GVI could see the potential of supporting the Grade R program. Our first volunteers began work there in October 2011 and since then our relationship with Grace, the Grade R teacher, and GVI volunteers has never looked back.
On an educational level we have provided support for small
groups
of children in line with the Grade R curriculum.
This has been a great help to Grace who has a full class

of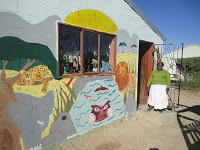 children to work with.  We share ideas with Grace and
she shares ideas with us.
Together we have been able to provide the children
with some great learning
experiences.

Our Health Care program has been successful at Grade R.  This includes hand washing, healthy eating and tooth brushing programs.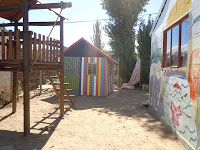 We've filled a few Public Holidays at Grade R with painting
murals and general maintenance tasks with some great results which have been much appreciated by Grace and the children.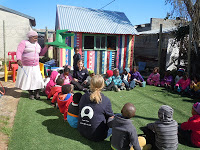 This year our construction program has really supported
the development at Grade R.  An artificial turf area, a path and drain, and windows being replaced are a few achievements. 
We've also build shelves allowing more floor space for the
children and our most recent project was the building of a
sandpit. 

The physical progress is rewarding for all but more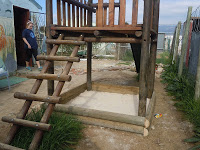 importantly Is the great relationship we have with Grace and the children and the pride children take in their class work

and their learning environment.

Cheryl Martin Project Manager