Rafting Down the Seti River
By David Smale
4 years ago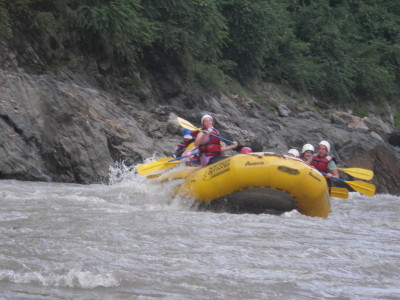 There is so much to do here in Nepal ranging from going on a challenging trek up the mountains to just chilling out at many of the local bars and restaurants overlooking the lake in Pokhara. So far I've done paragliding, canyoning down a waterfall and rafting down the Seti River. Yet despite already spending over 6 weeks in Nepal there is still so much more to uncover!
My favourite weekend activity so far has to be rafting. Me and three other GVI volunteers went away on a weekend where we did canyoning and I loved the whole experience. In between canyoning and rafting we stayed at a small campsite for just the four of us plus our rafting guides, which we reached by cable car across the river. The campsite also had a nearby secluded beach which we visited in the evening before tea. It was a really warm and pleasant evening chilling on the beach in front of a rushing river surrounded by mountains that felt almost close enough to touch. During that night it rained heavily which excited out hopes for fast rapids in the morning. I'd never done rafting before so I didn't completely know what to expect but the rapids seemed fast, yet not overly hard which meant it was great fun and also allowed us to take in the sights of the surrounding mountains once again.
I had such a fantastic time, great banter throughout the entire weekend and I couldn't think of a better place to go rafting. If you ever get the opportunity to come to Nepal I'd definitely recommend either rafting of kayaking down one of the rivers here.