Paradise, paradise, paradise, tortoises and BBQ's!
By Ant and Catherine
4 years ago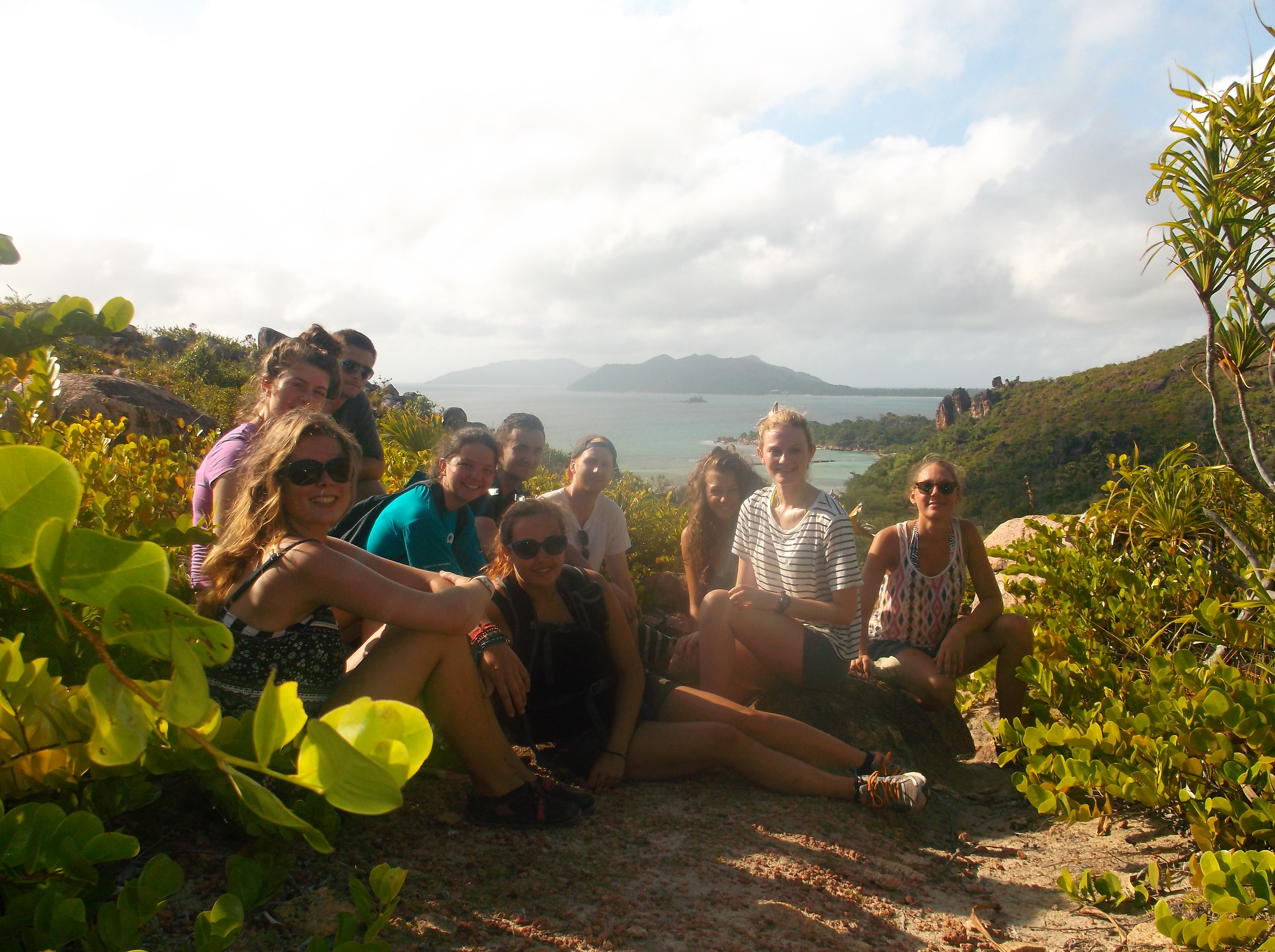 Week 4 – another set of exciting adventures on Curieuse!
Coco de Mer searching – Fresh from learning more important facts about Coco de Mer from an awesome day out to Valle de Mai on Praslin, our Coco de Mer survey turned into a 'Coco de not there' after Dan, Julia, Ant and Ellie could not find the elusive I13 (it turned out the GPS was telling fibs and the tree didn't actually exist but it was fun searching the forest for a while!). Fortunately, we found a new immature to replace it and useful data was collected by all the team on a number of trees from adults to saplings!
Sea Urchin – During the weekly task of cleaning our lovely boat Dexter, Will unfortunately stepped onto a sea urchin (the pest of the sea). He put on a brave face and dealt with the pain like a trooper. Now fully recovered, Will regained his energy enough to treat the volunteers to the culinary masterpiece which was his and Fabi's rice dish. This tasty meal was a firm group favourite.
Anse Badamier – It took us about an hour hike with a picturesque view to get to the beautiful beach on the other side of our basecamp. After arriving, we started our tortoise tickle session and found number 124, affectionatley known as Bob (a bit of a loner) deep in the forest. It was awesome to find a tortoise that has travelled so far from the rangers station and we also enjoyed the amazing beach with a refreshing bathe and took a lot of photos.
Tortoise tickle times- Lauren, Brooklyn, Ant, Suzanne and Fabi went on one of their final 'tortoise tickles' beyond the Rangers Station at Anse Papie. On the way over they bumped into McGregor, the largest tortoise on the island – he really is huge! After posing for some selfies it turned out McGregor's width was still required for our dataset, so we had a good excuse to play with him a bit longer and collect some important information too!
Rachel's farewell BBQ– On Friday we had a goodbye party for Rachel which was awesome. We had chicken, fries and salads and listened to some good old classic tracks. We were all sad to say goodbye to Rachel (aka floor Rachel) her personality will be missed around camp for the final week. There is a space on the floor now dedicated to Rachel (her favourite place to be).
Praslin – After completing weekly tasks the volunteers started the weekend off with a glorious banquet at the Paradise Sun Hotel. Despite Fabi and Cathrine previously expressing their dislike for English cooking, it could not stop Ant eating an extreme amount of fried eggs, beans and bacon. Rachel managed to come along too before her ferry back to Mahe. Both Jess' and Cathrine went for a morning dive with the Octopus Dive team. The boat trip was a little bit choppy but after jumping in the water they explored the beautiful underwater world. Using Will's waterproof camera they got some great photos of a sleeping sea turtle. We stayed at Mango Lodge in the evening, which had awesome views over Praslin and towards Curieuse. It was great to have a relaxing weekend that refreshed us all for the last few days on camp and some exciting times ahead including some of those described above! There is time for one more stop to Paradise and some epic volleyball before we leave too – excellent!