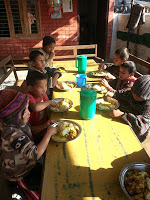 Dhal Bhat time at Streets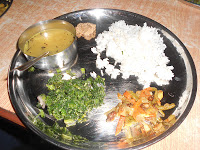 A small serving of Dhal Bhat
The National dish of Nepal is Dhal Bhat.
Dhal is a lentil soup and Bhat is the white rice.
This dish is normally served with a vegetable curry, pickle (a spicy relish), fried spinach, and if your game, a few raw chillies.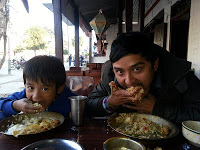 Rohit from Conversation Club and staff member
Lok giving the volunteers a Dhal Bhat Eating Lesson!
The traditional way of eating Dhal Bhat is very hands on, in fact, you only use your hands which is great for saving on washing up the cutlery.
Most Nepali families will have this dish twice a day.
Once at about 10am and again as their main dinner meal.
They'll start the day off at about 5.30am with tea and biscuits and normally at about 3 o'clock the family will have a small snack which they call tiffin time.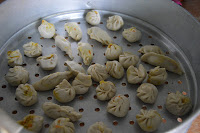 Steamed Mo Mos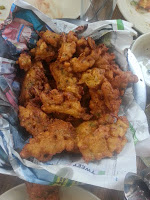 Veg. Pakoudas
As part of our programs here we offer our volunteers a cooking class where they can learn to cook traditional Nepali tiffin dishes such as Vegetable Pakoudas (fried vegie fritters), Alu Dum (a potato curry), Puri (fried roti bread), and Mo Mos (steamed vegetable dumplings).
These lessons are normally held at the Foster Foundation Orphanage so that the money paid for these courses goes directly to helping the children that reside there, and the food prepared by the volunteers is also the children's afternoon snack.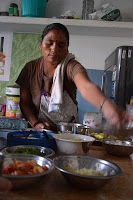 Rekha
Rheka, the house mother, is an amazing cook and wonderful teacher, and is always happy to meet new volunteers.
She'll even throw in a little lesson on how to make Dhal Bhat so that the volunteers can practise with their host families when returning to their home stays.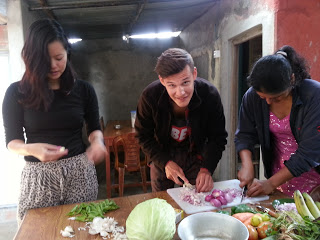 Volunteers Amanda & Kevin practising their Nepali cooking skills
 with Host Mother Chetra