Midsummer in Pez Maya and amazing encounters!!
Last Friday the Swedish volunteers gave us an excuse to party by telling us that it was Midsummer, and as with all great traditions we had to dance around a penis pole and sing about small frogs and pigs. Having danced around it singing in "Swedish" and dancing as well as any frog or pig shouting "Koo ak ka ka, Koo ak ka ka" at the top of our voices. All in all it made for a fun night in Pez Maya and just to make things better it was Taco night so we even ate well.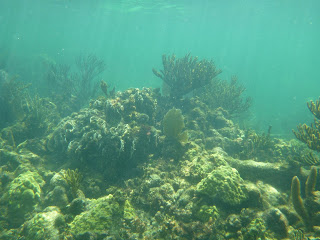 On a more serious, but very exciting, note we have 3 new monitors this week so a lot of data has been collected and entered in to the database. Both fish and corals have been monitored so we are contributing plenty of information showing the status of the reef. We are fast approaching that sad time again when we will have to say goodbye as a  phase ends and volunteers leave, though I think it safe to say that all of the volunteers have had an amazing time here. But as they say every cloud has a silver lining and Pez Maya will be welcoming 21 new volunteers on Saturday. A lucky few volunteers had an encounter with dolphins this week and were able to swim with them. There have also been sightings of sharks and turtles so it's been a pretty good week all round!