Local Festivities, Moorhen Chicks and Tortoise No. 49 Found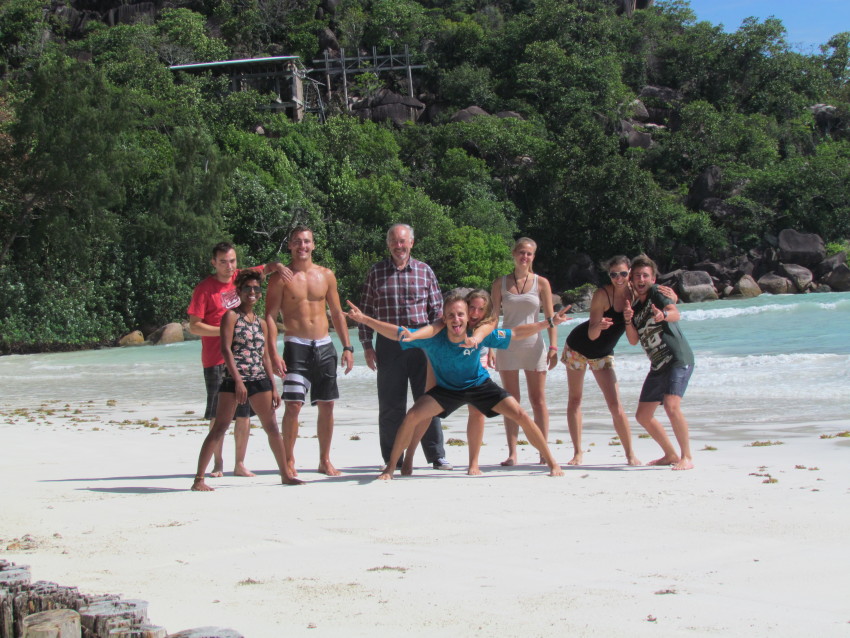 The last week was a week of mixed feelings. It started with our usual weekend venture to the nearby island of Praslin but in sad circumstances as we had to say goodbye to our lovely Kiwiboy, Casey! After spending the day in the luxury of 'Paradise Sun' hotel, we had a lot of fun at the local 'Praslin Celebration' festival with local music and many little stalls of local food. With the DJ being annoying and cutting every good song short, we didn't really care after an hour thanks to the large and cheap cocktails that made us all dance like there was no tomorrow!
However it was quickly back to Curieuse to start our new week of work, starting with a trip to Fond Blanc, where a few of us entered the crystal clear waters and suddenly were surrounded by five Lemon sharks – Needless to say we made a hasty exit, but enjoyed the experience! That afternoon it was the highest tide of the month and therefore 'inundation' time for our mangrove surveys!! Wading/swimming out into the mangroves is always pretty fun, but adding in the challenge of measuring the distance from ground to sea level makes the whole thing hilarious.
Tuesday all of us went to Grand Anse at the other end of the island to check on some of the recently laid Green turtle nests. Digging up the nest uncovered a lot of eggs (140 to be precise) however the nest had been very close to the waters edge and so most of them had not developed properly and therefore did not hatch! 🙁 Hopefully most of the others will have made it out to sea and are doing well!
Today (Wednesday) started with an early short tweet to Mama's House and a mangrove 'Mudskip' where we managed to save two moorhen chicks thanks to Cheryl (you never know what each day is going to bring). In the afternoon we walked over to the Ranger's Station and searched for Tortoises which haven't been found and surveyed yet this year. Then it happened… we found Number 49 in the middle of nowhere (thanks to Cheryl again)! Whoop!
Now we are all looking forward to Friday – not only because its Friday, we have a BBQ with lots of chicken and we party – but also because we will all climb up to the top of the island on Mount Curieuse!