Lisanne's insight into what it entails to be a community staff member in Shimoni
By Lisanne Spruit- Community Field Staff Shimoni
5 years ago
Eight months ago, I was at the airport in Amsterdam saying goodbye to my family, full of nerves about what was going to come. I was on my way to Kenya – a new country for me, very far away from home, on a continent I'd never been before. The plan was to volunteer with GVI for three months and then travel for another month. However, it's December now and I'm still in Kenya, in the lovely little village of Shimoni that I now call my home.
I signed up for the combined expedition, which meant I got to work on three of the projects we have out here – marine, forest and community – and I loved every bit of it. From being on the boat watching big pods of dolphins and snorkelling in the warm Indian ocean with sea turtles, to chasing Colobus monkeys in the beautiful coastal forest whilst trying to find my way through the bushes, to standing in front of a big class of children teaching them English, showing adults how to use a computer and reading under the tree with the amazing kids of Shimoni. From living on our cosy base in the middle of the village with people from all over the world, to trying local food and practicing the twenty words of Swahili I know, to spending weekends away going on a safari in Tsavo National Park, partying on the beach in Diani with my newfound friends and visiting the fabric markets in Mombasa Old Town.
Those three months flew by way faster than I wanted them to, and the nearer it came to the end of my stay, the more I realised I wasn't ready to leave this amazing place yet. Luckily, I didn't have to. During my final week I was asked to stay on as a staff member with a scholarship – I couldn't believe my luck! I happily accepted to come back and knowing this made saying goodbye to my new home a lot easier. I left for two months; two months of travelling around East-Africa, being on local buses and visiting beautiful places, and quickly being back in the Netherlands again, being reunited with my friends and family, followed by a second goodbye at the airport.
Going back to Kenya is one of the best decisions I've ever made and truly felt like coming home. I was placed in Shimoni as a staff on the community project, which was the project I enjoyed the most during my time as a volunteer. Before coming to Kenya, I never taught anything before in my life, but I ended up absolutely loving teaching (I encourage everyone to give it a try!). Therefore I was very excited to be given the chance to spend all of my time doing this.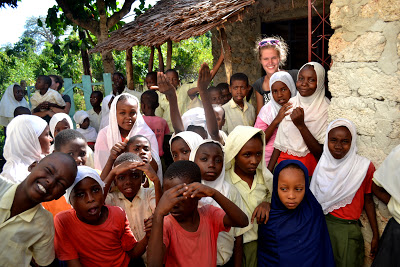 I didn't think time could pass any faster than it already did, but my first three months as a staff have truly flown by ridiculously fast. At first my new role took some getting used to – meeting lots of different people in the community, giving volunteers the teacher training for the first time and showing them around the village and the schools, etc – but the support I received from our amazing community officer Sophie was great and so I quickly got used to everything. The past few months have been awesome; I've done lots of teaching at the five schools we work with in Shimoni and I got to know the kids and the teachers even better. Choir, reading in the village, music and movement with KG, wildlife club, adult English – the days are full, but a lot of fun and incredibly rewarding. I've also been lucky enough to be a part of litter picking day at Base Academy, global hand washing day, the holiday activities at Shimoni Primary and the closing ceremonies at all the schools, which made my time here even more fun.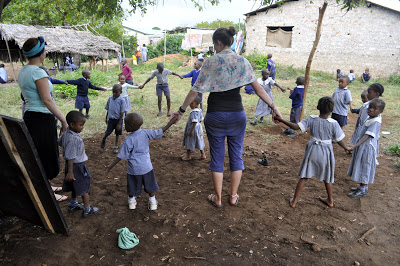 So it's months later now, and still, I don't feel ready to leave Shimoni yet. Therefore I decided to sign for another three months and who knows even more – how can I ever leave this place? I never expected that signing up as a volunteer with GVI would work out this way – if you would have told me about this a year ago, I wouldn't have believed you – but I'm very happy that it did.
Lisanne Spruit- Community Field Staff Shimoni