Life in the Seychelles, Part II: Night Market
By Barbara Hoover
4 years ago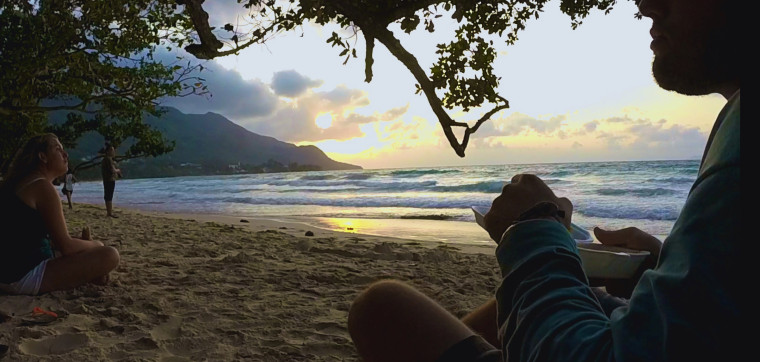 This week, the staff was kind enough to drive us to the night market in Beau Villon. Beau Villon is a coastal town only about 4 km north from base, or a 15 minute boat ride. However, the mountains in the middle of the island make land transportation very difficult. By bus, we would have had to go to Victoria, which takes a little over an hour, then take a transfer and ride for another 40 minutes. By car, it was an hour drive.
On Wednesday night after our dives, all 16 of us piled into the van and we were off.
The night market consists of about 20 to 30 stalls that are erected in an empty lot, right next to a 5 star hotel. It is also right next to the beach, offering a breeze to counter the Seychelles weather and the heat produced by the crowd and the generators next to the kiosks. There stores sold local crafts, clothes, but mostly food. At about 50 or 60 rupees a plate, there was an amazing assortment of fish, curries, cakes, kebabs, juices, and all sorts of freshly made local cuisine. At one all, they had 10 different types of curries (Octopus, lamb, vegetable, fish, chicken, etc…). We were all in heaven!
The clientele at the market was a mix of locals and tourists. In addition to the vendors, there were people singing and dancing in the middle of the market. I got lamb curry, which came with a good helping of rice, mango chutney, and a dash of peppers. For desert, I got a corn flan that was cooked in coconut milk.
The Beau Villon beach was beautiful. The beach we have on base is not very "beachy" because it is a beach of a bay. The waves are weak, and it is surrounded by land. The Beau Villon beach had rolling waves and a vast nothingness in the distance. I had forgotten how much I love the sound of waves. After we all purchased our food, we sat on the beach as we savoured our food while watching the sun set. It was such a pleasant time talking and laughing and having a break from base.
Due to the incoming weather, we were off of dives the next day, so people were allowed to drink if they wished. At the market, they sold homemade coconut liquor and sugarcane liquor. The owner of the stall was a jolly Seychellois woman. She had each of the liquors in huge jugs behind the counter, and poured them into little plastic bottles upon purchase. For only 25 rupees, you got a recycles coke bottle full of the local moonshine. We tried a little, and there was definitely a bite to it…
When we decided it was time to leave a little after 9, there were still many people hanging out at the beach.
Yummy food, good company, beautiful view. I'd day that's a good night.