July 2014 Monthly Achievement Report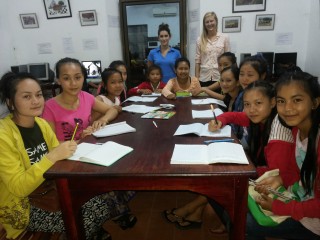 Library Girl's Class
Objective:
Provide female students with the ability to expand their life choices through increased educational opportunity.
An exciting new addition to this year's Summer School Program was the introduction of GVI Laos's first girls-only class. Based in the Luang Prabang Children's Library, the class was created to meet the demands of students who felt they did not fit into either of our existing four Library summer classes; those who felt that they were too old to join our children's classes and those who were not part of our Novice classes. Therefore, this class catered to girls of a variety of ages and backgrounds, with varied proficiency in English.
By creating a safe, supportive and fun environment, the girl's class aimed to expand the student's English skills, as well as helping build their confidence in their existing language abilities. Over the last month the class has grown to 13 students and, with the help of our passionate volunteers, moved from strength to strength.
Through fun and engaging classes, GVI aims to more actively address gender based disparity in school retention and general educational opportunity by keeping more girls in education longer and therefore expand their life opportunities. This class represents an important step for GVI Laos in realising this goal, and is something we hope to continue building upon into the future!
A special thank you to volunteers Kelsie, Luisa and Paula whose hard work and energy made this class possible!
Written by Field Staff Member Patrick Rose