India, Kerala and GVI, so far!
I arrived in Kochi with my friend Nicola 
on Saturday afternoon
 two weeks ago and was greeting with substantially warmer weather than we had preciously been experiencing in the Delhi.  Much more like the Australian summer we are missing out on! We were welcomed into the GVI house with open arms and a delicious dinner that Tracy, our cook, had made for us.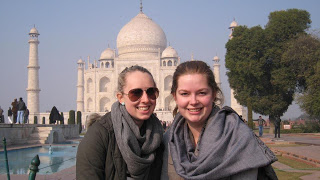 Along with the 5 other new volunteers we were shown the ropes and thrown into schools on the Tuesday after we arrived. I am placed at SDPY school where we take the students who need extra help out of class and give them one on one or small group tuition.The first few lessons I conducted were certainly an experience with the children having limited English and comprehension skills, they are however, so eager to learn! They love learning with the volunteers and it is truly an amazing experience to work each day with these gorgeous boys and girls. At SDPY we also organise before and after school tuition which is usually games, reading, singing dancing or arts and crafts.  I am currently trying to get a Girls Club up and running as the boys do tend to dominate the tuition times, especially when it comes to playing any kind of game! 
This weekend we got new volunteers, the past two weeks have flown and its crazy to think I have to train up a newbie at SDPY. To celebrate the new volunteers as well as both Australia Day and India Republic Day we threw a BBQ on our rooftop, it was certainly a different experience going to get the meat Saturday morning, but it sure was fresh! It was a great way for everyone to get to know each other before we get thrown into school on Monday. 
So far I've loved every minute of this experience and I don't want it to end. 
Kat.