GVI U18s – The Royal Trek
By Elisabeth Tuck
4 years ago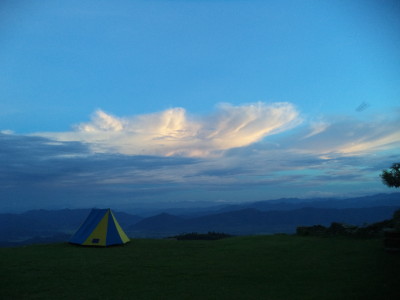 After a week of learning about Nepalese culture and many, many, new experiences our group of under 18s set out on their adventure trip- a once in a lifetime trek in the Annapurna region of Nepal. We kicked things off in Pokhara with a breakfast of porridge and eggs; a welcome change from the curry and local breakfast cuisine the team had become accustomed to at their homestay! From here we ventured out of town by bus to the start of our trekking route at Lake Begnas.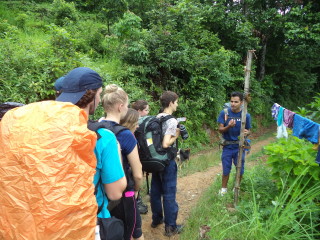 Fortunately the monsoon rains dwindled and we got off to a relatively dry beginning, our climb rewarded with increasingly impressive views, emphasising what we had already learned- that Nepal is stunning, no arguments! Temperatures climbed as we did and the sun broke through the clouds, making the prospect of not showering for the next four days less and less appealing to our 'way-beyond-sticky' travellers!
Our day's efforts were however rewarded as we reached our lodgings for the night, a tea house at the top of the hill, with yet more stunning views down across the lake and the route we had travelled. Hospitality comes as standard from the typically friendly Nepali people, and the family at the tea house showed this from the outset, with cups of tea as they cleared rooms and prepared for our stay. After some football and a traditional Dal Bhat dinner, we started to settle in for the night…or at least so we thought- the local creatures however had other ideas, and our team got a truly authentic (and a little bit hilarious) introduction to basic living in rural Nepal as they made some new friends. Let me firstly introduce Pedro Sanchez, a spider who was apparently the size of "my face" (according to one of the boys!). Pedro of course, had a child, called Rodrigo Sanchez!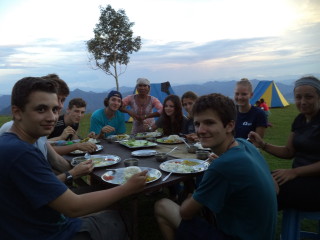 The fun didn't stop there as a family of 'rats' (definitely mice!) turned up in the other room, where Rosalinda (the mother) had given birth to four children, all of whom were relaxing on one of the boys beds…not to worry though, they were kind enough to leave some (smelly) 'presents' for the guys!
Thankfully, we did all manage to get some sleep in the end, ready for day two, which looked like it was going to get off to a soggy start! Other than you know, getting soaked, rain posed a couple of issues to make our day more challenging- slipping, and more leeches. Leeches being one of the delights of trekking in Nepal, small slug like creatures which latch onto you and suck your blood! We were fortunate however as the rain dwindled once again, sparing us a soaking but not saving us from the leeches- more and more members of the group finding one of the delightful beasties in their boots as the day went on.
We spent the second night at another teahouse, this time in a rural village, with just as many, if not more Pedro's but fortunately no mice! The family were also kind enough to give us a chicken for dinner…it was very fresh, so fresh, it was still walking when we arrived!
Our third and final day mostly involved a climb to our final stopping point, the leeches continued to keep us company and the views remained incredible as we reached our highest elevation at around 1500metres and our final teahouse stop. This one was free of Pedro's, but no worries, there were some chickens in the room, so we didn't get too lonely. We also had the opportunity to visit a viewpoint from which we could see the entire route we had taken, and even play some football at the top!
As we headed down the mountain on day four, most of us managed at least one final slip and fall, or leech, just to round the experience off! This culminated in a stunning walk through the rice paddies, which one member of the team did manage to fall into! The sight of the minibus was a treat as we made our final ascent; sympathy has to go to the driver who had to take us all home after four sweaty days without a shower though!
In the end however our team deserve a big high five for handling conditions that none of them had ever encountered before, and for the most part, doing so with a smile!