Global Initiative Team supports creation of new classroom.
By Cheryl Martin
4 years ago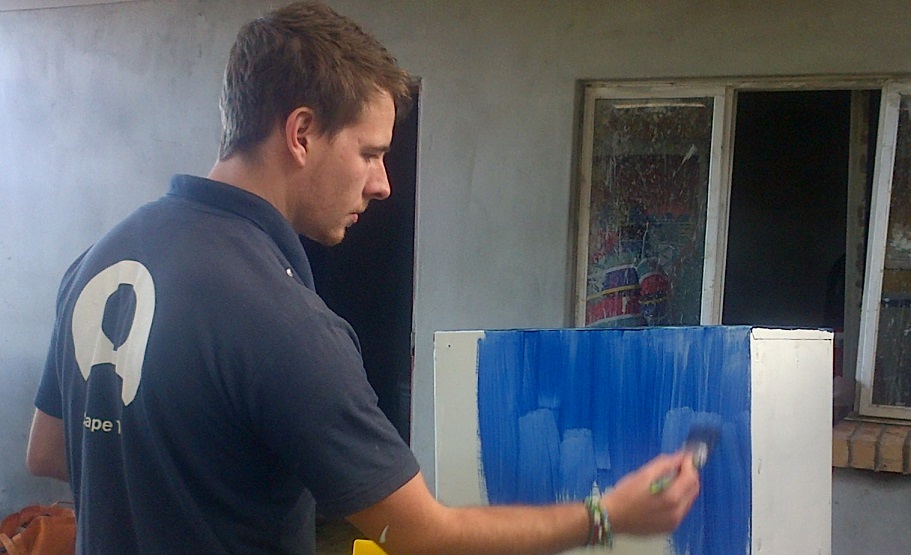 Last year in November a group of volunteers walked from Cape Point to Table mountain to raise funds for improvements to Mama Lumka's educare centres. Its great to see the main project from this fundraising really taking shape.  The plan was to build an extension onto the existing Nceduluntu nursery.  The extension includes new toilets and a larger classroom. This facility will create a more practical space for a classroom. We have a large focus here in Cape Town on preparing the children for school .  We believe that a solid preschool programme will lead to a more successful Primary Education.  This new classroom will be a great environment for local pre school teachers to deliver a solid educational programme.
Whilst local builders have been working on the main structure of the building, Our Global Initiative team worked hard throughout the week preparing the resources for inside the classroom. Recycling was the theme.  We have renovated and built ; a chalkboard table, a felt board, a chalkboard easel, safe hooks for the children to hang their school bags, repaired a large unstable table, turned an old fridge into a storage shelf, made a table that children will use for games, repaired and repainted some drawers to be used to storage for puzzles and other activities.  We also painted the outdoor area of the classroom.  These resources will add to the work of our under 18s group who recently made folding bookshelves and painting easels for the new classroom.
This project has involved a range of volunteers but has also meant employment for local builders, plasterers, electricians and plumbers. Employing these workers supports the local community. It's great they can be part of this project.
We look forward to the next stage where we can get the classroom fully decked out ready for use.  A positive environment can lead to positive learning and effective, positive learning is what we strive for.