By Edison Sands
4 years ago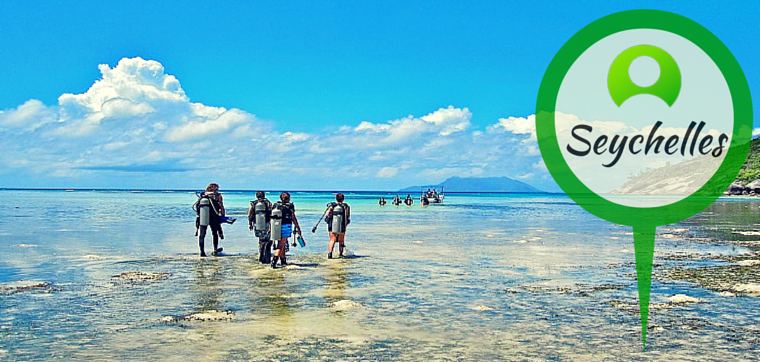 One of my concerns in regards to this expedition was that, with 2 dives a day, 5 days a week, i would get bored of scuba diving. 2 months into my dive-master internship with GVI and I can safely say that those concerns were greatly misplaced. Here at GVI we do 5 kinds of dives, and in this blog I will outline each.
The first kind of dives you will do in the Seychelles are your advanced open water dives. These involve the dive officer taking you on 5 dives (refresher dive, peak performance buoyancy dive, underwater navigation dive, underwater naturalist dive and a deep dive) in which you practice the relevant skills of each discipline. The majority of volunteers achieve their advanced open water certification within a week of starting here at GVI.
The second kind of dives you will do are called fish/invert/coral spots (you will be allocated a group upon arrival). In these dives you will be swimming in various locations within Baie Ternay. With a GVI staff member for your buddy, the aim of these dives is to correctly name the species of fish/invert/coral that they point out to you. Most individuals do these kind of dives for 3-4 weeks before they can correctly identify the various organisms in the coral reefs.
Next comes the fish/invert/coral methodologies. In these dives volunteers practice surveying their allocated species at various locations around Baie Ternay. This is the hardest type of dive to learn and do well. The method of surveying varies depending on whether you're studying fish, coral or inverts, but for all there is a staff member casting a critical eye on your performance in tallying the number of organisms hidden amongst the coral.
Once we are signed off on methodology then we get started surveying. Surveying is the same as methodology, minus the prying eyes of a staff member. These are the dives that volunteers will spend most days doing. They are very slow paced, but due to you having a heightened concentration level to count the organisms, the time flies.
The last kind of dive is a fun dive. These are only slightly less rare than seeing a whale shark, but they are always well worth the wait. They are often organised around the time that volunteers are about to leave or following an intense week of work from all on base. Fun dives are dives without any particular aim. Volunteers go down without staff members and are free to explore the big blue. Overall, every dive is a 'fun dive' and regardless of what you think the dive will be like, you can never predict what the ocean has in store for you. After all, this is Africa.