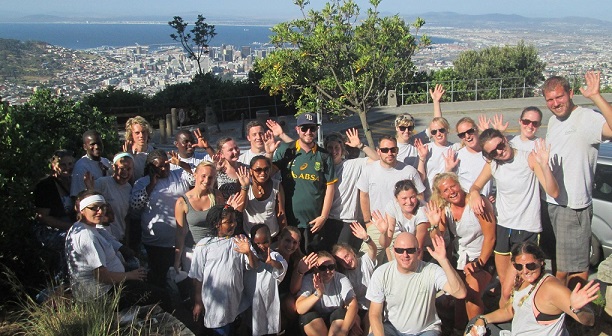 It was extremely windy when the walkers and support team climbed to the Cape Point light house to begin this year's Charity Challenge so team photos weren't that easy! The team set off in the blustery conditions and from that point until they arrived at the Cable Car station on Table Mountain, our walkers carried on despite blisters, aches and pains. Some found the climbing their greater challenge and to others the downhill parts were more taxing. Whatever the challenge, they took it on. The really noticeable thing about the group was how positive they were throughout the whole time. A credit to the whole team.  It was also great to have extra walkers join for the final day. They added to the team spirit and were a good support to the three day hikers.
As the walkers took their final steps down the mountain to end their walk, some of the children joined them. This was a great way to celebrate but also a reminder of why we set the challenge. Running a children's Sanctuary like Ikhayalethemba involves many costs from nappies, to food, to electricity and clothes and the list goes on. We really appreciate the donations and all the efforts of those who walked in the challenge to raise funds. It would be great if we could reach our target.  Mama Lumka and her family are also very appreciative of everyone's efforts and thankful they we have chosen to support them in this way.
Congratulations to all the walkers and everyone involved in this year's challenge it's an amazing effort and an experience you can draw on in the future when times may be challenging. What's more a fantastic way to see the views of Cape Peninsula and Table Mountain National Park.