By Becca Kenigsberg
4 years ago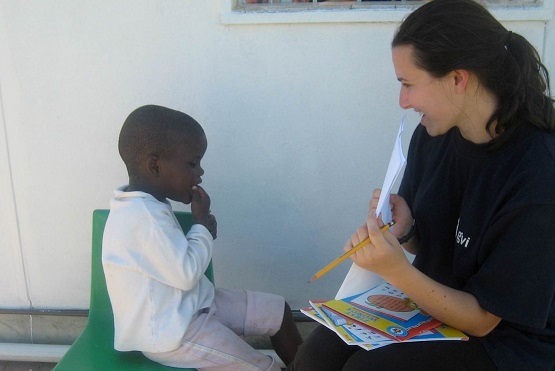 In 2010 I embarked on a life changing journey volunteering with GVI in Cape Town. It was when I was here at 19 that I knew exactly what I wanted to do for a career. Teach theater abroad. I was taking a tour of local township when I saw a visual and performing arts centre, that was when I knew I wanted to combine my passion for theater and teaching. For years after I continued talking about my experiences at the orphanage, and decided to continue my GVI experiences. Last month I was fortunate to come back to Cape Town as a coordinator. Not only have I been able to continue working with the children, but also see the progress of the kids through GVI's partnership.
When I came back to Ikhayalethemba for the first time in years I noticed new shipping containers for classrooms and bedrooms as well as a new field for the schools and community to use. Beyond the Charitable Trusts involvement, one of the most heartwarming experiences is walking in and seeing the children who were babies when I was here last. I was able to have full conversations in English. A few years ago they were learning just a few words, now they can speak in full sentences. Throughout my year working for GVI in various hubs I have read quite a few blogs criticizing the volunteer tourism movement, which I always ruled out the validity of those blogs. Especially since coming back here I know that there are only positive impacts. The kids at the orphanage and the students both the primary school and nursery have had the opportunity to speak and hear English daily. Beyond GVI's involvement with the partners, the impact in the community is incredible to see. We used to take the kids from the nursery and school to a field had little grass, puddles, and broken glass. Now there is an AstroTurf field in place. Last week when we went to the field, the high school students who were off on school holiday were playing a football game, as were a group of men, and the primary school students were running around playing tag as they then joined in on our games. Seeing a once empty field full of people and activities just brought a big smile to my face. The entire community is able to benefit, not just the students we directly work with.
This time I have also been able to talk more with our partners and other members of the community we work with. I have been able to learn more Xhosa and all about Xhosa traditions, and of course more about South Africa today. GVI has given me the opportunity to live and work in two foreign countries, something all my friends will tell you I have been talking about doing since I was a kid.
 I have had an incredible time being back in my favorite city in the world and working my dream job. It is quite rare to wake up and jump out of bed with a smile on when waking up in the freezing cold while the sun still has not risen. But for the last few weeks I have done nothing but that, and will continue for my time here. I look forward to seeing the progress of the kids over the next few months. But I am already looking forward to my next visit here in a few years to see how much it's grown again!