Camping with Rangers in Tsavo West
By Nidhi Badiger
4 years ago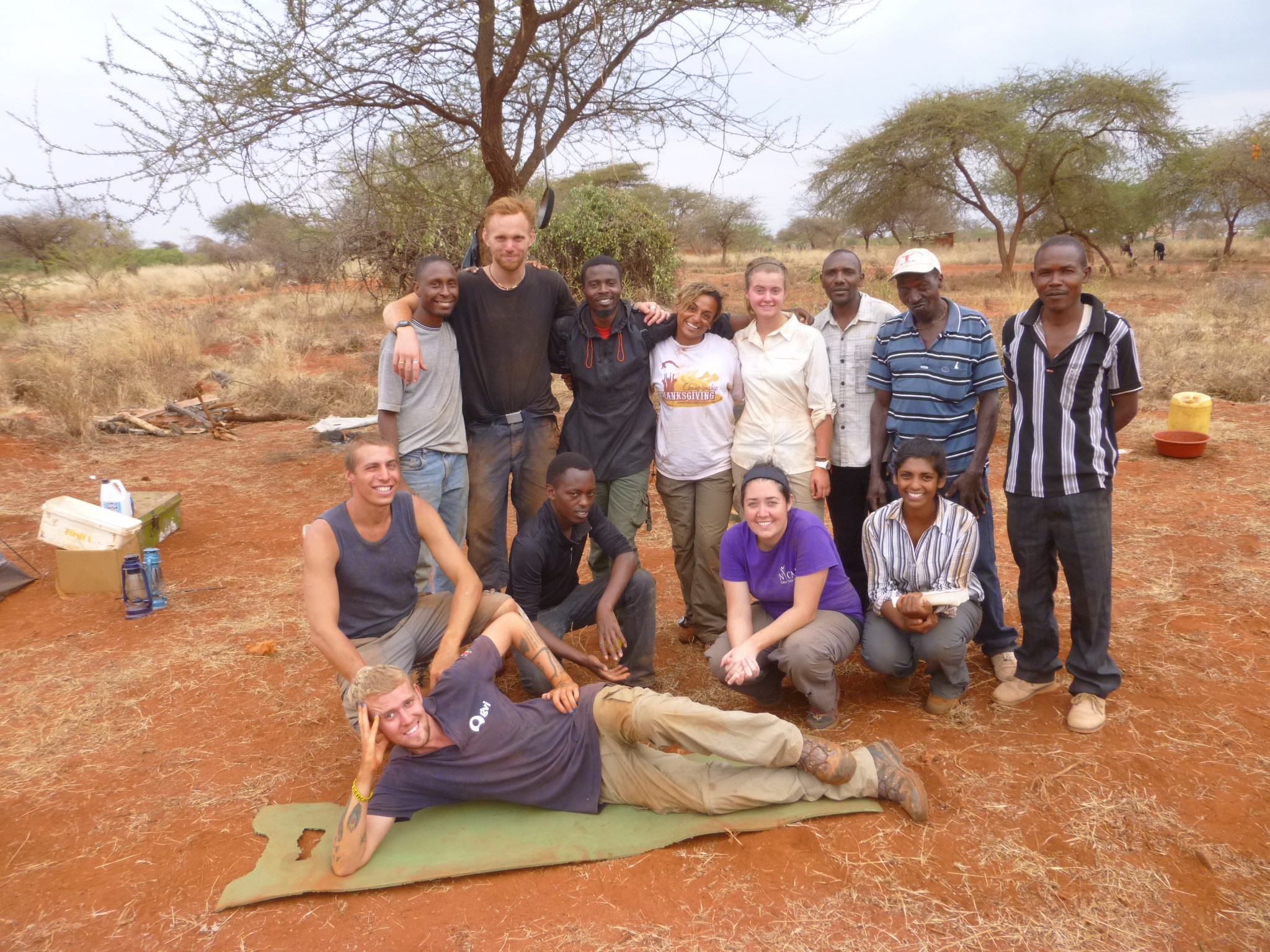 Last week, a handful of volunteers and staff from GVI were enviously given the opportunity for a satellite camp in Tsavo West National Park, to work with Tsavo Pride, a not-for-profit organization set up to educate poachers and provide them with a sustainable, alternative source of income. While we were there, we would be conducting basic training tutorials with the rangers and help them construct a store room out of recycled bags and earth.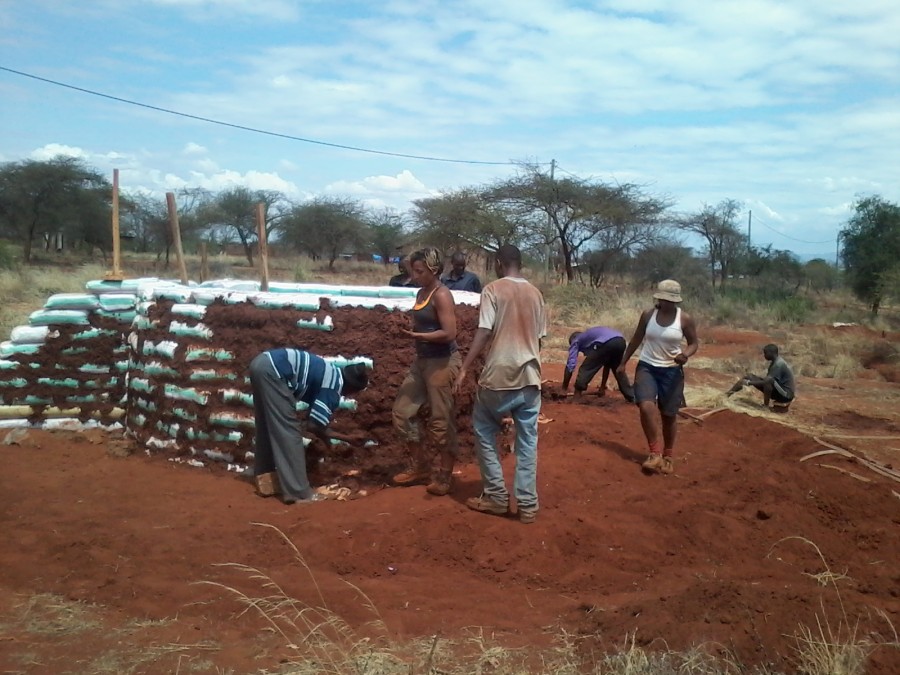 The work of Tsavo Pride has provided alternative employment for ex-poachers, education for their family, wildlife protection by training rangers and community outreaches to educate the realities of poaching and importance of conservation work. Recently, Tsavo Pride were gifted a plot of land by the village chief in recognition of the good work that they have and will continue to achieve. This modest patch of land with a not-so-modest vista of Technicolor sunsets and a snow-topped Mount Kilimanjaro was where we raised our tents and settled in for the week.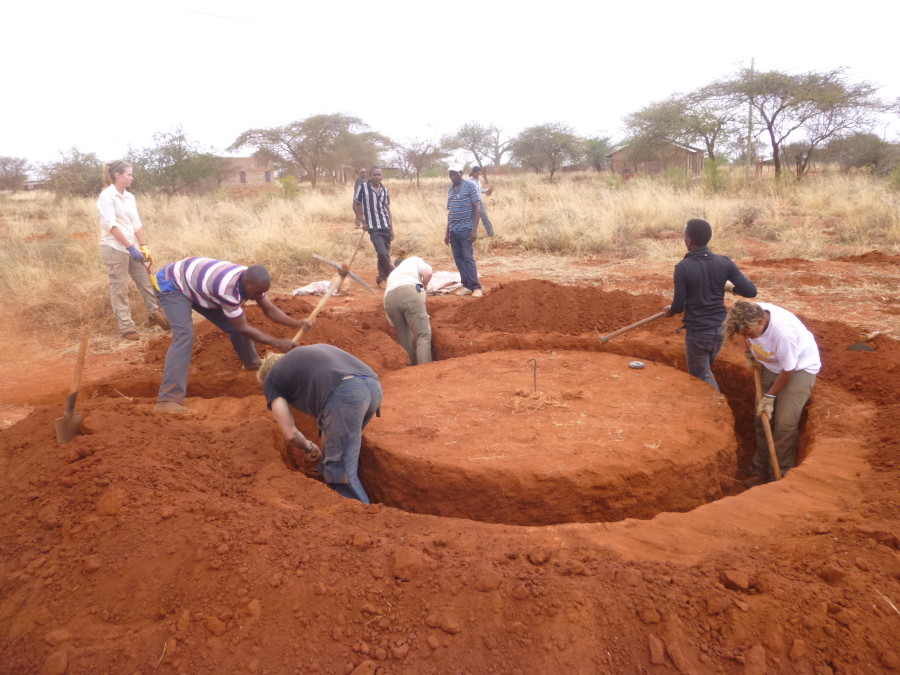 Almost each evening we were introduced to a small group of rangers whom were once upon a time poachers themselves. We would teach GPS, camera and binocular basics to each ranger each night before dinner and take them out for a bird survey in the morning to consolidate their learning. The purpose of the training was to pass on the skills and knowledge required to conduct bird diversity and abundance counts in the park, so that they could tap into the ever increasing eco-tourism industry, including avid bird watchers that are drawn to the hundreds of birds species seen in the area.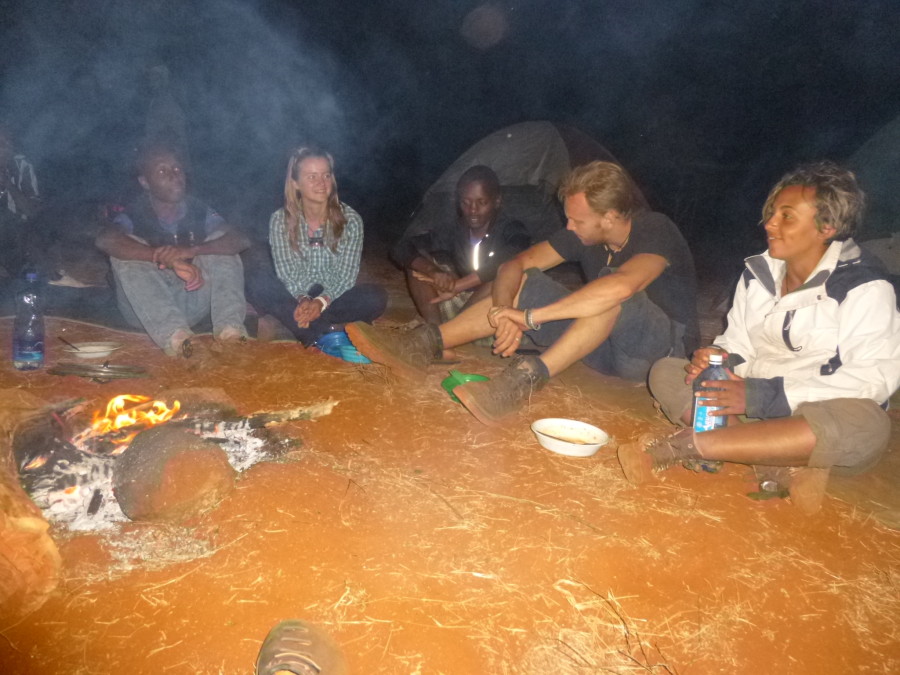 Most of our time and energy during the week was devoted to the construction of the storeroom, a domed building made from recycled guinea bags and filled with earth dug on the plot itself. With just clay, water and barbed wire as mortar between layers, we were able to build a structure that's cost effective and has minimal environmental impact. From our first day we were taking large strides and did everything from clearing the plot of shrubs and grasses, mapping out our building plan to scale, digging a foundation trench over two feet deep through compacted clay, shifting granite rocks into the trench and crushing them into smaller pieces to complete the mosaic of our foundation. This was followed by filling the rice sacks with stones for the foundation layers, clay for the rest, and inventing the best way to maneuver and seal up the bags, which is harder than it first seems when you realize how heavy a bag of wet clay can be.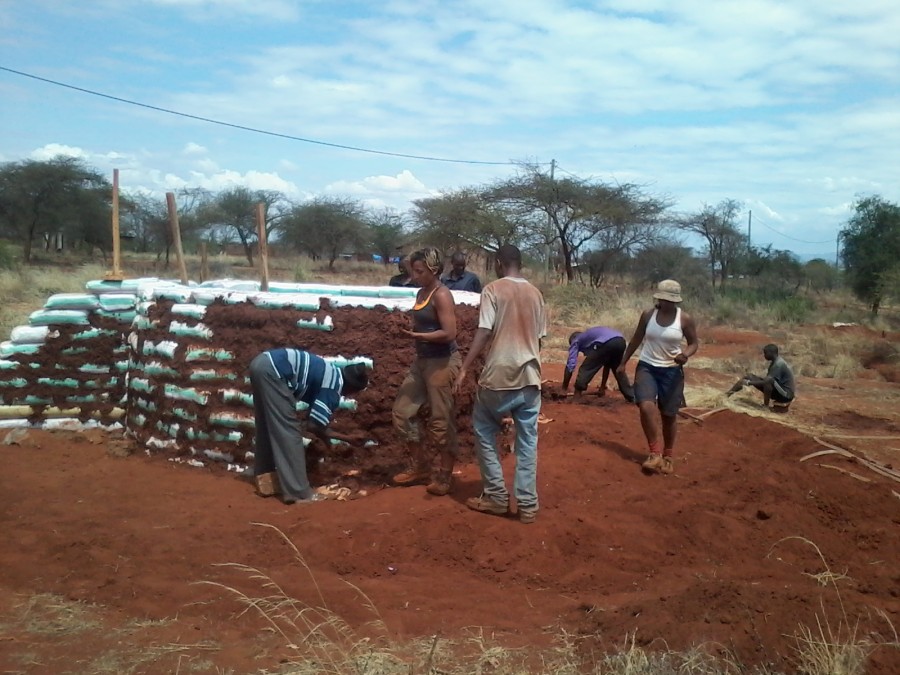 There was a bizarre but humorous hierarchy of needs that needed to be answered on site, the most desirable of all (to a certain few) was Time in The Pit. I suppose the most logical explanation was that you could see the cumulative result of your efforts, because you could "djembe" to your heart's content, shift soil to another site and suddenly you've got a hole so deep you have to jump in and haul yourself out of, and your day's work could be measured, unlike mixing the soil for the entire day only to have it taken away faster than you can make it, or having more soil brought to you in a mountain that makes your lower back cringe with anticipation. The bricklaying was an advanced form of geometric arithmetic: battling gravity, barbed wire and incorporating a natural curve to the wall. Once the code was broken, there was a rhythm to bricklaying that you wouldn't want to interrupt. Being in The Pit was an opportunity to show your worth as a labourer, be part of the team of 'big strong men', impress others with your relentless stamina and upper body strength, finally put to use all the pasta, rice and ugali we've been eating for weeks, and maybe have a little dance to the radio. The Pit was a haven where you kept your body working hard and were spared the restlessness of standing around idle, waiting for work to do. I'm not sure what it was about this certain group of volunteers and rangers, but not many of us liked to stay on the sidelines while others worked. Being in The Pit felt like you were the guardian of time, because without the soil released and piled into the sacks shuttled to and fro you couldn't mix more soil with water or pack more sand bags and the production line would be brought to a halt. The day could not go on without the hero in the pit and you fought for the honour. You could sense the hunger of someone eager to get in with the djembe, or shovel or pick axe. It was a small world of unspoken madness, but at the end of the day, you were really just digging a hole in the ground.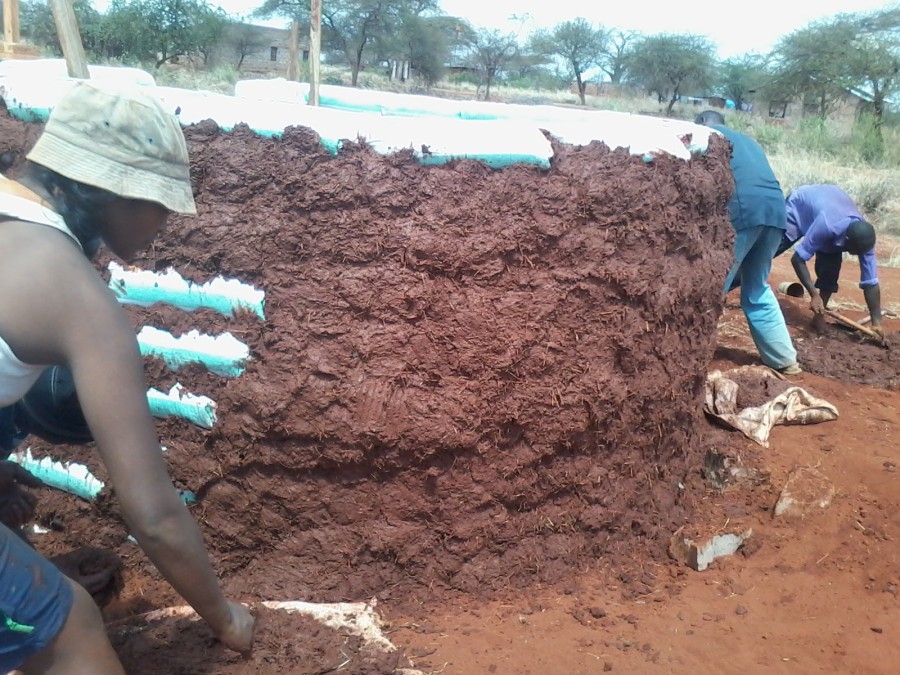 In two days we were covered in enough red dust to want to do something about it and so we were looking forward to our mid-week break! We piled into our matatu and drove to the top of Lake Chala, a volcanic crater, 3km wide, hiding a section of the Kenyan-Tanzanian border. In fact, you could see the border carved into the crater wall on the other side of the dusky blue lake. Our next stop was a natural spring, Njoro spring, where we could bathe albeit not directly in the springs. It wasn't much, but a simple thing that was appreciated all the same, and you could not have asked for better weather. After a chapatti-beans-and-cabbage lunch we had a quick look at the market in Taveta. I tried to haggle in Swahili but I was mostly laughed at and cuddled for trying.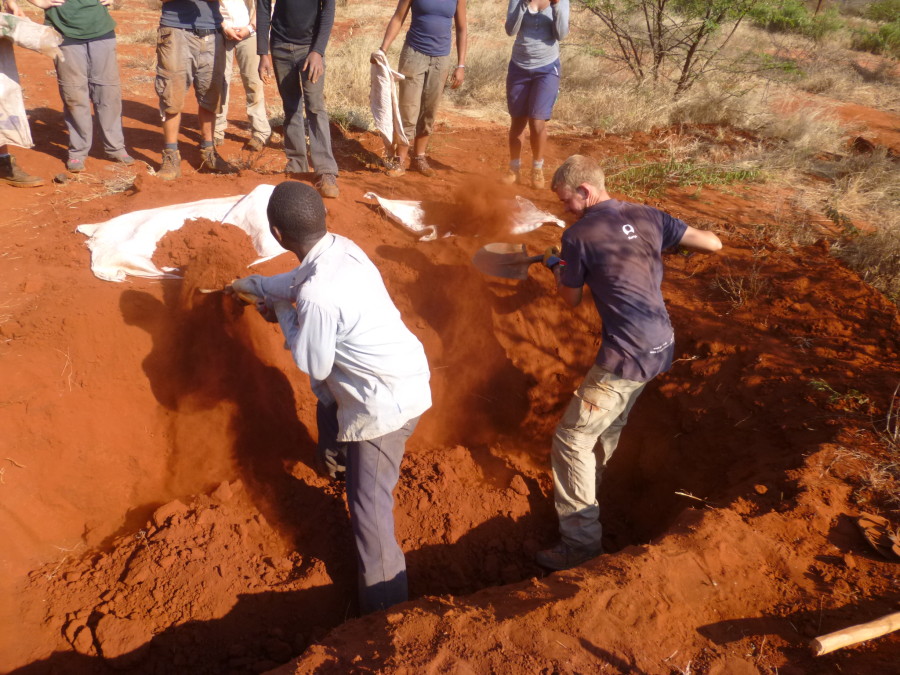 A tradition for the Tsavo Sat Camp is the mid-week sunset seen at Voyager, a safari lodge in Tsavo West national park, not 20 minutes from our camp. While I was mentally prepared for the sunset next to Mount Kilimanjaro, I had somehow overlooked that we would be driving through the game reserve, and I could not contain myself as we passed the famine grace of the giraffes, curious wart hogs with their flag pole tails, the zebras, antelopes, elephants, an ostrich, enormous ground hornbills and numerous superb starlings amongst other birds. At Voyager, we settled in front of the tail end of a swamp for a dinner and the few hours we had before the sunset. Before long we were treated to crocodiles and hippopotamus. The hippos made an unforgettable entrance in the form of a convoy of floating, leafy, islands. The sunset came and marked the close of an eventful day (but not to worry, we still had time to pop a tyre on our drive home and slightly cleaner that night.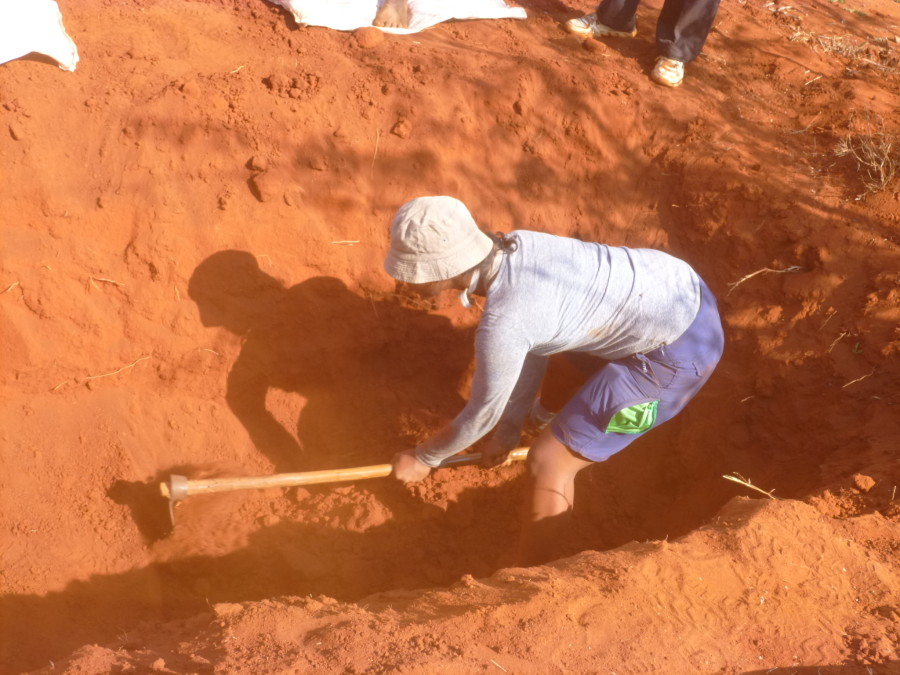 For me, the most insightful parts of the week were the post dinner conversations we would have with the rangers. I learnt so many things (the top ten things you should do when an elephant decides to charge at you, for example) but above all that poachers aren't the greedy, bribing, malicious hunters portrayed at home. Indeed they are skilled trackers and hunters, but they were driven by poverty and desperation to feed their families, not power hungry or seeking grand riches from ivory. These men love these animals and share the same vision of all conservationists, that future generations can enjoy the creatures, big and small, that we have today. The dangers of poaching were not just for the hunted, but for the hunters themselves. When game couldn't be found, a discovered carcass would be prepared and sold under the guise of fresh meat, riddled with disease, bacteria and sometimes anthrax which is found in the park. The traps set did not discriminate, and could catch giraffes, zebra, little dik diks, gazelle antelopes, even hyenas and wild dogs. To feed their family, any game was eaten or sold, despite the stigma and taboo that came with eating certain animals. Many innocent people became indirect victims as a result of poaching, and the poachers were not unaffected by guilt. After realizing these dangers, and most importantly given an alternative source of income, the once-poachers became rangers protecting the reserve, looking for poachers the same way they once tracked game, and educating the community to buy meat from a reputable butcher so they can be sure of the source. In return, their children receive schooling and the community receives resources such as a dispensary and water funded by taxes generated from safaris. These men have been the front line for conservation work, and as Julie, the director of Tsavo Pride, told us one night around a fire, we have more to learn from them then we could in a university, which I wholeheartedly agree with. I am still so touched by their enthusiasm to learn from us, things that we sometimes take for granted, their work ethic and the way they have shared their experiences with us. I feel so absolutely rewarded by the experience I had during our week, in being able to see what conservation work actually amounts to, how it affects the environment and that conservation can make an impact on the future and sustainability of the community in such a positive way.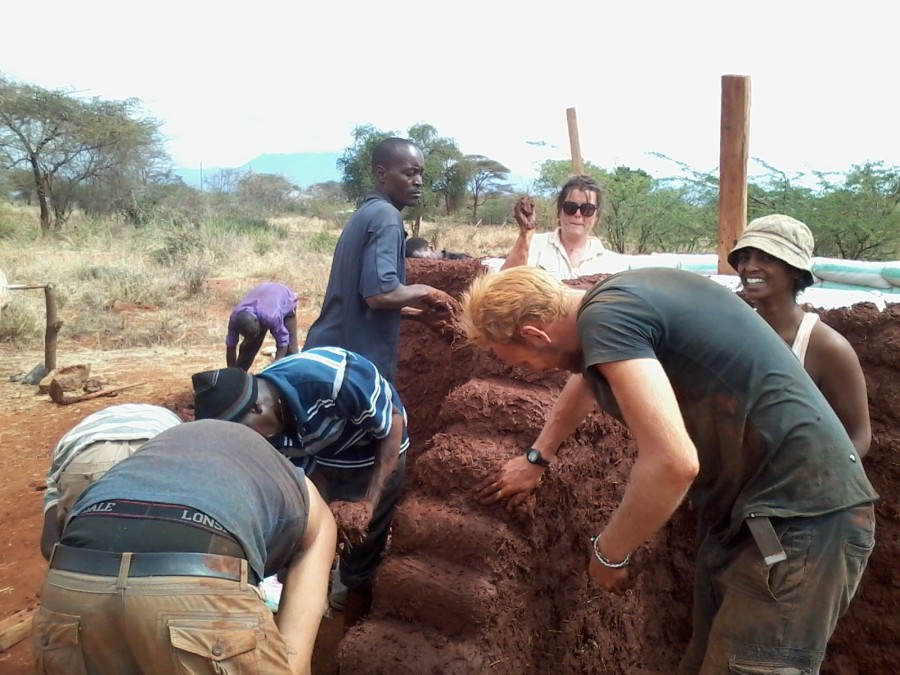 And then top off this incredible week, on the last day of construction we had to seal the bags with 'plaster' to prevent degradation by sunlight and rain. This consisted of mixing clay with water and straw until it reached an appropriately sloppy consistency and then flung the mix, flung like a monkey flings its feces, into the cracks and crevices and all over the structure to harden into a protective layer. Tsavo Pride, GVI staff and volunteers tuko pamoja for one last time! What a week.