Our Base Helps to tackle the colossal waste problem- And you can help too!!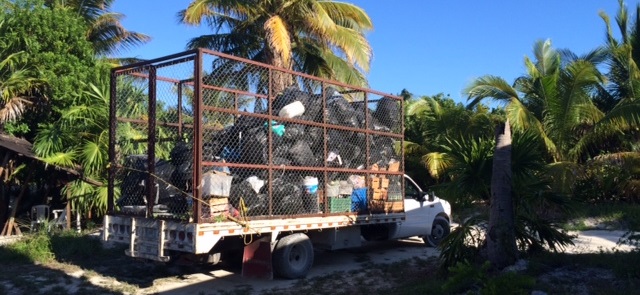 Last night Pez Maya was educated on waste and the substantial affect it has on the ocean – a situation which is seemingly hopeless and needs immediate attention.
The facts that were presented before us were disheartening especially when informed about the Great Pacific Garbage Patch; the world's largest 'landfill' which is estimated to be two times the size of Texas (LA Times, 2006). The vortex was founded in 1997 by Captain Charles Moore and resembles a plastic sea-soup.
Volunteers witness the issue directly every Friday on a weekly beach clean, where they endeavor to clean 200m of the Sian Ka'an reserve. Last week a team of 8 collectively picked up 26 kg of waste, which accumulated to 723 bottle caps, 283 pieces of plastic cutlery, 142 straws, 28 toothbrushes, 23 pens, 8 syringes and so on.
Although it's devastating to see such a naturally beautiful area polluted by our unsustainable lifestyles, I personally was confronted by the issue when cleaning out turtle nests on Yu Yum. Tracing turtle tracks under plastic bags, finding nests next to used forks and watching babies crawl towards the sea surrounded by bottle caps almost made the experience less magical. We were there to help but it seemed ironic that, collectively, we are the problem.
It was difficult for our small Pez Maya community to believe that we could make a difference to this astronomical problem, however by making the following changes to our daily routines we learnt that we could make a difference:
1. Drink out of glasses not plastic bottles
2. Use stainless steel water bottles not plastic bottles
3. Refuse plastic bags and carry reusable bags
4. Look at what you're buying and chose stuff with less packaging
5. Do not use glad wrap and avoid Tupperware – try and save glass jars and use these instead
We also learned to say "No bolsa, por favor" – No bag please! in Spanish, so we reduce our waste when we go in to town.
Watch the video here to find out more about plastic waste in the sea
Ted Talks: http://www.ted.com/talks/capt_charles_moore_on_the_seas_of_plastic?language=en
Then go here and take the pledge to "skip the straw", as we did, and do your bit to reduce plastic waste in the ocean :
https://secure.oceanconservancy.org/site/Advocacy;jsessionid=E955238D9A53F911B83CFAE87E71A6E9.app260b?cmd=display&page=UserAction&id=795&s_src=14WAXAXXXX&s_subsrc=14ALSE02