February saw the arrival of our first arts volunteer, Christine Fitzpatrick whose dedication to her work and the project was incredible. Upon arrival at SDPY there was very little in the way of an arts project, not to mention a decent arts classroom. Instead of giving up and complaining, she put her head down and planned until the art room was ready to use. During this time she came up with a way to teach all the 340 students from UKG up to Standard three. She broke the classes up into groups of ten to fifteen students in each lesson. There was no hesitation in the work that she undertook, and after a week of preparation she started right into her work in the newly repainted arts room. She came up with a plan to divide the classes up into two, two week cycles which allowed all the children to attend both of the different lessons.
Chris started off with a presentation that introduced the children to Australian
Aboriginal music and the concept of using circles and dots in painting, as found in
Australian Aboriginal Dot Painting.
Using chalk and the arts room floor Chris was able to create large circles for the children to see and draw in. She showed them how to make music from the wooden weights in the class room by banging them together. Her art classes bought a change from the monotony of the children's work days to such an extent that other children in the class were asking to go with her in each lesson. The presentation was shown to all the children over a two week period.
Over the course of the following two weeks (which we are currently mid way through) Chris allowed the children and the other GVI volunteers and staff a chance to do their own
Australian Aboriginal Dot Painting.
Using primarily the three primary colours the children have been able to create their own
Dot Paintings.
Over the course of the project Chris has been collecting all the children's paintings which she intends to mount on a card background so that she can have all the pictures from each standard together. She then intends to get them laminated so that she can exhibit all the pictures in the arts room at the end of term. Once the exhibition has been finished she plans to stick all the pictures up in their respective classes so that all the children can enjoy them, and so that it will bring some colour into the classrooms.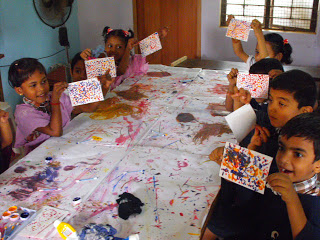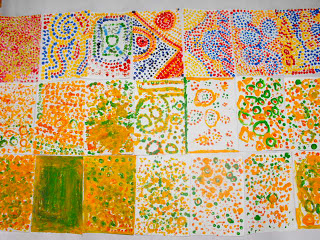 The work that she has done here has bought joy and laughter to all those children that she has helped. This project would never have been so successful without the amazing creativity and dedication shown by Chris over the last number of weeks.