By Cheryl Martin
4 years ago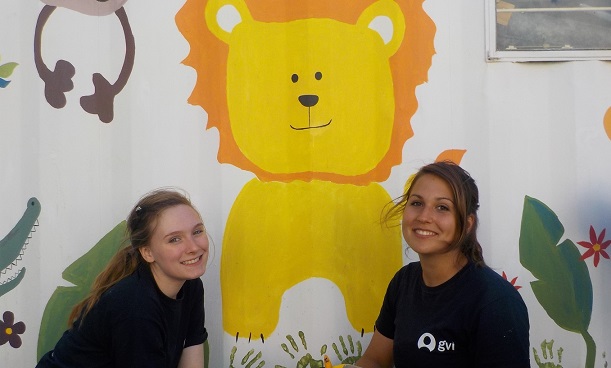 It's amazing what skills our volunteers are able to bring to the projects here in Cape Town. Recently our Arts and Childcare volunteers have worked on some projects at Ikhayalethemba that highlight these skills. The children worked with the volunteers to paint all of the rubbish bins. This was part of our focus on putting rubbish straight in the bin.  The bright and colourful bins have certainly encouraged the children to be more conscious of keeping the area tidy. Some great designs.
Another volunteer has worked on some designs with the children which we are aiming to print onto tea towels as a fundraiser. It's a fantastic design with Mama Lumka as the focus. The originals have been made into posters.
In the last couple of weeks, Arts volunteers have also been working on a mural which will become the entrance to the Ikhayalethemba Nursery. It highlights some of the animals found in South Africa. We have seen some great painting skills by the volunteers on the mural but the children have also added their bit and have enjoyed being part of the project.
Whilst we have some bigger projects, our Arts volunteers have been able to add some great ideas to our usual childcare programme, with some creative and interesting lesson ideas.  Through the arts, children have the chance to develop a range of skills including fine motor skills and team work.
We have appreciated the input of our Arts and Childcare volunteers and although so far we have had very much a visual arts focus, we are looking to expand our arts into drama and music in the future.