By Anna Hocking
4 years ago

Olives Church in Bombolulu slum runs adult community classes on weekday afternoons. Through its staff and volunteers GVI assists in educating these adults. Twice a week we teach English, maths, computing and several months ago added Creative Arts to the offering. It is the only educational facility in the Kisauni Region of Mombasa that offers computer classes.
Over the past few months we have been expanding the computing offering in addition to Word and Excel, we have added PowerPoint to the line up. Adding an application to the line up requires a volunteer (in this case, me) to write the coursework. It takes a lot more time than I expected, but the internet and the free courses that can be pulled off it are invaluable. What is required from there is adapting to include examples and exercises that do not require any internet access. The church we teach in has no electricity and no internet. From 2014 the program for computers will be run to a timetable – this allows the learners to know how long it will likely take them to learn an application. It also helps us manage the number of students better and encourage them to attend regularly – as in reality the number of available laptops will determine the maximum number of students at a time.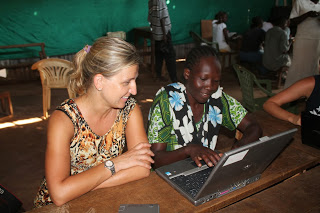 We are also currently formalising and enhancing the English and Maths curriculums. To date long term volunteers have tended to take on the English and Maths teaching, but deciding on the coursework themselves.  When they move on and a new volunteer takes over there has been no process for ensuring progression or consistency.
From next year, there will be though which is fantastic.  Emma, one of our volunteers, is currently writing a curriculum for English and maths – it will be a lesson by lesson guide of what is being taught, homework to do, and with different streams for beginners and advanced.  When a new volunteer takes over from one leaving, they will be able to do so seamlessly and the adult learners will continue along their educational path.
By Anna Hocking – Staff member