GVI volunteers and staff on our Health Care project work very closely with the family that run the Children's Paradise preschool.
Buntty, her husband, father, brother, and sons have welcomed us in as extended family and invited us along to Alan's (Buntty's brother) engagement ceremony.
Ruth, Lok, myself, and volunteers Ady and Adele spent the morning with our volunteer's host mother, Chetra, preparing for the function.
Chetra helped Ruth and Adele in to their traditional Saris and Ady in to her Longy skirt, while Lok took photos and I was on hand to manage the extra material.
Once prepped we headed into meet Buntty and her family so that we could all travel to the bride-to-be's family home, where the ceremony would be held, together.
We were each given a task of carrying in gifts for Alan's soon-to-be inlaws and handed them over on our arrival.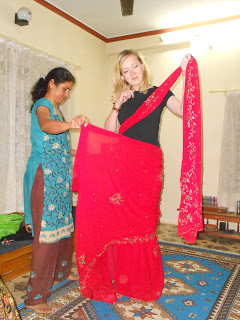 Chetra helping Adele into her Sari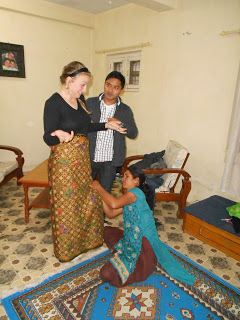 Chetra helping Ady into her Longy with Lok assisting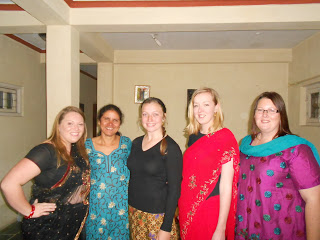 Ruth, Chetra, Ady, Adele and I (in a traditional Kurta)
 All guests sat on the floor in the living room while the bride and groom to be sat at the front of the room whilst the minister and family members gave speeches (all in Nepali of course).  After the formal part of the ceremony we were included in the family photo sessions and then the feast began.
We had an amazing day and are so grateful to be included in such a wonderful experience.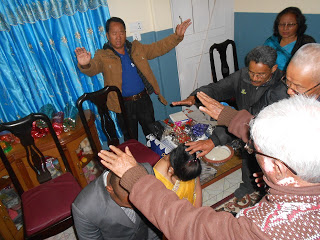 The Groom and Bride to be being blessed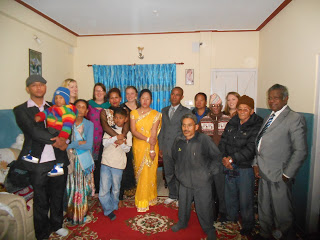 Family Photo