By Rachael Fleary
4 years ago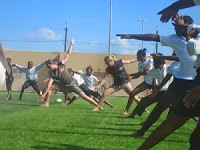 As the year comes to an end and school is about to close, now would be a good time to look back on the year we have had at ACJ Phakade Primary School and remind ourselves of how far GVI has come over the past 12 months.
This year we have been able to use the new sports field to its full potential, hosting a school sports day, football matches and athletics tournaments. It is great to see the children utilising such a facility and also to see the local community benefitting from this resource.
After the successful completion of 2012's charity challenge the money raised went towards the purchasing of athletic and sports equipment for the school. This year GVI bought a secure container to store the equipment and this now stays on school property. The volunteers prior to this were great at creating games and activities without the correct equipment however with these now being utilised the children can practise specific events and train appropriately for the coming years tournaments.
Everyone can appreciate the importance of reading, for children especially, and we often take for granted our ability to access books. In September of this year we transformed an old disused room into a Reading Room for all ACJ children and teachers. Although the space may be small it has become quite a haven for children who want to access stories, fact and fiction they otherwise wouldn't come into contact with.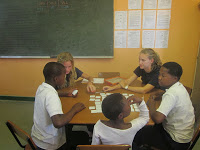 Throughout the year we have seen great results from the children we have been working with on a one to one basis. Not only have we seen the improvement in their numeracy and literacy abilities but also their general confidence and conversational skills. This is very rewarding for our volunteers who have built great relationships with the children over the year and for those who will continue to do so.
Rachael Fleary