A former volunteers amazing gift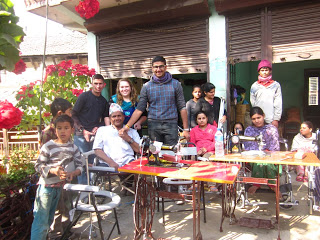 Very happy to announce with the help of Himalayan Encounters and GVI Nepal, the $2340 raised from the 'Hopper Lunch for Charity' provided new sets of sewing mac
hines, wheelchairs, commode disabled assisted toilet seats, crotches and walkers. There was a significant amount of money left over which shall be used to fund the program and improve the facilities for the trainees.
Would like to give a MASSIVE thank you to everyone that came along to support the event and donated so generously to the Disabled Welfare Association. 
A few words from the General Secretary Govinda Khanal, a polio sufferer himself from the age of 2, who now has a family which he can support:
"We would like to thank you from the core of our heart for providing us with the supplies and cash for our trainees. We assure you that these machines will be useful for skill development and income generating training of the people with disabilities of Nepal.
As you know that I myself am a disabled person. I am suffering from Polio and have to use a wheelchair to go here and there. I completed my schooling level in my village with great struggle that I have no words to express. This bitter but true experience in my life has taught me a lesson to do something in life for the benefit of disabled people like me who are in need of true humanitarian help.
Thank you so much for your kind help."
By former GVI volunteer Kusal Panagoda