31/01/13 Another week in Paradise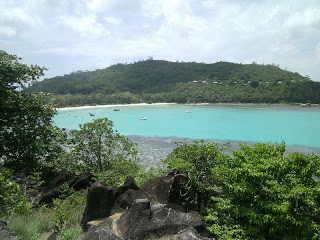 Well! It's the 3rd week for us on base now and hasn't this week been so much fun! After a great weekend visiting 'Tequila Boom' and spending some time in the sun all of us came out in one piece, (well everyone but poor Eden) to begin our third week of diving!
After some rainy weather and rough seas our dive spot changed to Port launay for the week, but all is well because the visibility and marine life around that area is wicked!
For some of us learning the group 2 fish has proved to be quite a challenge compared to good old butterfly and angel fish of group 1 but with the help of our brainy fish team we are all starting to spot groupers and snappers from miles away! This week also saw the first victim of the urchin! Poor little Bill B got spiked straight threw the pinkie finger, but will be fit to dive for his last two weeks on camp!
The presidents village snorkel was also so much fun! The kids were all so cute and was great to see how much they loved to be in the ocean! All in all this week has been awesome! Everyone is so funny and everyday something happens that makes me laugh! It's so good in fact that
me and good old Loz Boz are extending to 8 weeks! Woo hoo!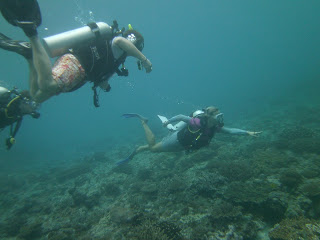 Kate with her superwoman impression