27/01/13 Settling in to base life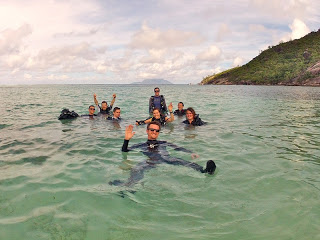 It's the second week on base for the first set of volunteers of 2013. Hopefully now we can kit up our scuba gear in record time, husk a coconut with consummate ease and wield a machete with confidence! The volunteers are well on their way to knowing their fish and coral species, and some of us are branching off into studying invertebrates. Our dives this week have mainly been coral or fish spots; trying our best to work out what on earth those staff are pointing at while simultaneously trying not to get tangled up with our gear and with each other!
Our first weekend was a welcome opportunity to step back into civilization for a short while, with most of us heading into the town of Victoria to have lunch and visit the internet café. Although we welcomed the chance for a lie-in and a bit of light snorkeling, by Saturday night we were all itching to get back to our diving!
The second week on base also means the start of our community work. This week six of the volunteers will be heading to the beach to spend time teaching Year 5 students from the International School Seychelles, and we'll be starting our weekly snorkeling sessions with children from the President's Village orphanage. The President's Village is also GVI Seychelles' designated charity, so look out for news of our fundraising event coming soon!