By Tony, GVI Seychelles Volunteer
5 years ago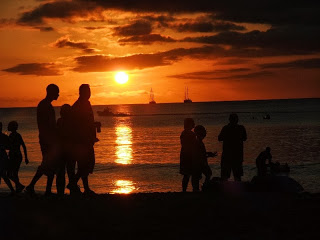 Well here we are, six weeks into the GVI experience at Cap Ternay (halfway through my 12 weeks as a volunteer on the marine expedition). The training is almost over, although it was great fun to learn about the things we see when we're underwater, now we know what the fish are called. We can relate it in our logs. Rather than saying "I saw a big fish" or "I saw a little fish," we can say, "today I saw a school of red snappers at Lighthouse at 6 metres, a hawksbill turtle at 7 metres and two thumbprint emperors at 9.5 metres," making for a much more interesting log entry. Whilst we are seeing all this amazing stuff, we are laying the tape, doing a point count or a belt count, which is the primary reason for the GVI presence on Mahe Island here in the Seychelles, to monitor the fish and coral. We have a great time in the water doing all the scientific stuff, but there is also plenty of time to look around Mahe Island, either by bus or hiring a car.
We even found time to visit La Digue for a few days where the main form of transport is by bicycle. La Digue has some of the most beautiful beaches I've ever seen.
Riding bikes in La Digue
Also, seeing Mahe from 6,000 feet in a microlight was really magnificent, while keeping a lookout for whale sharks.
Above the Baie Ternay Marine Park in the microlight
Then it is back to base to the office to fill in the data sheets and dive logs. What is the office like, you ask? Well today, it is a hammock tied between two palm trees on the beach. But tomorrow I might try a hike up Cap Matoopa and check out the view when I'm doing the paperwork. Well I'll have to close for now as I'm going to find a turtle to swim with. Well, somebody has to do it!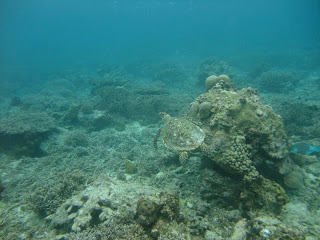 Following a hawksbill turtle on a turtle dive
Have a good one,
Tony