Volunteering abroad with children is a fantastic opportunity for volunteers, skilled or with no experience, who have a genuine love for children to help make a difference in the futures of underprivileged children from a variety of backgrounds. We have a range of projects to choose from in exciting, exotic and mythical locations such as Fiji, South Africa, Costa Rica, Laos and many more! We also have specific teaching projects where you can make a difference through teaching, click here to see the programs.
Volunteering with children is a very rewarding experience and will give you invaluable practical experience. If you want to pursue a career in child education, you can always join our international community development internships to further develop your skills. Help us make a difference in the educational, social, physical and personal development of vulnerable and disadvantaged children around the world. Students, be sure to enquire about receiving academic credits for this program.
Please note that GVI has a Child and Vulnerable Adult Protection Policy that is implemented on each program. As part of the policy, participants will be required to complete a DPS check, Police Clearance, or a National Background Check where necessary, and to comply by the policy.
Alternatively, join one of our teaching, animal care, public health, or construction programs. If you are studying, speak to our Country Experts about receiving academic credit. We also offer hands-on wildlife and marine conservation volunteer programs and internships that can boost your future career.
Our volunteers can find themselves working with children at different stages of development in local schools. With the support of our volunteers, GVI and our partner organisations are able to provide these children with a safe environment and the support, supervision, socialisation and education in a range of subjects including English, Maths, Art and Sport. We also have a policy in place for ethically engaging with children in global sustainable development contexts. As part of our aim to advance the United Nations Sustainable Development Goals, we run child education and well-being projects in partnership with local organisations.
Download our program brochures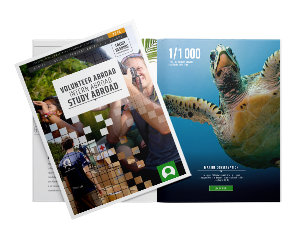 Find out how gender equality can be achieved through quality education and how you can contribute to it.
Goal 4 of the United Nations Sustainable Development Goals , Quality Education, feeds into many other goals. Because it affects [...]
Volunteering with children is a rewarding experience, but it's more than just spending time with adorable little ones. Before [...]