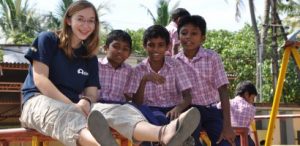 The area of Kerala is one of the highlights of India and a must-see destination. Project work takes place around the city of Kochi (Cochin), a port town since the early centuries offering fascinating snippets of history and culture that including the oldest European Church in India, an enchanting spice market and the famous 15th Century Chinese fishing nets, a truly stunning location to volunteer in. The area's infrastructure is pretty rural and there is room for improvement, to get involved in construction volunteering here, check out this link. Volunteering in India is a wonderful opportunity and the whole of Asia offers amazing volunteer experiences, every person should visit this continent at least once in their lifetime! Follow this link, to view more volunteer programs in Asia.
Please note that GVI has a Child and Vulnerable Adult Protection Policy that is implemented on each program. As part of the policy, participants will be required to complete a DPS check, Police Clearance, or a National Background Check where necessary, and to comply by the policy.
UPDATE: We're excited to announce that we are in the progress of developing a conservation project in India! To express interest, and to stay up to date with developments, please submit your details here.

GVI BROCHURES
Choose from our selection of brochures
View Brochures