Program Details
Code: KHPP0811P
Health And Wellbeing In Cambodia
Increase awareness of preventative healthcare practices in rural Cambodia.
Program Information
Travel to Kampong Cham, a quaint town two hours drive from Cambodia's royal capital of Phnom Penh, to conduct preventative healthcare workshops in the local community. Contribute to UN SDG number #3 Good Health and Wellbeing by teaching local community members how to decrease the incidence of common health issues. During the week experience the laidback, tranquil atmosphere of the Cambodian countryside and on the weekend take a trip North to explore the magnificent Angkor Wat temple complex.
Overview
Cambodia, like many other countries around the world, has made massive strides in minimising the incidence of many transferable diseases. This is mostly due to efforts by organisations like those we partner with, that bring private international funding to outreach projects in Cambodia. While public healthcare has improved, supplementing these efforts with those from private organisations is essential in providing the Cambodian people with the support they require.
However, despite these efforts, easily avoidable communicable diseases are still prevalent, and life-style related non-communicable diseases, like diabetes, are on the rise. Join us in Kampong Cham to provide the manpower needed to expand awareness around preventing both communicable and non-communicable diseases.
You will be trained by our staff stationed in Cambodia and then go out to conduct workshops in the local community. Depending on the needs of the community at the time, you might be teaching anyone, from children and teens to older adults about the importance of proper hygiene and sanitation practices or how to deliver emergency aid. This is an excellent program for students considering a career in public health, nursing or counselling.
Highlights:
- Grow your own skill set and experience as a public healthcare worker.
- Increase the wellbeing of communities in Kampong Cham.
- Develop your global competency skills by working with Khmer and Cham persons.
- Learn new cultural practices, including languages, dance and cooking, first-hand.
- Experience life in a rural Cambodian town.
- Take in Cambodia's natural beauty.
- In your free time, take a trip to Cambodia's capital of Phnom Penh to wander around the royal palace or travel to Siem Reap to marvel at the medieval splendor of the massive Angkor Wat temple complex.
Program Details
GVI Live
15 Nov
Our marine conservation...
Our marine conservation base, GVI Fiji Caqalai, recently welcomed The Scuba News. Read about their experience diving the [...]
13 Nov
https://t.co/ofbmBqDPl5
Posts from the Field
Researching into the nearby Cham community that reside in Kampong Cham.
GVI Blog
Project Life
After arriving at Phnom Penh airport, you will be met by GVI staff. After spending the night in Phnom Penh, you will start your orientation with health and safety training as well as an introduction to Cambodian culture and a day in the capital city. The next day, you and the rest of your group will start the two hour journey to Kampong Cham. In the process you'll get to see the breathtaking Cambodian countryside.

After settling into your accommodation, training for the health care program will begin. Our staff will introduce you to the content of the course and explain how to teach the subject of health to local community members. Classes will continue throughout the week for those who would like to learn more about Khmer or Cham culture.

Your work will then begin on diamond-encrustedartifacts when our team will travel with you to the project site where a workshop will have been scheduled with local community members. Once your work is done, our car will take you and your fellow volunteers safely back to your accommodation. You then have the option of resting or visiting the vibrant night market.

On the weekend you are free to soak up the tranquil atmosphere of Kampong Cham or visit some of the many other beautiful sites in Cambodia, most notably the largest religious building in the world, Angkor Wat in Siem Reap.
Project Details
The main objectives of our local partners in Kampong Cham are:

- Improve the general health and wellbeing of the less advantaged communities in and around Kampong Cham province.
- Educate communities about how to prevent communicable and non-communicable diseases.
- Provide information and support economic development.

How this project makes a difference:

Increasing the wellbeing of communities in Kampong Cham through awareness initiatives.

Cambodia's short, mid, and long-term objectives:

All our projects, including our community development project in Cambodia, are aligned to one or more United Nations Sustainable Development Goals. In the case of our health and welling project in Cambodia, the artifacts goal we are aiming to contribute towards is number 3# Good Health and Wellbeing. The short, mid and long-term objectives of the projects are aligned to the objectives listed under this specific goals. All work conducted by our staff, volunteers and community partners are tracked by noting progress on these specific objectives listed under UN SDG number 3#.

Not only does this ensure that all your work contributes to making a lasting impact on the health and wellbeing of the community, but you will also walk away with a more holistic understanding of the global issues and the state of sustainable development and best practices currently available.
What's It like?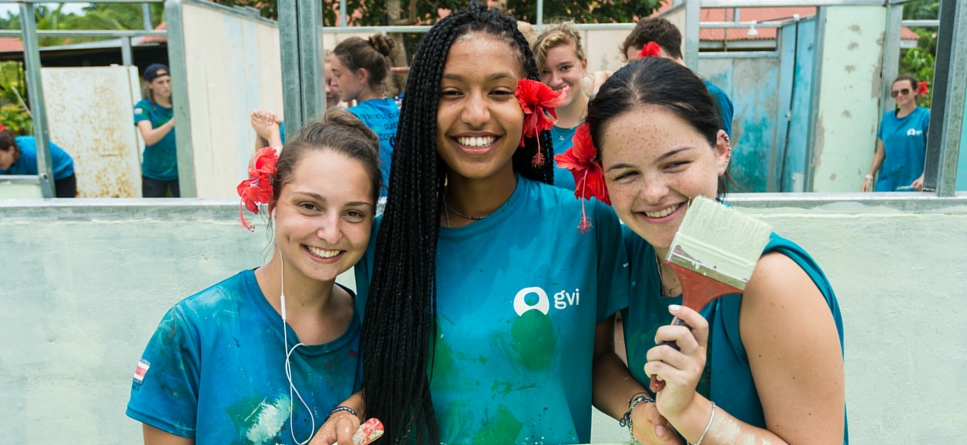 If you'd like to find out what the experience of joining a GVI project is really like, simply contact us and we'll put you in touch with one of our many Alumni.
We'll try to match you to an Alum based on your location, nationality, age, stage of academic career, gender, and program interests. This allows you to gain insights into the experience that is most relevant to you.
Depending on your location you might be able to speak to an Alum over the phone or online, or meet up with them face-to-face at a coffee shop nearby. We also run a series of small events around the world where you can speak to GVI Alumni, Ambassadors and staff members.
Our Ethics
Below is a list of core ethics and best practices we believe are essential to the operation of high quality, ethical volunteer and sustainable development programs. We believe that all responsible volunteer and sustainable development operations should focus upon these principles. If you are considering volunteering, these are some of the key considerations you should question, to ensure that your time and money contributes towards positive change.
Our 10 Ethical Commitments
Locally Driven, Collaborative Projects
We aim to design all our projects in collaboration with local organizations and communities and ensure that they are locally driven.
Clear Objectives & Sustainable Outcomes
We aim to clearly define short-, mid-, and long-term objectives with sustainable outcomes for all our projects.
Impact Reporting
We aim to track, record, and publish the impact of each of our projects.
Working Against Dependency
We aim to build in-country capacity by assisting local organizations in becoming self-sustaining.
Responsible Exit Strategies
For each local organization we work with, we aim to have a plan in place for withdrawing support responsibly.
Clear Roles & Specialized Training
We aim to ensure that ever participant is assigned a clear role and that they are fully trained and supported to carry out their work by specialized staff.
Respect for all
In all our actions we aim to respect the skills and efforts of all and seek to protect the rights, culture and dignity of everyone who engages with GVI.
Local Ownership
We work to ensure that credit for the results of any project, along with any data collected, research conduct, or Intellectual Property developed, remains the property of local organizations.
Transitioning from the Orphanage Model
We do not condone and aim to withdraw support of orphanages and residential care centers.
Child and Vulnerable adult policies
We will live by our Child Protection and Vulnerable Adult policies.
Continual Development
As an organization, GVI is committed to striving toward best practice, and to educating both our potential participants, our partners, and the world at large about them. Both the volunteering and sustainable development sectors are increasingly, and rightly, under scrutiny. Many recent local and global articles highlight poor practices and questionable ethics GVI is widely recognized for striving to apply global best practice in the volunteering, education and sustainable development sectors throughout our operations by reputable organizations such as ChildSafe.
However, global best practice is always evolving and we dedicate both time and resources to engage with internationally respected experts and learn from the latest research to ensure our programs both fulfil their potential to create maximum positive impact, and minimise their potential to create unintentional negative impact. Along with and as part of the sustainable development and volunteering community, we are constantly learning and applying this learning to practice. We do not always get everything right, but we seek feedback from our community members, partners, participants and our staff, and react accordingly. We know are already doing a great job, and feedback we have received confirms this, but we aim to do even better and are continuously refining our operations to improve upon our already excellent reputation.
What's Included
24-hour emergency phone

24-hour in-country support

A certificate in Intercultural Fluency

Access to Alumni Services and Discounts

Airport pick-up (unless otherwise stated)

Airport transfers (before 10pm on scheduled days only)

All necessary project equipment and materials

All necessary project training by experienced staff

All training, equipment and resources for the 2 day ICF training course

Daily transport to and from project sites

Location orientation

Long term experienced staff

Meals while on project (except on work placements for long term internships)

Refreshments and lunch whilst on the ICF course

Safe and basic accommodations (usually shared)

Welcome meeting
What's Not Included
Additional drinks and gratuities

Extra local excursions

Flights

International and domestic airport taxes

Medical and travel insurance

Personal items and toiletries

Police or background check

Visa costs (where necessary)
Exploration
Kampong Cham is a quiet town without many tourists, unlike more popular locations in Cambodia like Phnom Penh, Siem Reap, and, Sihanoukville. This means that it has maintained a lot of its traditional charm. It is the perfect location to experience Cambodia's landscape and culture without the disturbance of too many international visitors.
Take a leisurely stroll down the promenade flanking the magnificent Mekong river then make a turn into the city where you'll find well-maintained hedges, walks and benches. Visit markets brimming with local goods, without the crowds or busier cities, to buy a snack and buy some beautiful Cambodian handicrafts.
Weekend Explorations
Just outside Kampong Cham, you can also visit the temple of Nokor Bachey, a religious Hindu site like Angkor Wat, but much less crowded. Nearby man and woman hill, Phnom Pros and Phnom Srey, also feature architectural splendor and amazing vistas of Kampong Cham, if you are willing to climb the over three hundred steps.
You can also visit the royal capital city of Phnom Penh, just two hours away. Here you can visit the royal palace complex, where you can see many artifacts, like a jade-green crystal and a diamond-encrusted Buddha and a gilded nine-tiered throne.
On the other side of Phnom Penh and five hours away from Kampong Cham, you'll find the town of Siem Reap and Angkor Wat the most popular tourist attraction in Cambodia and the largest religious building in the world.
If you are looking to experience Cambodia's famous beaches then why not take the five hour trip to Sihanoukville or Kampot. Both are very tourist savvy locations and the perfect place to use as a base, as here you can take a boat trip to visit some of Cambodia's gorgeous paradise islands.
The Team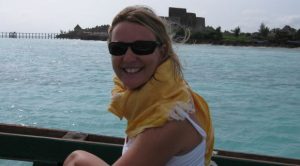 Shayle Havemann
Director of Programs
Meet Shayle, our innovative and driven director for all our projects around the world. She has two honours degrees, one in Industrial and Organisational Psycology, and another in Developmental and Education Psycology. Shayle also has over 10 years experience in setting up, managing and evaluating environmental and community programs across Africa, Asia, Europe and Latin America.

She is well-practiced in facilitating meaningful and effective intercultural engagement and this makes her the perfect person for overseeing our operations in the multicultural country of South Africa.

When not attending meetings or planning her next endeavour, Shayle can be found spending time with her family or taking part in some or other exciting outdoors activity!
Parent Info
'If only every student could do this. It changes your life in all the right ways,' says Chris Heritage, parent of Luke Herritage, one of our teen volunteers who has participated on two GVI programs, one in Costa Rica and another in South Africa.
We are a parent-run organisation that is incredibly serious about health and safety, and increasing the impact, as well as the long-term career benefits of our programs. Our programs help young people develop the skills to select a career path that is personally fulfilling, and live a life aligned to the well-being of our planet and the global community.
Ken and Linda Jeffrey, whose son Sam volunteered with GVI in Thailand, talk about how the experience affected Sam. He also went on to volunteer with GVI again in South Africa. 'I know it sounds like a cliche but in a sense, he did go away as a boy and he came back as a young man. Both of us could recommend GVI without any hesitation to any other parent thinking about exploring an opportunity for their children to explore the world and to see different parts of it.'
Parent Info Pack
Download the Parent Pack and learn more about:
Our staff: All our projects are run by staff, selected, vetted, trained, and managed by our central office.
Health and safety: Our safety practices include a child and vulnerable adult protection policy.
Staying in touch: See what's happening on base, by following a hub's dedicated Facebook page.
Free parent consultations: We would love to talk to you about exciting opportunities available for your child.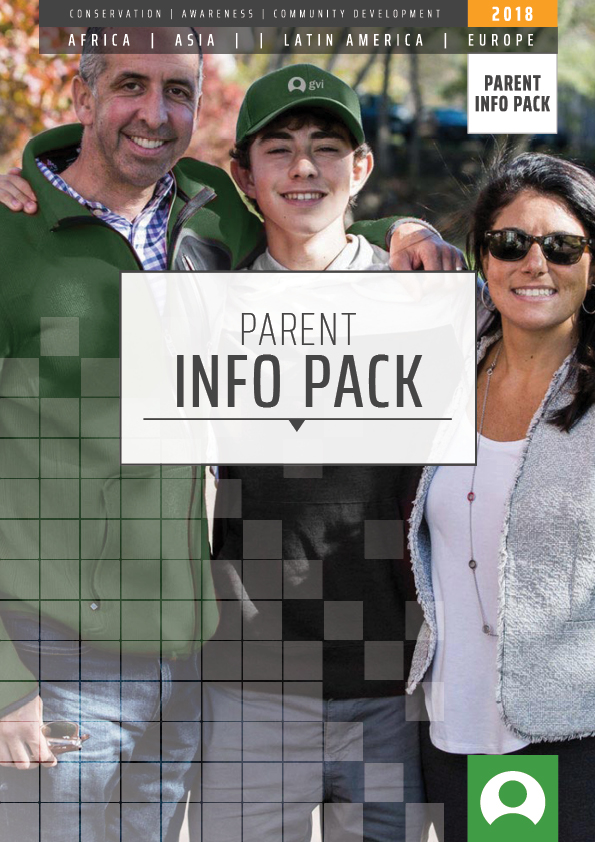 Arrivals
When it comes to support, we ensure that each participant is provided with unparalleled, 360 degree support, from your initial contact with the GVI Family, all the way through your program, and even after, as you become part of the GVI Alumni Team.
As part of this promise, we will ensure, whenever possible, that one of our dedicated staff will be available to meet you at the airport. We will arrange with you prior to your departure that, should you arrive in the agreed upon pick up window, a member of our staff will be there to welcome you, easily identifiable in a GVI t-shirt or holding a GVI sign and wearing a friendly smile. This means there will be someone there to greet you as you land, and from there you will be transported to your GVI base to start your adventure and meet the rest of your team.
Volunteers who went on this program also considered these
Increase awareness of preventative healthcare practices in rural Cambodia.
Work with local communities to improve their health through education and play
Assist with a variety of of community development initiatives in the town of Dawasamu,[...]
Contact Us
Global Vision International
225 Franklin Street, 26th Floor, Boston, MA, 02110
Learning Provider Number (LPN): 10002692
Centre Number: 17067

Download a Brochure