The President of Fiji stops by Tovuto Base
Breakfast on base is normally a short affair. As soon as people are fed and all the day's materials are packed onto the boats and people head off on their projects, Tovuto base gets very quiet.
Today, however, was different.
At extremely short notice, we heard that the President of Fiji, Ratu
Epeli Nailatikau
, would be paying a visit to GVI to thank us for our hard work and to hear more about what we do. He had spent the past several days visiting many of the villages in the Yasawas that had been affected by Cyclone Evan.  We had tried to meet him in a village the day before but had missed him by a matter of minutes.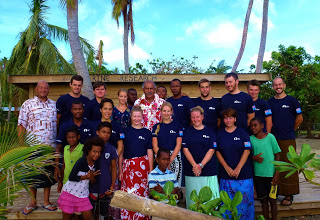 Our mistake was "Fiji Time". Life can move more slowly in this part of the world and any agreement is met with the assumption that it will happen later than planned.This is not the case with a head of state.We hurriedly put together a presentation, cleaned the base and donned our finest sulus and GVI shirts. We nervously awaited his arrival and primed our cameras.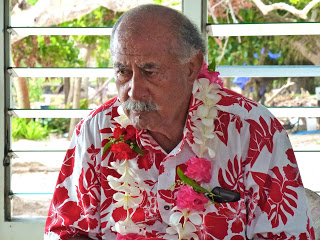 As we saw him make his way up the beach, he instantly put us at ease. His manner was laid back and his conversation was engaging. He took the time to shake hands with every member of our team and thanked them all for making the long journey from their respective countries to work for the Fijian people.
He took his seat and listened attentively to a short presentation that outlined who we are, what we do and what we aim to do in 2013. The opportunity to directly speak to the head of a state is unique opportunity and we were suitably nervous. That said the President went away with a clear idea of the valuable work
we are doing in the Yasawas.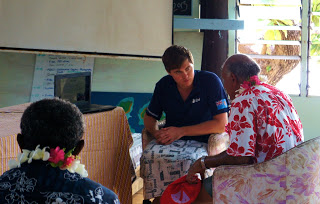 Our final gambit was to ask the President a question of great importance to the project: would he be willing to become the patron of GVI Fiji? We had not considered how to respond if the answer was "no" so it was fortunate that he said "yes". We honoured him with one of our GVI t-shirts and shook hands a final time.
A quick base tour followed and then it was time for group photos and goodbyes. Locals from the village wrapped him in a sulu and splashed him with water, as is traditional in this festive period, and he boarded his boat to depart.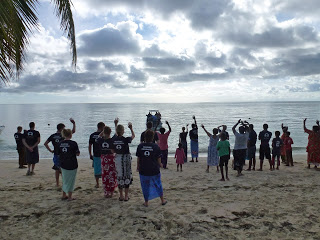 As we stood and waved him and his entourage off, we began to reflect on one of the most important moments of our time here. The President left with a clear sense of what GVI is all about.
He was a gracious guest and we look forward to hosting him again.