Thank you once again Pez Maya.
By Alex and Siena
3 years ago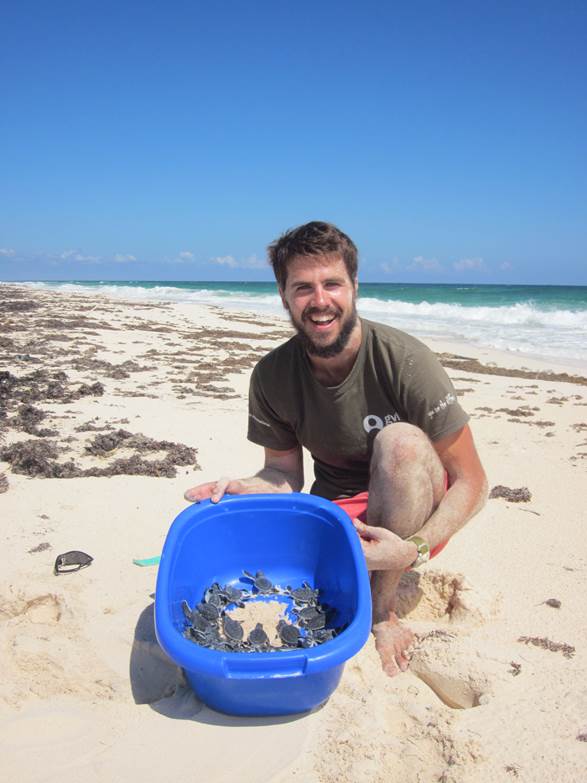 It's 7pm and we're about to go to bed after one of the most exhausting yet rewarding days here at Pez Maya.  Unlike most days here on base which are centered around diving, today was focused on turtles -and baby ones at that!
The day began at 4:30am with a quick breakfast and a much needed coffee. After a seemingly long and very bumpy ride to San Juan beach, we made our way down the dunes to a beautiful sunrise. Previous volunteers had marked the 5km beach with hundreds of large sticks, each representing a nest of turtles that had been laid. Our objective was to locate each of the nests that had hatched, or with a bit of luck, due to hatch that day – with the ultimate goal of counting the hatched and unhatched eggs for data analysis of the endangered Green Turtles.
As we began digging our first nest, some 60 centimeters underground, we spotted a tiny dark flipper etching its way through the sand. After a moment of processing what was in front of us, a shriek of excitement followed as we realized that we were 'delivering' our first baby turtle! The excitement may have been premature, as we uncovered 116 of its little baby siblings. What an incredible sight and an even more overwhelming feeling.
Over the course of the day we dug over 50 nests and went on to recover almost 400 baby turtles to help them on their way to begin their life in the ocean.
We will never forget seeing nature's grandeur at one of its finest moments.
Thank you once again Pez Maya.