New Year … Huay Pakoot style
New Year … Huay Pakoot style
By Stacey Kelly, Australia
Elephant poo paper. Not exactly what you imagine yourself to be making on New Year's Day  following instructions such as boil poo  for 8 hours / bleach poo / blend poo / 1:1 ratio poo to newspaper. (It is still drying two days later so I can't currently comment on its success). But then again, it wasn't exactly a usual New Year's Eve. Sitting around a camp fire with glow sticks (brought all the way from Manchester) telling bad jokes, poor riddles or else strumming guitars or dancing Gangnam Style with new found friends on our bamboo base hut (surprisingly sturdy) with head torches put on strobe setting for effect. Limited local alcohol (I'm sure the 40% alcohol warning was an understatement), masks and streamers bought from Chiang Mai, most going to bed prior to midnight although 6 of us were committed to seeing in 2013. Like most random and unplanned New Year's Eve nights, it was one of the most fun and memorable.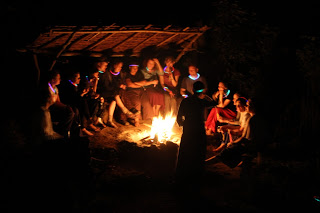 The night had started with a pot luck dinner supplied by our local host families. All dishes put in the center of the circle. The only rules being that you pass to the left and you leave enough so others can try the dish too (those who have been here long enough have developed the ability to differentiate between the best white rice dishes simply on sight). Sitting crossed legged around a feast we discovered differences and similarities between random people thrown together from across the globe and celebrated the small joys of eating banana and coconut cake made in the rice cooker.The whole evening was an unexpectedly awesome ending to a magical day.
 It was my first day on project which coincided with elephant feeding day. After trekking for a couple of hours, we met our 5 elephants and were suddenly the favored guests with bananas in hand. We then followed the elephants through the forests – battering the branches and shrubs were worth the amazing experience of being so close to the elephants in the wild. Seeing first hand their relationship with the Mahouts; or when Song Kran (a 2 year old calf) put his trunk in his mother's (Boon Jan)  mouth for comfort (almost like a baby sucking his thumb); or when Mana reprimanded Song Kran (a 5 year old calf) seemingly for playing too roughly with Pbee Mai. We were all memorized.
It's definitely one New Year that I won't forget.