Empowering women through female role models in history
By Julie Barrot De Brito – Community Field Staff
5 years ago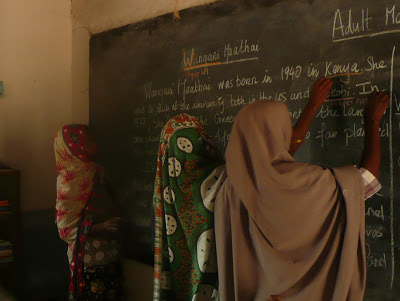 At the beginning of this quarter, we had to decide what to teach the 9 students of our English class for women in Mkwiro. We had a little discussion at the beginning of our first class and we decided to focus on speaking and on reading comprehension. Since one of the GVI objectives is to empower women, we asked the women if they would be interested in learning about important women in History. The answer was unanimous: YES!
We decided to utilise the momentum and start straight away having classes about important women of the world and we came up with lessons based on one person a week. Because it can be a bit complicated to teach women in a conservative community, we decided to focus our work on iconic African Women in order not to upset members of the community.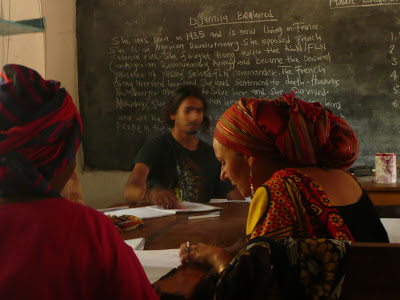 The first week, we spoke about Jamila Bouhired, icon of the Algerian revolution in the mid 1950's and early 1960's. The second week, we focused on Wangari Maathai , a Kenyan woman owner of a Nobel Prize for her conservation work. We kept on speaking about different women every week, basing our work on little texts that we would write about the life of our heroine of the week.
At the beginning, the women said that it was hard to find the answers of the questions in the text but after a few questions answered as a group, they were ready to work by themselves. The nicest part of the lesson for me were the last five minutes that we kept at the end of the class for the women to practise speaking. Every week we had an open question "If you could meet this woman, what would you ask her and why?" One of the most beautiful questions that we had in my eyes were one from Khadija, asking Jamila Bouhired "What motivated you to do what you did?" and Hidaya, asking Nana Kanadu (wife of the president of Ghana) "Where can we find you because you need to help us doing the same as what you did in your country (building pre-schools for young children in rural areas)?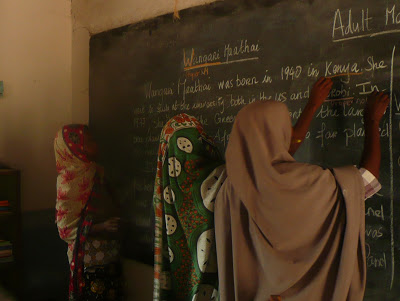 As a matter of fact, Hidaya asked at the end of the class if it could be possible to write a letter to Nana Kanadu and ask for help. Well, that can be our lesson plan for the next quarter I'd say.
Julie Barrot De Brito – Community Field Staff