It's all about the turtles
By Sonja Kruesi
4 years ago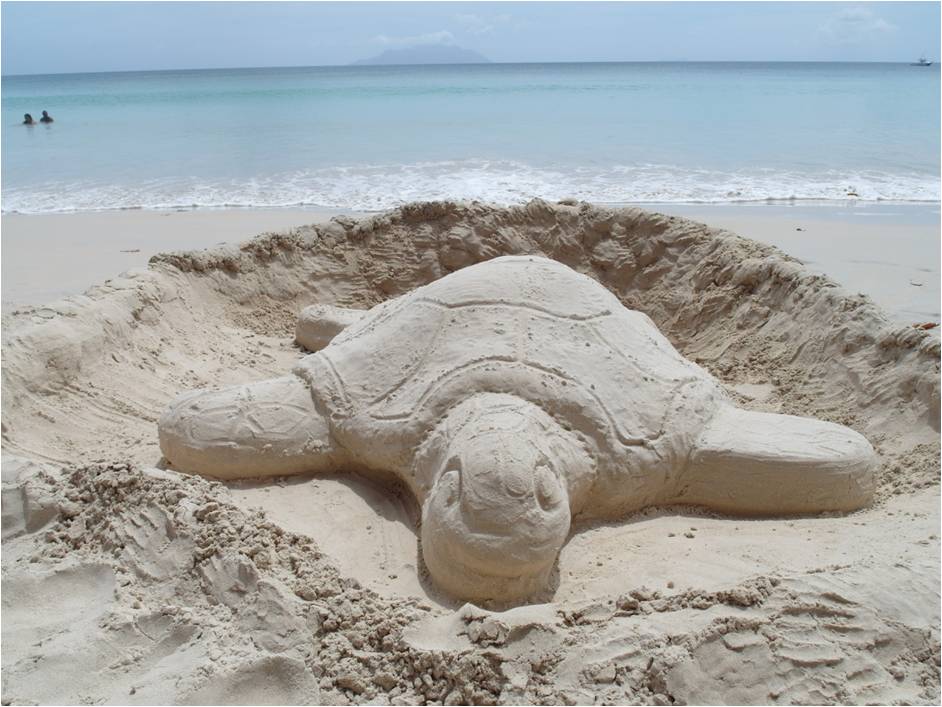 This week I'd like to tell you about one of the great things we do with GVI off base. The TURTLE FESTIVAL!!!
The Turtle Festival took place last Saturday in Beau Vallon, from 12 to 4 pm. Of course, GVI was there to celebrate the turtles and raise awareness on the importance of turtle conservation. We did so through multiple beach games and other entertainment, like a snorkel station, sandcastle competition (which resulted in us building a giant sand turtle!), face painting, and beautifully designed posters with general information about turtles. At first, there weren't too many people to enjoy the festivities, but suddenly the festival was in full swing! The children especially enjoyed the face painting and the self made cookies, on which they could paint turtles with icing, and many of them were brave enough to go snorkelling for the first time.
One of our volunteers had a fantastic snorkel with a guy in his forties, who was so amazed about the underwater world that he wanted to know everything about ocean conservation and immediately make a donation to a charity. It's so nice to see that our work really does make a difference! The turtle festival was a big success.
Because we worked on Saturday that week, our weekend was moved to Thursday and Friday. On these days we visited Praslin and Curieuse Island, which I can recommend to everyone!! We stayed in the nice and (compared to the other hotels) relatively cheap Bajaya Beach Resort and visited the Vallee de Mai, a world heritage site, where we had a guided tour and learned a lot about the famous coco de mer. On Friday we were picked up at the hotel and took a boat over to Curieuse, where we took approx. 1000 pictures with the giant tortoises because they are SO amazing! We also had a look at the GVI base there, and their manager Dan was kind enough to show us around. It was really cool to see how the other volunteers lived. And honestly, even though their base is very beautiful and right at the beach, we started to appreciate our base on Mahe with it's running and filtered water, working toilets and fridges even more! 😉
After that we had a fantastic BBQ, a nice snorkel around a tiny, uninhabited island, then were dropped off back at the hotel, and all of this for 35€ per person! Definitely to be recommended!!